Avoid These 3 Common Mistakes When Designing Your UX Resume
Having a great looking resume on hand is very important when you're looking for your next UX job. It is your ticket to land the interview that will get you one step closer to that one job you've been dreaming of.
Yet, when I see or review UX resumes I notice some common mistakes. These mistakes could cost you your shot at getting the interview for your dream job.
I work as a UX designer and consultant. During my day job, I have to have my resume ready at all times just in case I have to present myself to a new potential client. I've done so on several occasions resulting in outcomes ranging from never hearing back from the interviewer to getting a phone call asking when I could start only 15 minutes after the interview.
I'm going to share some common mistakes I see in resumes when looking at the resumes from a UX perspective. This of course doesn't mean that these only apply to UX resumes or that you need to be a designer yourself to be able to avoid these mistakes. I've made these mistakes myself.
You can apply the following tips to your resume if you want to become a UX designer but also for any other job. It doesn't matter that much since the common mistakes and the tips to avoid them are applicable either way.
The amount of time someone looks at your resume
In addition to my point on consulting experience, I had to switch employers quite some time myself. Because of that, I had to update my resume more times than I would have liked. Also, I've checked many resumes while looking for new colleagues.
Therefore I know a thing or two on how recruiters and your potential employers skim through resumes just as quickly as we all scroll through social media news feeds.
"On average, recruiters look at your resume for 7.4 seconds."
That's a very short amount of time. If you want to stand out (and survive the initial round of skimming resumes), you need to make a great first impression. You have to make every second count.
3 common mistakes to avoid on your UX resume
Since we've established that you have a very short time to make an impression it is very important to make your resume very clear and intuitive. How easy something is to interact with is what we in UX call interaction cost.
"The interaction cost is the sum of efforts — mental and physical — that the users must deploy in interacting with an object in order to reach their goals."
In other words, the harder it is to read and understand your UX resume, the longer it is going to take a recruiter to read your resume. Is it too much of an effort? Time's up. You're out.
In UX, our aim is to keep the interaction cost as low as possible. By doing so we improve the ease-of-use of the products we design. You could see your resume as such a product.
Here's how you can improve your chances of landing your next job by avoiding these common UX mistakes.
Using a multi-column layout for content on your UX resume
A well-structured resume will make sure that skimming through your resume isn't a bad thing at all. By using a single column layout you enable the recruiter to read your resume top-to-bottom without having to figure out where he has to start and where he should read next. When your resume has multiple columns, your reader first has to determine if he should read top-to-bottom or left-to-right. This takes time and effort. You further enable your readers by using big, clear headers that communicate the content well.
The use of a skill scale is somewhat of a resume trend of late. You see them everywhere. Yet, they make no sense. There are several reasons not to use a skill scale. For one, when you plot your skills on a 1–10 scale you assume that every skill is equal in difficulty. That's not the case of course. You cannot plot 'Microsoft Word' and 'Building a colony on Mars' on the same scale. Besides, if you say you're 10/10 in something, does that mean you're the best in the world or do think you cannot grow that skill any further? It leaves your resume open for interpretation, which is never a good thing and increases the interaction cost as well.
Using a default resume template you found online
When you apply for a job you're not going to be the only one. When the window for submitting your application closes a big pile of resumes lands on the manager's desk. You want to stand out. Because of that, a lot of people look online for a great resume template. The problem is that you're not the only one that does it that way. Your attempt to stand out will result in your resume being the same as a lot of other resumes. Most templates are guilty of the two points above as well. By using a fancy template you make your resume more difficult to read and understand and thus lowering your chances of landing your next job.
Get a free UX resume review
We will take a look at your resume and provide you with valuable UX feedback to help you improve your resume. Tell us how we can reach you by filling out the form below.
What to do instead on a UX resume
Since your resume will only be looked at for a short amount of time it is important to make every second count. You can do this by keeping your resume very simple.
Use a single column layout for your content. Do not use a skill scale. Use your own design. Good resumes consist of a number of clear sections. These include the following.
About you. This is where you share who you are, what your (current) role is, and other information like address and contact info.
Working experience. For every job or project you've worked at you state the name, duration, a short description, and your role within the company or project.
Education. You can list every form of formal education you've followed here. Keep this part short. In general, recruiters are more interested in your working experience and skills. If you just came out of school, give more attention to your education.
Skills. Arguably the most important part of your resume. It is far more important to show that you have a certain skill set that you can apply to any project than to show that you did a certain project once.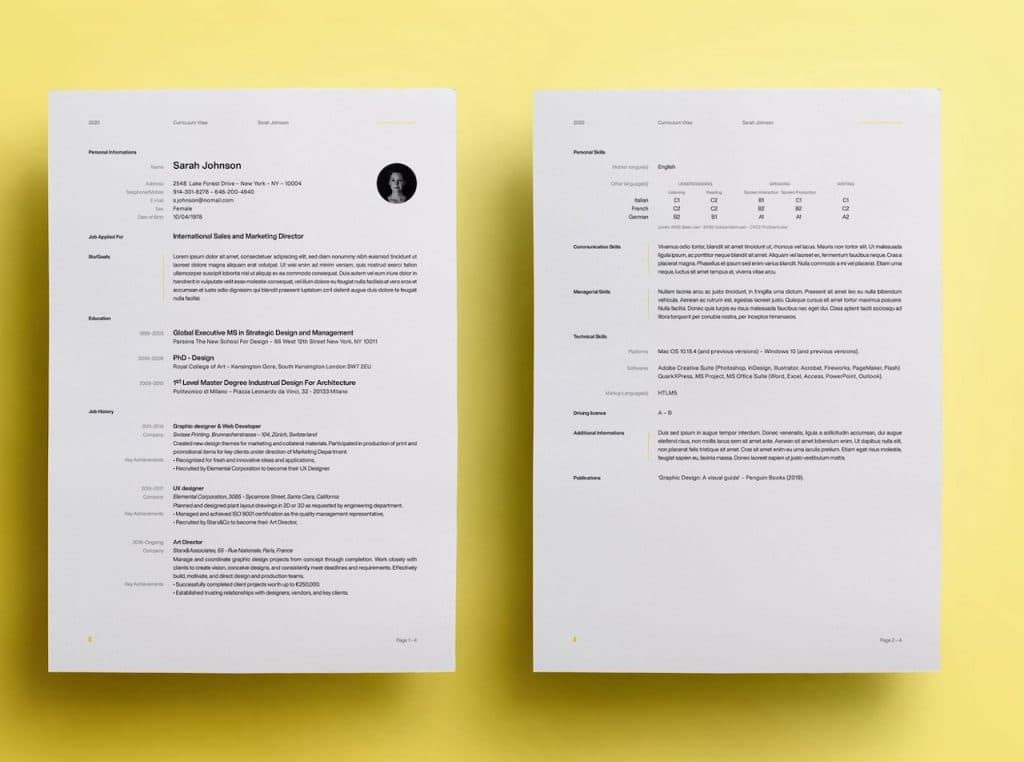 The example above ticks those boxes. This UX resume is simple, clean, and very clear. It is scan-able as well. By applying a one-column layout your resume can be read from top to bottom. The lack of a template might make the resume look at bit boring, but that's not the point of a resume. It has to be clear, which it is. Due to the clear headers, readers can skip to the part that is relevant to them.
This way, the 7.4 seconds a recruiter reads your resume are spent in the most efficient way possible.
Creating a great, well-crafted resume can be hard. It is not all science. Sometimes you just need to get lucky that the right recruiter saw your resume on a big pile of resumes. Besides that, you have control over how your resume looks. Don't make the common mistakes as discussed here.
You'll stand out and will be more likely to get that job you've been dreaming of. Good luck!
Was this post helpful to you? Share it with others!