The UX Designer Starter Pack
Making a career switch can be very hard. Regardless of if you want to become a UX designer or something else entirely. Where do you start, what do you need, who can help me out? These are all valid questions in this case. To help you out, we wrote about the UX starter pack. This pack of information, tools, and more will help you get started as a UX designer.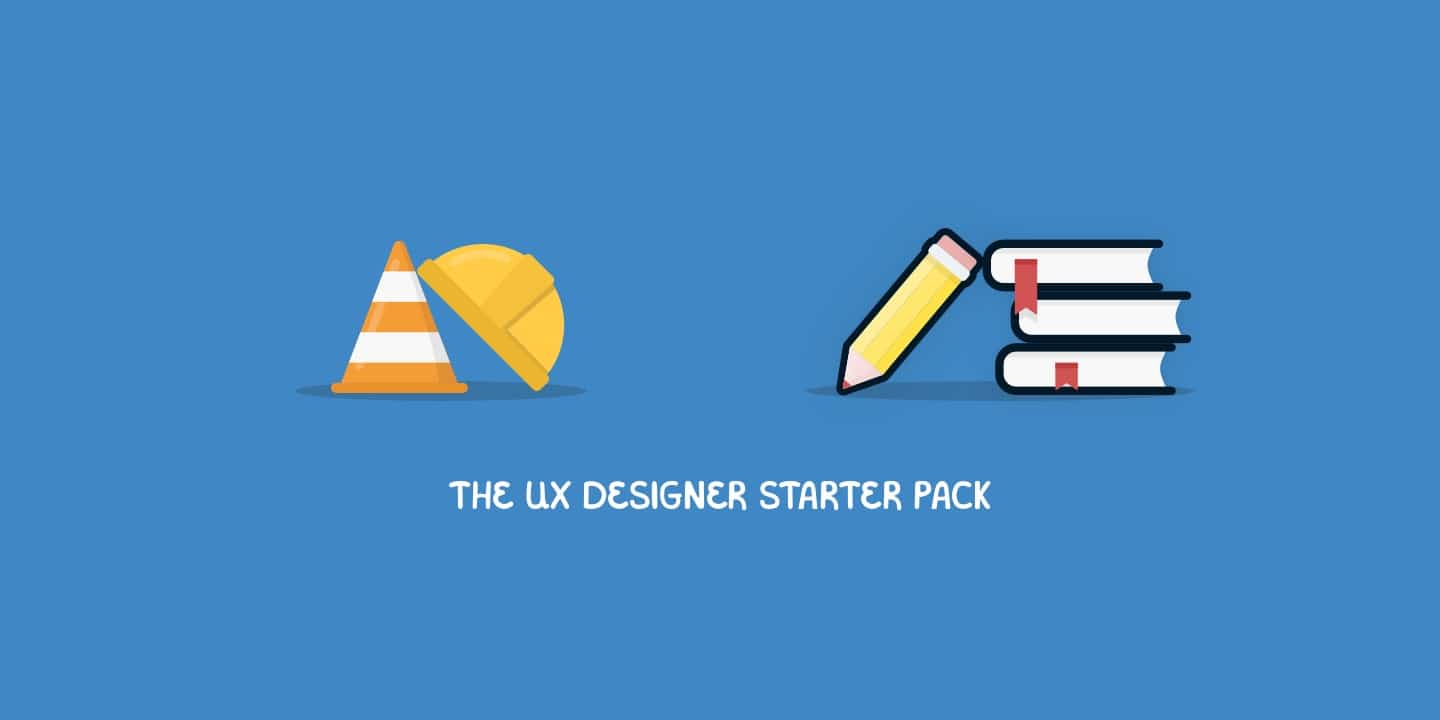 There's a popular type of meme going around on social media called the 'starter pack'. It always shows a picture of four items or situations to mock a certain job, character, or sports team. Even though we're talking about memes, there's still something to be said about starter packs.
If you want to become a UX designer, a starter pack can help you, well, get started. Here's everything you need to get started on your switch towards becoming a UX designer.


Theoretical knowledge of UX design is important. It is an essential part of the UX designer starter pack.
That's where books come in. Books are an accessible way to get into a new field. They are easy to purchase and aren't that expensive. Just compare a few good books to an expensive UX bootcamp. The difference in costs is enormous while the difference in added value is a lot smaller. All you have to do is read.
There's one thing, though. Books come in big numbers. You can choose from a lot of books. Where do you start? We got you covered. We wrote a guide on UX books where we discuss different types of books and which ones to get.
If you'd had to pick just one, we recommend Don't Make Me Think. This book is written by Steve Krug. It is an all-time classic on UI and UX design that is still relevant today. You can get the book on Amazon.


It is common knowledge that theory only brings you so far. To really get things started, it is important for you to quite literally get started as well.
You can do this by putting your book-knowledge into practice using one of the many UX tools that are available to you. Just as a developer, you will need your stack of UX tools you're proficient with.
As a UX designer, you will need at least two types of tools. The first one is a prototyping tool. This is where you create your designs in high-fidelity format. The designs you create here can be used for prototyping, presentations, and user testing. Examples of these tools are Sketch, Figma, and Framer.
The second one is a collaboration tool. This can be integrated into the prototype tool as a feature. For example, Figma has collaboration built-in. Sketch has a lot of plugins that enable collaboration. The most commonly used one is Invision. These tools not only allow you to test and validate your work but also allow working together with your design colleagues.
Finally, you can choose to work with research tools like Lookback as well, but that's optional. You do not need tools like that per se. It depends on whether or not you have to work from home and if your client has room for a design studio or usability lab.
Here's something to keep in mind. In some cases, the tool you use (or want to use) can be influenced by the laptop you have. For example, your choice of Sketch or Figma depends on if you use a Mac for design or not.
You need a place to read and store your books, to practice your skills, and to work. Also, you will need something to perform your job on.
We're talking about a laptop that you use for UX design. Maybe you already have a laptop. That's good as well. Just keep in mind that you will need a powerful laptop as a designer. Design tools require a lot of CPU and GPU performance.
Another way to go is to get yourself a tablet for design. Today's tablets are good enough to replace most laptops. In addition, tablets like the Surface Pro and iPad Pro come with great accessories like bluetooth keyboards and pencils to give them more of a laptop kind of feel.
If you bring the list down to starter pack requirements, you only need a few things. You just need a laptop (or tablet, if you prefer) to get started. However, if we might suggest one optional item then it would be a great laptop stand.
If you're going to be sitting behind a laptop all day it is important to keep a healthy posture. One way to keep a good posture is to get yourself an expensive office chair or desk. Another thing you can do is get an easy-to-use (and not so expensive) laptop stand. 
Now that you have most of the basics down, it is time to become a designer that is visible to the outside world.
Being visible is key as a UX designer. The market, your network, and your potential clients need to know what you're up to. They need to know who you are and how you can be of added value to their products and companies.
You can do this by creating a great UX portfolio. Even as a complete beginner, creating a portfolio is possible. If you do not have a portfolio yet, this is what your portfolio should consist of.
Cover page. This is what we call your 'business card plus'. On the cover page, you show your readers who you are, what your skills are, and what sets you apart from all the other designers out there.
About you. Speaking of setting yourself apart. There are many other designers with the same (or more) amount of experience as you. However, nobody has your personal set of skills and personality. Let it show! Make sure you tell your readers about yourself. Who are they about to hire, what can you do, and what will you bring to the table.
Case studies. This will be the biggest part of your portfolio. In a case study, you describe an example of a project you've worked on. You describe the challenge you've been hired to fix and what you did to tackle the challenge. Be specific, talk about yourself, and show your work.
This is just the beginning, of course. If you want to know more, read our post on everything you need to know about creating your UX portfolio.
That's about it for the UX designer starter pack. As the name suggests, this is only the beginning to help you get started. If you feel like you're ready for the next step we recommend you to read our post on how to become a UX designer.
Was this post helpful to you? Share it with others!