Is Elementor Pro worth it?
You're building your website using Elementor, and it is going great. Well done! Now you want to go to the next level using Elementor's paid version. But is Elementor Pro worth it? I've been using it for years, and here's my view.
Now, building a website isn't that hard. However, if you're serious about it, you need something more. You can use many no-code tools, like page builders and plugins. I will focus on page builders as they tremendously improve your productivity.
Elementor as a page builder is available for free. However, there's a premium version called Elementor Pro. And that's what this post is all about. Is Elementor Pro worth it? Let's find out!
Summary - Is Elementor Pro worth it?
Yes! Elementor Pro is worth it. There are several reasons why that I explain in this post.
Elementor Pro is an all-in solution for your website.

It is cheaper than all plugins it replaces.

It is very easy to use.
Elementor is a page builder plugin for WordPress. You can use it to build multiple website types, including blogs, business websites, and to build your UX portfolio.
Let's talk some more about what Elementor can do first. As a page builder, it lets you drag and drop elements onto your page, making it very easy to design great-looking pages. In addition, it works seamlessly with popular WordPress themes like Astra and Elementor's very own Hello Elementor.
Looking at different versions of Elementor, you'll see that the first difference we have to make is between Elementor Cloud and the plugin only.
Cloud is Elementor's all-in solution for your website. It has everything you need, including hosting, pre-installed WordPress, a CDN, and Elementor Pro. At 99 USD per year, Elementor Cloud feels very much worth it.
This table shows a comparison between Elementor and Elementor Pro.

| | Elementor | Elementor Pro |
| --- | --- | --- |
| Pricing | Free | $49 per year for one website |
| Widgets | 50 | 100+ |
| Drag & Drop Builder | Yes | Yes |
| Theme Builder | No | Yes |
| Form Builder | No | Yes |
Let's say you go for Elementor only. In that case, you can go for the free version and Elementor Pro. Take a look at the comparison above. In addition to all the basic stuff, Elementor Pro gets you more than twice as many widgets, the Theme Builder, and the Form Builder.
All of this costs you 49 USD per year for a one-website license. However, you can get a three-website license for 99 USD per year, which is the license I use for this website and my portfolio website. It is a better choice if you view costs on a per-website basis.
You can go even higher if you need Elementor Pro for more websites. Check out Elementor's pricing page here.
Let's take a look at my setup. I use several plugins, a theme, and a CDN to run this website. Here's my list.
WordPress

Elementor Pro

Astra

WP Rocket

BunnyCDN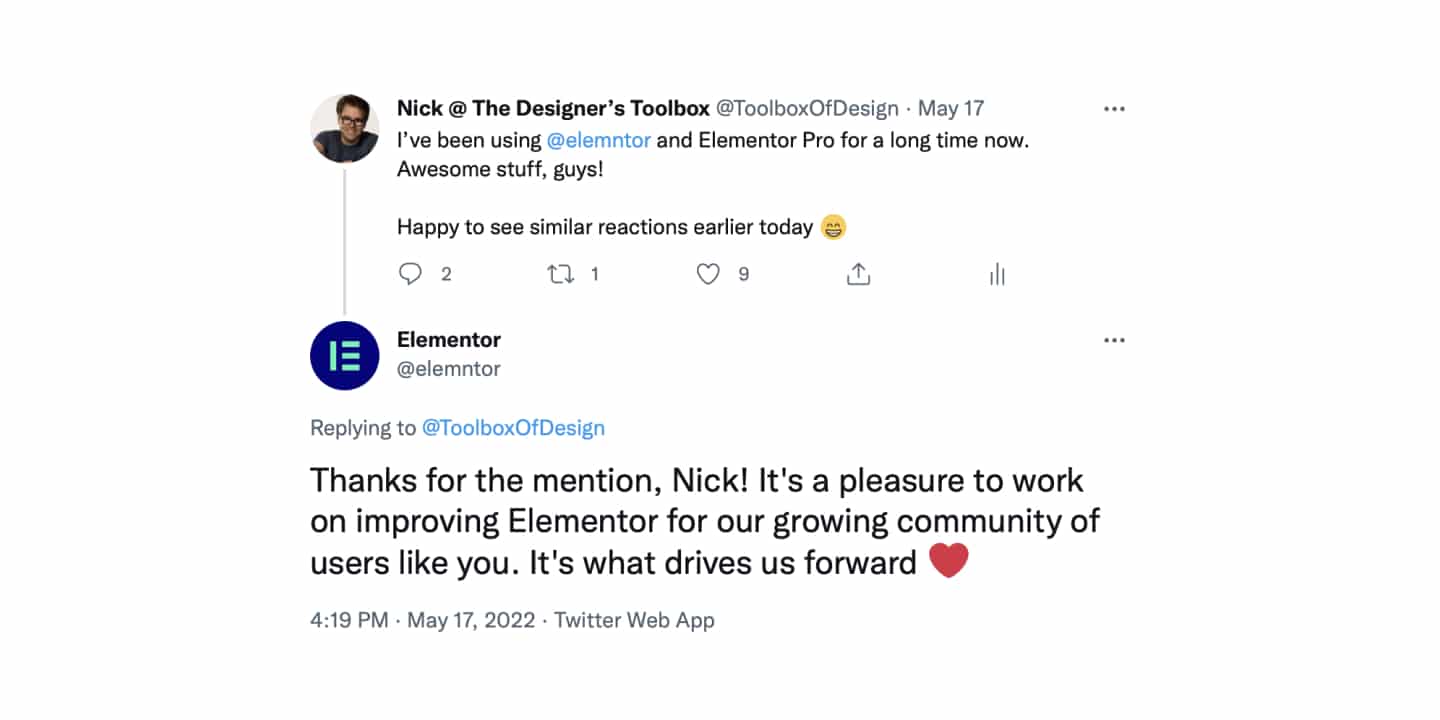 You can get all of this using Elementor Cloud. It would make things that much easier than it is now. Currently, I get a yearly invoice for each item on the list. Together, they are more expensive than Elementor Cloud. This fact alone makes Elementor Pro, or Cloud if you include hosting, worth it.
The only reason I'm not using it is because I started my website before Elementor Cloud came out. Switching now would be too much of a hassle.
Is Elementor Pro worth it?
Yes, Elementor Pro is worth it. Features like Theme Builder and Form Builder are essential for anyone serious about building a website that helps your portfolio or business grow. You only get that with Elementor Pro.
I've been using it for years. You can see the results right here as I use Elementor Pro on this website.
Let me give you an example of the Theme Builder. I use it to create a template for each post type I have on the website. These include overview pages and articles.
However, as a builder for your UX portfolio, the most exciting template that makes Elementor Pro worth it is my post template for case studies. Using Elementor Pro's Theme Builder, I can create a template that looks like this.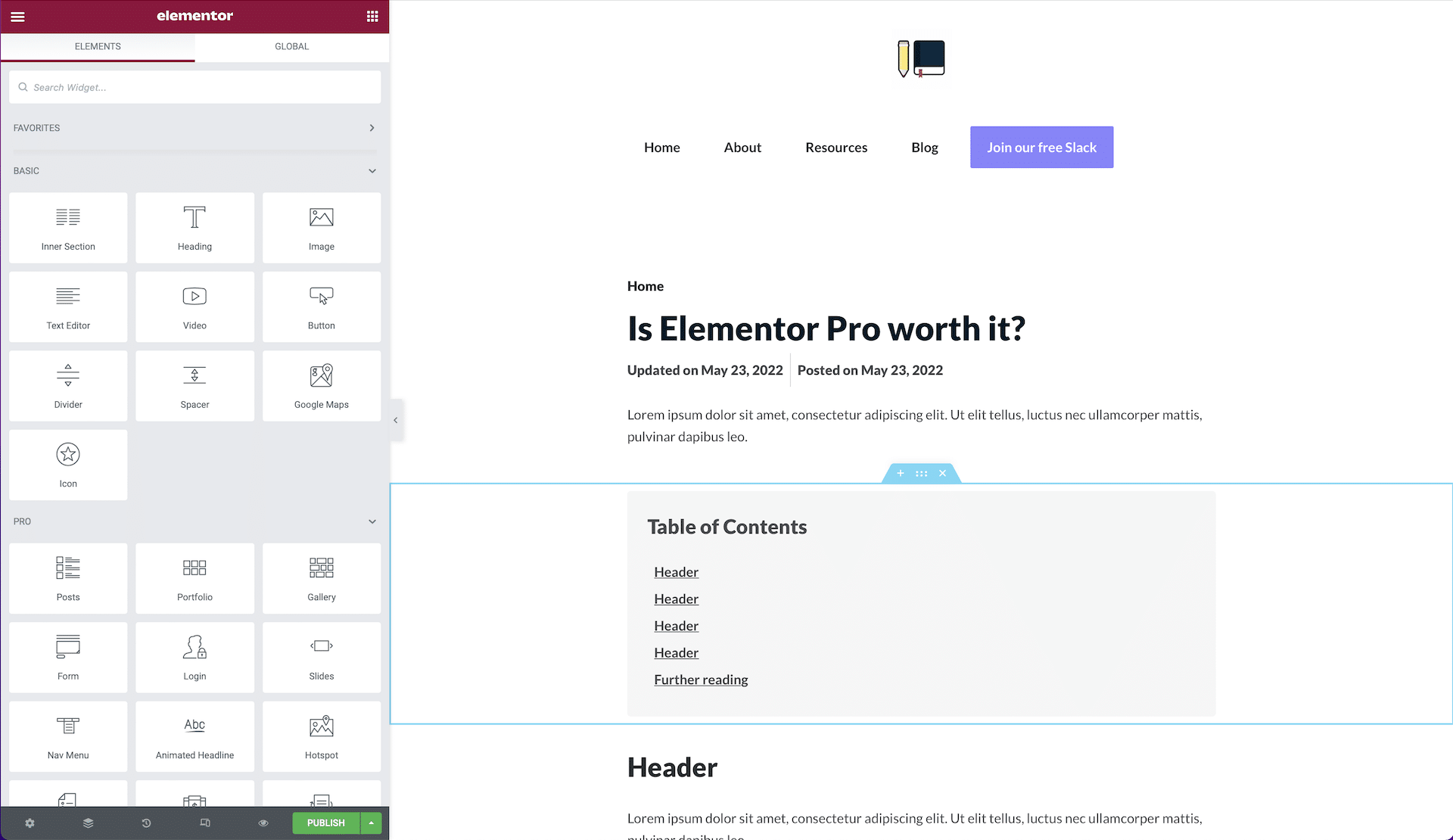 As you can see, I've included dynamic elements that update when I change them outside of Elementor.
Case study title

Featured image

Post and edit date

Excerpt
Selecting this template is only one click away, making it extremely easy to use. Once that's done, it is a matter of copying and pasting the outline I've created using my UX case study template, and I'm done!
Other noteworthy Elementor Pro features include the Form Builder and over 100 widgets. You can use it to build forms and create leads. For example, I always include a contact form on my case study pages for potential clients to reach out.
As I mentioned before, one of the other reasons Elementor Pro is worth it is because it saves you a lot of other paid plugins. To run a business or have a great portfolio website, you need a premium theme and a form plugin.
If you add them all up, it will be more expensive than Elementor Pro.
You can try Elementor for free or sign up for Elementor Pro by visiting their website. As I mentioned before, it is a must-have for anyone looking to build a next-level business or portfolio website.
One of the most important things you need to build a great UX portfolio is a place to showcase your work.
You could, for example, use Dribbble or Behance to build your portfolio. However, based on my experience, I'd say that building your portfolio on a website you own is the way to go.
I wrote about how you can do this in my post on how to build your UX portfolio. Take a look!
Useful resources to boost your UX career 👇