Apple Silicon Supported Design Apps in 2021
It has been a year since Apple released the long-awaited M1 Mac. Now that developers have had some time to work on updating their design apps it is time to make up the score. Let's see what the Apple Silicon support for design apps is like in 2021.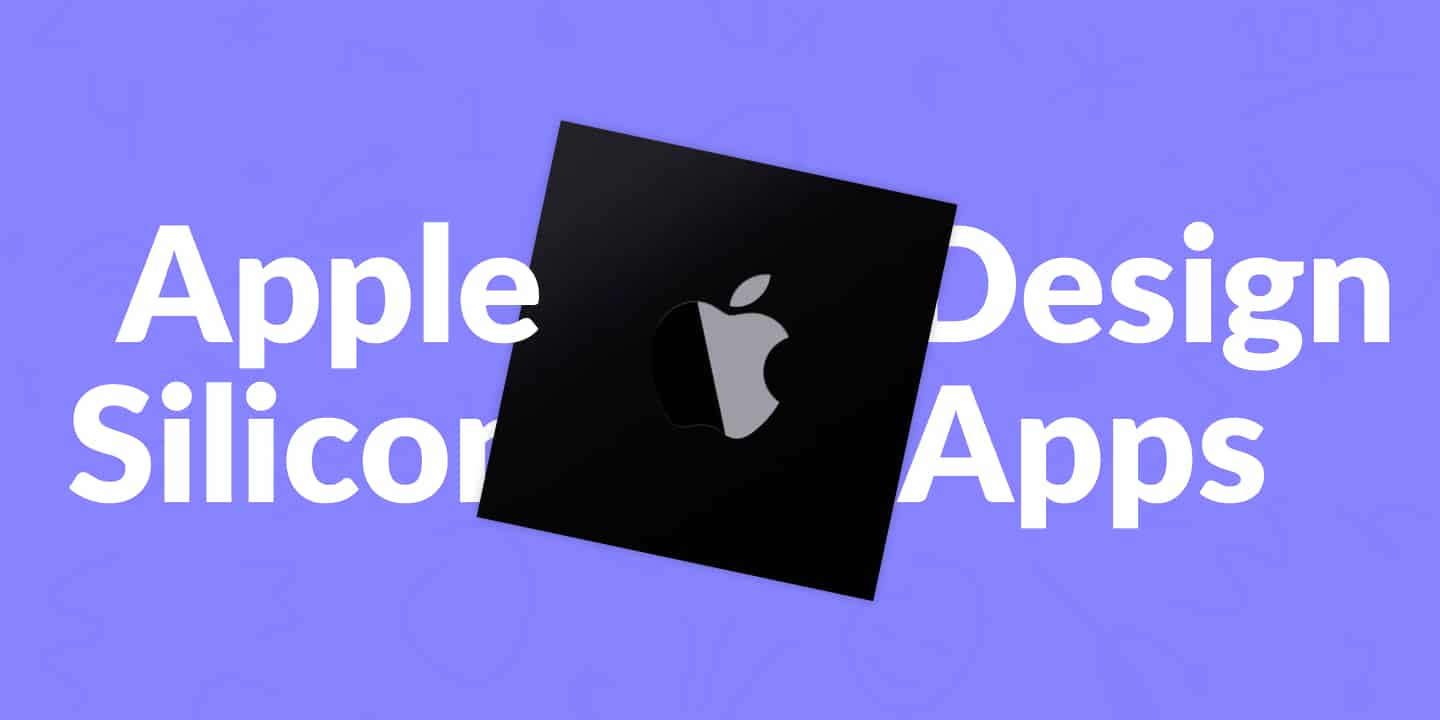 At this moment of writing, you can still purchase both an Intel-based Mac and an Apple Silicon Mac. Now, we know that Apple Silicon is the future of Mac devices. However, during this transition period, you have to decide whether or not you want to use an Apple Silicon Mac already.
In general, you use a computer for about two to five years. This is a long period so the decision is important. The design apps you will be able to use in the meantime are even more important.
This list of supported design apps has been updated in March of 2021.
Supported design apps by Apple Silicon
Let's take a look at some of the most popular apps used by UX, UI, visual, and graphic designers worldwide. These are the apps you will need the most.

Sketch has full native Apple Silicon support starting from version 70. The current version is 70.6. Sketch has shared a post on how it performs on the new architecture and the results have been very promising. During tests, Sketch performed over 30% better using the new M1 chip.
Microsoft Office is still a great set of apps both on Mac and on PC. In the case of the new M1 chip for Mac, Office 365 has full native support.
The 16.44 build that has been released as of December 2020 was the first version of Office 365 and Office 2019 to have full support for both Apple Silicon and Intel Macs. This includes apps like Word, PowerPoint, Excel, Outlook, and OneNote.
You can read more on Apple Silicon support for Office on Microsoft's website. This post also includes some frequently asked questions.
Adobe is working hard to provide native Apple Silicon support for their entire suite of design software. At this moment of writing, only Adobe Photoshop and Lightroom are ready and available to use. Other apps run using the Rosetta 2 emulator with some of them running into issues.
Adobe has a support page that is being updated regularly to show the status of their design apps in regards to native Apple Silicon support. Adobe says that plugins are compatible with the updates they release.
To make things clear, we consider design apps that run on the Rosetta 2 emulator to be unsupported by Apple Silicon. This is means you can still run the apps but native support is lacking. We are stricter than other lists in this aspect.
One of the big Apple Silicon omissions we have to feature on this list is Figma. As of this moment, Figma runs on an Apple Silicon Mac via the Rosetta 2 emulator.
This isn't a big issue, of course, since you can use Figma in a browser. However, the desktop app will need to be optimised to make full use of Apple Silicon power. Until then, it will sit at the top spot of our list of unsupported Apple Silicon design apps.
As of this moment, Apple Silicon is supported only in a beta version of Google Drive. We're talking about version 46.0 that has been released at the end of February 2021. You can check the patch notes over on Google's support page.
There are clear instructions available on how to run Google Drive on Apple Silicon Macs. Keep in mind that the steps you need to complete are considered to be suitable for power users. You will need to reboot a few times and run your Mac in recovery mode for some time. Try at your own risk!
Lots of Mac users use Parallels to run Windows on their Macs. One of the questions we get most often is whether or not Parallels is supported by Apple Silicon Mac. The answer is… not yet.
Parallels has released a blog post announcing that a new version of Parallels that will support Apple Silicon is in active development. With the preview version, you can run a virtual machine on an M1 Mac. You can try the technical preview via the link above to see for yourself.
If you require to work on Windows 10 as well, upgrading to an Apple Silicon Mac might come a bit too early for you.
The other well-known Adobe design apps, like Illustrator, After Effects, and Indesign, are currently not supported by Apple Silicon. As of March 2021, the following Adobe apps run using Rosetta 2 without any known issues.
After Effects
Audition
Dreamweaver
Premiere
The following list of apps also work using Rosetta but with known issues. Check out Adobe's support page for more info on these issues.
Acrobat Pro
Bridge
Illustrator
Indesign
XD
Selecting your M1 Mac depends on whether or not you will need any of the apps on this list and if you're willing to work with some issues before Adobe creates native Apple Silicon support for their design tools.
Frequently asked questions
There's more to buying your new Mac than just checking out a list of supported design apps. We've compiled a list of questions that we receive frequently. Check them out below.
Should I wait for Apple Silicon?
If you can wait, you should wait on broader support for Apple Silicon Mac. The first benchmarks show great promises in terms of performance and power management.
In addition, having another component (the CPU, in this case) made by the same manufacturer as the rest of the laptop brings other advantages as well.
The only thing you have to consider is the support for third-party apps. Every week, the number of Apple Silicon native design apps grows. So if you can wait, please do it. It will be worth it in the long run.
Can Apple Silicon run Windows?
Yes, you can run Windows on a Mac that has an Apple Silicon chip. However, you will need to use a virtual machine as bootcamp currently doesn't work for the new M1-equipped Macs.
As of this moment, Parallels is only partially supported by Apple Silicon. Alternatives like VMWare aren't available either. If you require to use Windows on your Mac your options are to wait for a bit, use Parallels while accepting that you might encounter issues, or buy an Intel-based Mac.
How do I know if I have Apple Silicon or Intel?
Finding out what type of chip your Mac has is easy to do. All you have to do is to open the 'About this Mac' menu. Check what you can see next to the processor text field. You will either see an Intel or M1 (or up) label there.
Are you looking to purchase a new Mac as a UX designer? There's a lot to consider. This includes the purchase price, third-party apps support, and more. We wrote many guides to help you decide.
Useful resources to boost your UX career 👇