A step-by-step guide to learn UX
UX is getting more popular every day. If you want to learn UX, it may be overwhelming at this point. Understandably, there's a lot to be said and maybe even more to be asked.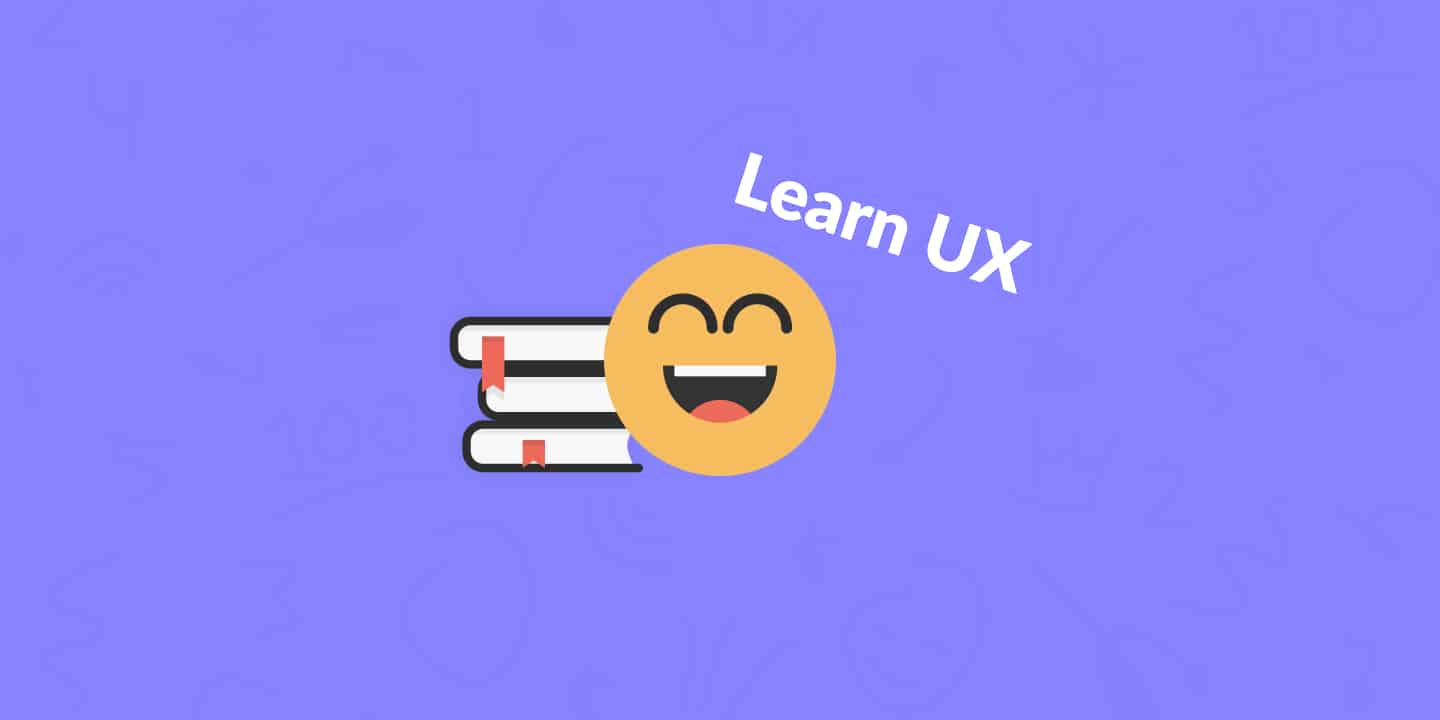 No matter the case, this guide will provide you to learn UX. First, it will help you get started by learning the basics of UX. After that, we'll continue with a step-by-step approach to becoming a UX designer.

Not sure where to start your career in UX?
Starting a new career can be tough! That's why we wrote this guide. Follow the steps below to start your career in UX the right way.
Which design field is right for me?
The first thing to do is to determine which design field is right for you. As you'll learn later in this guide, there are many variations on UX that you can choose from.
But how do you choose?
First of all, you can do that by considering the pros and cons of popular design fields like UI, UX, and Product design.
After that, you connect these to who you are as a person. For example, a creative person will do well in visual design, while a technical designer can be a great product designer.
If you found out UX is for you, please keep reading! 👇
How to transition into UX
It can be challenging to transition into UX. There's just so much to look at. So where do you start?
If you want to transition into UX, start with figuring out what part of UX attracts you most. Using the previous step of this list can help you with that, by the way.
Once you know what area you want to transition into, things become a lot easier. Here are several ways to start.
This table shows where to start your transition into UX based on your interest.

| UX area | Starting point |
| --- | --- |
| UX design | Design thinking |
| UX research | Design thinking and research methods |
| UX writing | UX writing guide |
| UI design | Figma and design principles |
UX stands for user experience. It is a broad discipline in the design world with many different roles. Professionals within the UX discipline are most commonly called UX designers.
UX professionals focus on user-centric design. They commonly work in a software development environment where they help design user-friendly software. In a less common situation, UX designers can also work on non-digital products, like vending machines, ATMs, and store layouts.
UX is important. Designers know this. Yet, not everybody else does. It is still very difficult to convince your stakeholders of the importance of UX. That's because there's more at play than just UX.
As a result, stakeholders have to make tough choices that aren't always in the best interest of UX. Stakeholder management is one of the main differences between junior and senior UX designers.
In addition, some say design is subjective. You either like it or you don't. Luckily, we know better. UX is important because it can greatly help in achieving business goals. Good design equals happy users. In turn, happy users equal more revenue.
Read our post on why UX is important to read more about the value of UX and how to convince others of that value.

UX vs. UI. What is the difference?
There's some confusion regarding the difference between UX and UI. That's because many companies are looking for something called a UI/UX designer. Sometimes these people, who are UX designers according to their job title, are more UI designers when you look at what they do during the day.
So is there a difference between UX and UI? Yes, there is! Take a look at the table below for a quick overview.
This table shows a comparison between UX and UI.

| | UX | UI |
| --- | --- | --- |
| Project involvement | Early project | Late project |
| Tasks | Research, wireframes, workshops | UI Design, developer handover, design systems |
| Stakeholders | Business | Front-end developers |
As you can see, UX designers are more involved in the early stages of a project. They work on wireframes, research, and workshops. On the other hand, UI designers focus mainly on a product's UI. They take over from a UX designer in the second half of a project.
What does a UX designer do?
The role of a UX designer can be very broad. Depending on the type and size of the project, your work can include doing research, setting design requirements, UI design, visual design, and much more.
Because of this, you need a broad set of qualities and skills as a UX designer. For example, it is very important to understand when to use certain skills. That alone is a skill you must master. Other skills include the following.
Understanding design theory, like grid layouts and how to pick fonts.

Basic understanding of how software development works.

Business skills.
Day in the life of a UX designer
As a UX designer, the primary methodology you will work with is the design thinking method. It is an iterative way of running your projects. Design thinking consists of a few repeating steps.
Empathize

Define

Ideate

Prototype

Validate
Throughout the design thinking steps, you get familiar with your users, their problems, and their needs using one or more UX research methods.
During the ideation phase, you will brainstorm and design multiple ideas based on your research insights. Next, the ideas you have designed need to be tested. You do this by performing user tests during the validation phase. 
In most of your projects, you can repeat the ideate, prototype, and validation phases until you reach your project goals. Understanding these is one of the most crucial aspects of a good UX project. Asking your stakeholders the right questions is key here.
How UX designers fit into Agile and Scrum
At first glance, UX and the Agile or Scrum way of working seem very different. And rightly so, because Scrum uses sprints, where you finish work and move on to the next task after that. UX, on the other hand, uses design thinking, which is more iterative.
This doesn't feel intuitive for many UX designers. However, UX and Scrum have a lot in common as well. Read our ultimate scrum guide for UX designers for tips, tricks, and more on how to work in a Scrum environment as a UX designer.
Is UX front-end or backend?
As a UX designer, you will likely work in a software development business. Within software development, we differentiate between front-end and backend. So is UX front-end or backend? That's an important question!
If you're a UX unicorn, the answer is both. However, in most cases, UX works closely together with front-end development. Front-end developers work on how things look, just as UX designers do.
User experience has been around for a long time. Actually, it has been around forever. One of the only things that have changed is that UX became a job title after Don Norman coined the term UX in the 1990s.
Here's what Don Norman had to say about UX. 👇
"I invented the term because I thought human interface and usability were too narrow. I wanted to cover all aspects of the person's experience with the system, including industrial design graphics, the interface, the physical interaction, and the manual."
Before and since that moment, UX has had a great eventful history. Not only did Don Norman coin the phrase UX, but we've seen a lot of cool stuff from Leonardo da Vinci as well as Apple's iPhone breakthrough in 2007.
After looking at the history of UX, it only makes sense to also have a look into the future of UX. One trend that comes to mind right away is AI and how it will influence the UX designer's job.
Some even say that AI will replace UX designers completely, although I don't think that is the case.
What's likely to happen is an increase in design system usage within projects. It'll help UX designers speed up their work by creating design components once and then reusing it later on.
How to become a UX designer
Learning about UX requires you to know the basics we've discussed in this guide. Your next step is to become a UX designer. To do this, you will need quite a few things.
Theoretical understanding of what design and its methods are.

UX design and soft skills.

A portfolio to showcase your skills.
Luckily, there are many ways of getting there. These include courses, formal education, attending conferences, internships, and many more. We have a full post on how to become a UX designer, including frequently asked questions, the steps you need to take, and career advice.
Do you have feedback on this article? Missing something? Or just a question? Reach out to me and I'll get back to you!