How to transition into UX in 3 easy-to-understand steps
Many people are transitioning into UX. It's a very popular career path. But how do you do it? There's just so much to learn at once. Not to worry! Here's how to transition into UX.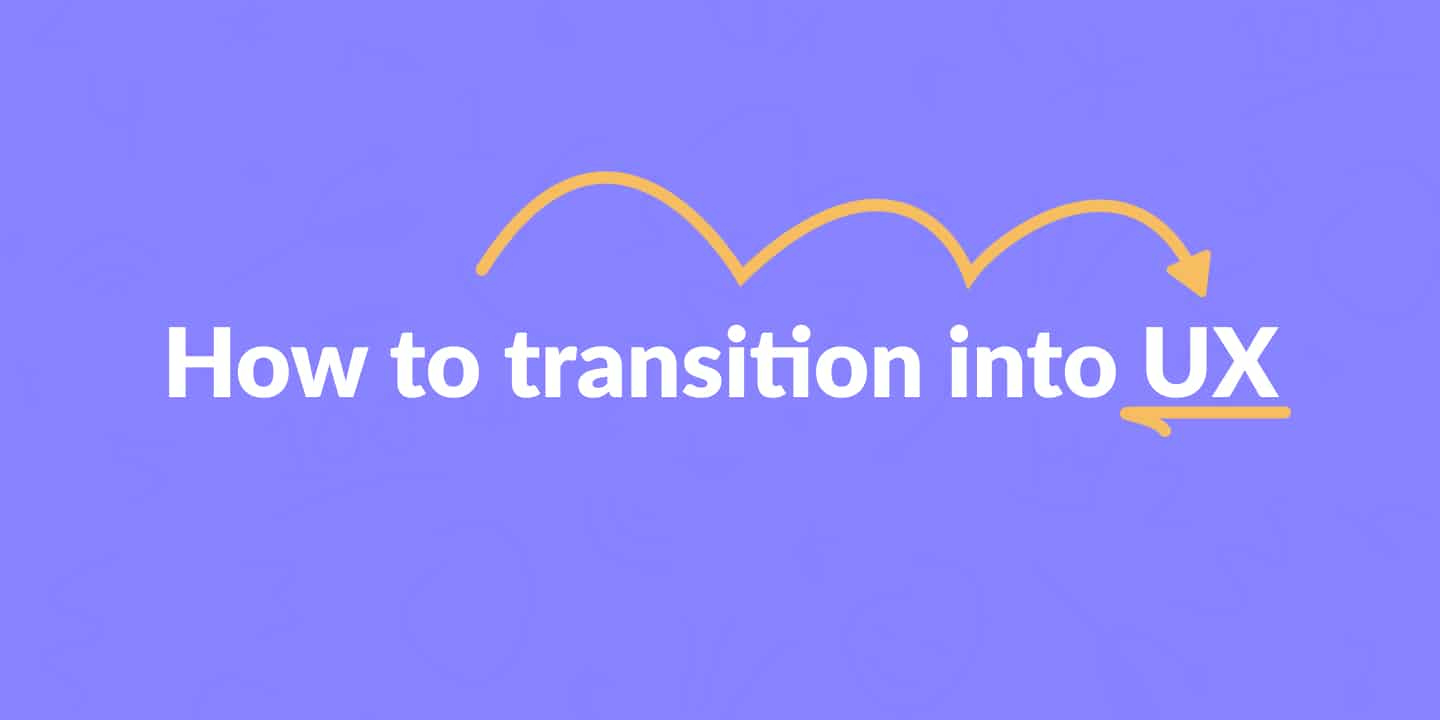 In addition to my day job as a senior UX designer, I run a UX mentorship where I teach people about UX and help them break into UX. How to transition into UX is one of the main questions I get.
In this article, I'm going to share the step-by-step approach that I help my mentees go through.
How to transition into UX
To transition into UX, you first have to understand what part of UX you want to work in. Next, create a list of skills and experience from your current line of work and translate those to skills relevant to a UX designer. As a final step, you create job-hunting materials to help you get your first job in UX.
This is only the overview of how to complete your transition into UX. Let's take a look at each step individually.
Understand what parts of UX you want to work in
UX is a very broad industry. If you mention that you want to work in UX only, it will be hard to help you. You need to be more specific.
You could choose UX research, for example, or go the opposite way and choose UI as your expertise. Knowing which area of UX you want to work in greatly helps to make the transition easier because each area has its own requirements.
If you want to transition into UX, something must've triggered your interest in UX. Do you remember what that was?
For many of my mentees, working in a user-centered way is what made UX so attractive for them. In that case, working as a UX designer that follows a user-centered way of working, like design thinking, would be a great direction for you.
Other people I've spoken to really enjoy the visual side of UX. They want to work on creating stunning pixel-perfect designs. So for them, UI design is the way to go.
Where to start your transition into UX
Once you know what part of UX you want to transition into, it is time to take your first step. Take a look at each area and its corresponding first step below.
This table shows where to start your transition into UX based on your interest.

| UX area | Starting point |
| --- | --- |
| UX design | Design thinking |
| UX research | Design thinking and research methods |
| UX writing | UX writing guide |
| UI design | Figma and design principles |
These are all great starts to learning UX. You can learn about these subjects in addition to working on the following steps below.
Translate your skills to UX skills
There's a lot you can bring from your current career into UX when you transition. You don't need unique soft skills to become a UX designer.
If you're a teacher, for example, you're in front of a classroom all day. That requires presentation skills. In addition, you have to manage your stakeholders (the children) and help them understand new information.
All of these are very relevant for a UX designer. You can translate these skills to UX without too much effort. Here are some examples.
This table shows how to translate non-UX skills into UX skills.

| Non-UX skill | UX skill |
| --- | --- |
| As a teacher, I'm in front of a classroom all-day | Facilitator of (design thinking) workshops |
| As a hairdresser, I help customers pick their next hairstyle | Understanding shapes and color theory |
Create your job-hunting materials
As a final step to help you transition into UX, you need to create your job-hunting materials. These are your LinkedIn profile, cover letter, resume, and portfolio.
To get started, create a short bio about you as a professional. Mention what you do, how you got into UX, and what you offer. You can put this bio on LinkedIn and into your portfolio.
Next, make a list of your work experience. You can reuse this in your portfolio, for your case studies, and as a part of your resume. For both your resume and portfolio, I offer reviews through my UX mentorship. Take a look.
If you do this right, you'll have your materials in order. Your next step would be to go on the actual job hunt and complete your transition into UX.
Is UX hard to break into?
How easy it is to break into UX depends on your background and skills. If you have overlapping skills or experience in a similar industry, it is very easy to break into UX. However, it will be much harder for you if that's not the case.
That overlap in skills and experience can come in several forms. The main difference here is soft skills and hard skills. If you've worked in a corporate environment for many years, you're likely to have a lot of experience in some of these soft skills.
Stakeholder management

Project management

Handling office politics

Selling and presenting your work
Compared to other candidates for entry-level jobs, this is a huge advantage. By sending a well-written cover letter, you're ahead of most of the competition. If you are invited for an interview, you can use your soft skills to make a great impression.
Is it too late to become a UX designer at 30?
You can become a UX designer at any age. It is not too late to become a UX designer at 30 or over. I know this because most of my mentees are over 30.
They're transitioning from a different career into UX, and they bring unique insights to the UX table that can help them break into UX.
Some examples from my UX mentorship program include a fashion designer, a researcher, and a middle school teacher. They all have unique overlapping skills that have helped them make it into UX.
Transitioning into UX is something everybody can do. It becomes even easier if you have some experience in another field. In that case, you can leverage the skills you already have and translate them into UX-related skills. Here's an overview of what to do.
Understand what part of UX attracts you most. This can be anything from UX research to UI and product design.

Make a list of the skills from your current job and translate them to skills relevant to UX.

Use these new skills to create your resume, portfolio, and cover letter.
Consulting with a UX mentor can help move this process forward. I've been helping many designers transition into UX. Feel free to reach out to me if you need help!
Do you have feedback on this article? Missing something? Or just a question? Reach out to me and I'll get back to you!