Figma – All you need as a UX designer in 2023
Figma is a fantastic design tool used for UI design, UX design, and prototyping. The tool is similar to Sketch if you look at the features and required skillset. However, Figma is different in the fact that it is cloud-based and collaboration-focused.

This post is focused on providing you with all the knowledge you need to get started in Figma. We are going to cover basics like pricing, installing the application, and tutorials as well as more advanced information like making use of plugins and creating design systems.
Finally, we are going to be answering your most frequently asked Figma questions.
Let's talk a bit about what Figma is before we dive in. Figma is a prototyping tool. In fact, together with Sketch, this application is one of the top tools available in this regard.
The tool is web-based with desktop applications also available for most of your common operating systems, like macOS and Windows 10. Figma has a lot of great features, including real-time collaboration. This is where it differentiates from Sketch.
Back in 2012, Figma was founded by Dylan Field and Evan Wallace. They met at Brown University just before that. Since then, the prototyping tool has raised multiple series of funding to grow to its current valuation of well over 2 billion dollars.
The application first came out in 2016 after an invite-only preview that started in 2015. Since then, a lot has changed. In 2019, Figma launched a community where designers could share designs and plugins. More on that later.
When deciding which design prototyping tool you want to use pricing can be a big factor. This time will not be any different. Let's take a look.
Figma has three pricing packages. The first one, called the started pack, brings great news. It is free! That means that you can always try and learn this great UX tool without a financial commitment. Sounds great, doesn't it?
The starter plan allows two designers to work together on three projects at the same time. It also gives you 30 days of version history. As a designer who's new to the tool, this will be plenty.
Next up is the professional package. This plan isn't free, sadly. From this plan and up you are going to pay $12 per designer in you pay annually. If you don't, it will cost you $15 per designer per month.
Your investments aren't for nothing, of course. This plan allows for unlimited designers working on unlimited projects. In addition, you get unlimited version history, invite-only projects, and shareable team libraries.
Finally, Figma has the organization plan. This plan can only be billed annually for $45 per designer. In addition to everything in the professional plan, you get a lot of extras. You get many options in regards to plugins, the use of design systems, advanced security, and analytics.
You can read more over on Figma's pricing page.
Getting started with Figma
Now that we have the basics down it is time to actually get started with Figma. We're going to talk about how to download, register for, and install the application. These are the requirements you will need to get started using Figma.
Installing Figma couldn't be easier. In fact, since the application is web-based all you have to do is register an account. Once you do you are good to go!
Here's how it works. First, go to the Figma website. Once you're there, click the 'sign up' button in the top right corner. You can use your own e-mail address and password but also use Google's social login.
After you've registered you need to answer a few simple questions, but after that, you can get started!
If you do not like to work in an online environment you can also download Figma to use it on your desktop computer. You can do so by downloading Figma here.
Once you do you can install the application just as you would install any Windows 10 or macOS application.
Now that you have installed or even downloaded Figma it is time to take a look at some of the resources that are available to you. We're going to look at resources including plugins and tutorials.
If you know how to make use of these resources you will be one step ahead in completing your Figma goals. These goals can be anything from learning your first UX design tool to increasing your overall knowledge of design tools. These resources got you covered.
Since the launch of the Figma Community in 2019, plugins have been a big part of the application. Plugins can really help increase the speed and efficiency of your work.
Plugins include favorites from the design community like Unsplash and Rename It, as well as a lot of new plugins that are just as great.
We wrote a lot about plugins, our suggestions, and how to use them. Take a look at our post on Figma plugins.
Up next we have Figma tutorials. You can really up your game by just watching tutorials. Most tutorials provide you with a step-by-step case that you can do yourself while watching the tutorial at the same time.
Once you watch enough tutorials you will get to the point where you can combine the things you've learned to learn new things by yourself.
We have a list of recommended Figma tutorials available for you to read. We include beginner tutorials as well as complete playlists to check out for free.
Frequently asked questions
We're going to end this section of Figma resources with a list of frequently asked questions. These questions will hopefully help you out even further on your journey of learning this great tool.
After multiple rounds of funding, the company is now believed to be worth over 2 billion dollars. This valuation is based on a funding round by Andreessen Horowitz back in 2020.
More on the matter here.
Yes, they are! The company works very hard to make sure Figma Plugins are safe to use. They do this by using something they call Realms Shim. In addition, plugins require to comply with a set number of rules.
Check out Figma's post on plugin security here.
Can Figma open XD, AI, or Sketch files?
Yes. In fact, you can import Sketch files right into Figma while keeping your layers and artboards available to you. Opening XD files is more difficult. To make that work you first have to export your XD designs as SVG files. The same goes for Adobe Illustrator (.ai) files.
You can read more on opening Sketch files in Figma here.
How much time does it require to learn Figma?
That's a difficult question. The answer is even harder. The time it takes to learn any tool or skill depends on you. It depends on the amount of time you are willing to commit to this cause.
In addition, if you already know a similar tool, like Sketch, learning Figma might come easier to you. In any case, just start and learn the tool. It is a fun and motivating journey!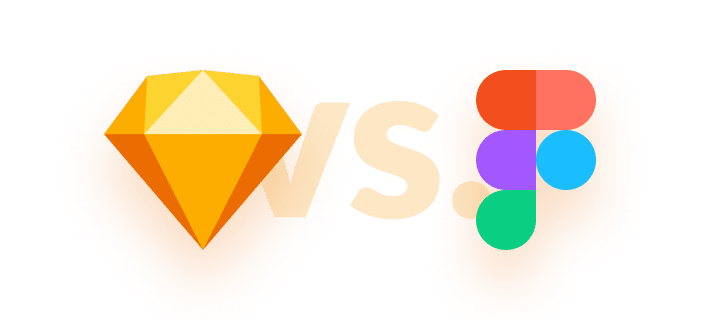 With every extra feature, the Figma vs Sketch discussion gains more traction. And rightly so! As a UX or UI designer, you must always use the best tools that are available to you.
If you compare Figma to Sketch, a number of differences stand out. For example, Figma is a web-based application. This means that you can use this tool on any operating system. You could even use Figma on iPad if you make sure you have a bluetooth mouse and keyboard available.
Sketch is only available on Mac. A lot of designers already have a Mac but regardless of that, it makes you less flexible. You can't change from Mac to PC that easily if you're used to using Sketch.
In addition, you can use Figma for free. This free plan even gives you access to all the features you need to get started. Sketch doesn't have a free plan except for a 30-days trial. The fact that there's no free plan makes Sketch less accessible for new UX designers.
Finally, if you take a look at the actual prototyping features, things are too close to call. Yes, Sketch has been around longer so it has more developed features. However, Figma is gaining on Sketch now that it has its own community of plugins and shareable designs. Its real-time collaboration is a big plus.
If you put it all together, picking one of the two tools comes down to your current wants and needs. Starting designers benefit from Figma's easy (and free) entry point while more experienced designers can make great use of its powerful features.
Designers need to be able to design. It is as simple as that. To be able to do that, you need to be a master in a prototyping tool of your choosing. If you pick one of the more popular choices, you can pick Figma or Sketch.
Do you have feedback on this article? Missing something? Or just a question? Reach out to me and I'll get back to you!