How to build a UX Portfolio that gets your hired
As a UX designer, it is of great importance to have a well-crafted UX portfolio. You use your portfolio to show potential employers or clients who you are and what you are capable of. By creating your portfolio in a well-thought-of way you're setting yourself up for that one job or project you've been dreaming about.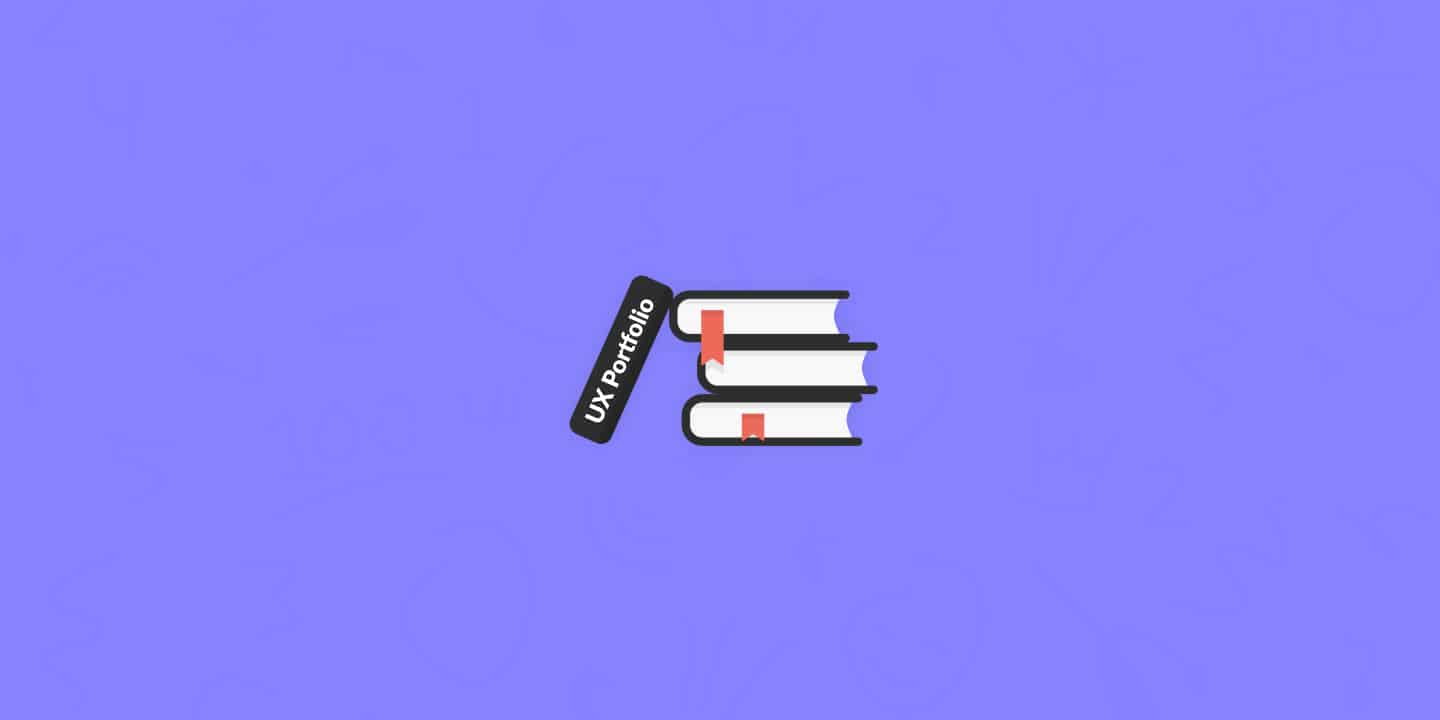 Creating a kick-ass UX portfolio is easier said than done, of course. There's not one default way of designing your portfolio. Every designer has their way of creating a portfolio. And even though this might be the case, there still are tips, tricks, and best practices that you can apply to make your UX portfolio stand out.
I will show you what these tips and tricks are and how you can incorporate these to bring your portfolio to the next level.
Whenever someone starts a portfolio, the first thing they ask me is where they should share their UX portfolio. Even though that is a valid question, you should get the basics right first. These basics include having a folder on your computer for your portfolio and a portfolio structure.
1️⃣ Find a place to keep your portfolio
Let's start at the beginning. First, you need to have a place to keep your portfolio. One way is to keep a 'portfolio' folder next to your 'clients' folder on your computer.
I keep a copy of this folder in the cloud to have it with me wherever I go. You never know who you might run into, so having your portfolio with you is always a solid plan.
Some designers I know like to keep a printed version of their portfolio. It is a cool, old-school way of presenting your portfolio. The cool thing here is that you can leave behind a copy of your portfolio at the job interview. You'll make a great impression if you do, believe me. I've done it a few times, and my success rate has been higher whenever I brought along a printed portfolio.
2️⃣ Set up your UX portfolio structure
Once you have a place to store your portfolio, it is time to think about your portfolio structure. Two questions are important here.
What design work do you want to do more often?

What are your unique skills as a designer?
Your portfolio should represent the work you're proud of and work you want to do more of in the future. In most cases, these two align. So ask yourself this. What design work do you want to do? At what kind of company would that be?
Next are your skills. You need to know what these are. You can set yourself apart by combining skills that carry over to your UX skills. For example, one of my UX mentor clients is a skilled artist. It enables her to create UX design work that's not only functional but also stunning visually.
Take your time thinking both questions through since it is an essential part of your portfolio. You will structure your portfolio around your answers to these two questions.
Creating your UX portfolio
Now that you have a UX portfolio location and structure, it is time to add some muscle to your portfolio. In this section, you will focus on creating the UX portfolio essentials.
Cover page

About you

Case studies
Great UX portfolios have a clear cover (or landing page, if you have an online portfolio). This cover page is the first thing your readers will see and, therefore, your only shot of making your first impression stick.
In some cases, your cover page is the only thing recruiters take the time to see. It is also an opportunity for you to do some personal branding.
Include the following on your landing page and cover.
Who you are and what your role is. Companies and recruiters are looking for a candidate to fill a particular role. So, for example, if you're a UX designer, you need to show that right away. One way to do that is to have a nice header on top of your page where you introduce yourself and your role. Remember the questions from the previous section? Your answers come into play here. What design work do you want to do more often? Mention it in your role here!
Your design skills.After you've introduced yourself, you have to state what it is you can do. For example, are you a great UX designer, an expert in facilitating design sprints, or a visual designer with a unique style? Let your readers know! Once again, your answers from above are critical here. What skills make you a unique candidate? Your cover page is the place to let the world know.
How recruiters can reach you. Imagine a recruiter has visited your portfolio website. He now knows who you are and what you do. Because of that, he is interested in hiring you. There has to be a way for them to contact you. Include your contact information like an email address, LinkedIn page, or phone number. Reaching you has to be as easy as possible. If it isn't, recruiters will go for another candidate. It is harsh but very much the case. Calendly is a popular way of scheduling meetings that is easy and free to use. If you want to have video calls with potential clients, this is an excellent service to add to your website.
The about you section of your portfolio can be something about your working history, a backstory on how you got into design, or something else entirely. It is a more extended, in-depth version of the introduction you present on your cover page.
Now, for the about you page, it is all about, well, you. In one or two paragraphs, you present your skills and how it carries over to UX. It is your backstory on how you got into design.
For example, in some of the portfolios I've reviewed, designers talk about how parents can inspire you to become a designer from a very young age. Telling a story like this makes your portfolio personal.
It can also work as an excellent ice breaker during interviews. Clients and employers always remember that personal story better than that one extra case study you might have added to your portfolio.
A personal about you section can make all the difference in your job hunt. It might sound strange, but that is the case. Here's why. When you apply for a job, other applicants will have the same education and experience as you. Your secret weapon is who you are as a person and your unique skill set. That's where you can make a difference.
Case studies are front and center in every UX portfolio. In a UX case study, you present a project you worked on. For this project, you explain the challenges you've faced, how you've tackled these challenges, and your way of working during the project.
Case studies will show potential clients and employers how you do your work. Because of that, it is crucial to show your process and way of working in addition to your end results.
The results you present in your case studies are very important for many employers. Focus less on results like a better app design, but tell why it became better. For example, did the app attract more users for your clients? Is the user flow easier to complete, which helps users do their job in less time? Focus on the results your client, as a business owner, values.
How to create a UX case study within 24 hours
Let's be honest for a moment. Creating a UX case study is much work, even when using the information above, especially when you want to make multiple case studies.
I've made a template to help you create a UX case study within 24 hours. In addition, I'm sharing a step-by-step guide on how to do it and where to share your case study in the same template.
How many projects should you put in a UX portfolio?
The number of projects you should put in your UX portfolio isn't a given number.
In most cases, bigger is better. However, it is better to have one solid and clear project in your portfolio than many projects that do not clearly describe your work and impact.
If you have multiple projects available, I would suggest providing at least one for every design skill, role, or type of project you want to show. For example, if you're a UX designer and a graphic designer, show one project for each. The kind of design work you want to do also plays a factor here. Add more of what you want to do.
How to build a UX portfolio with no experience?
To gain experience, you need a job. And to get a job, you need experience. Here's how you break this circle.
You might be wondering how creating a portfolio is possible when you are just starting out. It is a common question I get asked a lot and something most junior UX designers struggle with.
There is a straightforward step-by-step approach that you can follow to create your UX portfolio. This approach works even if you have no experience as a UX designer yet.
Improve the design of a well-known app or platform.

Then, write a case study about it.

Share your work online to grow your network.
You gain experience as you go along your journey of being a UX designer. Therefore, create your UX portfolio with every project you complete during these times.
You can read more about it in my post on building a UX portfolio with no experience.
Sharing your UX portfolio
You can present your UX portfolio in many different ways. By presenting in your unique way, you show the world what type of designer you are. Sure, you can use best practices and defaults when presenting your portfolio, but only following the default doesn't show your creativity as a designer.
Here's what you can do. Keep in mind that these are just examples of ways to present your UX portfolio. My goal is to inspire you to think of your unique way of presenting your work.
Create a booklet. If you create a portfolio that you can print, you will be able to bring your portfolio with you to an interview. And then, at the end of your interview, it is a real 'power move' to leave that book behind. This way, you show your potential clients that you bring something extra and that your presentation skills are on point.
Build your portfolio website. It is something most UX designers do. However, that doesn't mean you shouldn't. Create a unique style for your website by creating a logo and personal branding. This way, you will still be able to stand out from the crowd. Your website is also a kind of case study in itself.
Shoot a video. Creating a portfolio reel is an excellent way of presenting your UX portfolio. If you can do that, you will score bonus points. Keep in mind that it is very time-consuming, of course.
Best platform for sharing your UX portfolio
Once you have the basics of your portfolio down, it is time to find a platform for you to share your portfolio.
You can use a few well-known social platforms, like Dribbble and Behance. Another option is building your portfolio website via a content management system (CMS) like WordPress and Webflow.
Keep in mind that these do not necessarily exclude each other. You can use a combination or even all of the platforms mentioned above. For example, you can host your portfolio website via WordPress and write on Medium, LinkedIn, and Dribbble.
Let's take a closer look at some of the platforms to help you choose.

Dribbble was founded back in 2009. Since then, they've become one of the world's biggest social design sharing networks. According to Dribbble, they help designers share, grow, and get hired by some of the most innovative brands worldwide.
Back in the day, you had to get invited to join. You could become a prospect that had to be drafted by another designer already on the platform. Today's version of Dribbble allows you to sign up right away. It's less of a feat to be on the platform. However, Dribbble is still an excellent place to be for any designer.
Dribbble offers many features like design jobs, sharing your work, showing yourself as an available-for-work designer, and more.

Behance is part of Adobe's suite of design tools and services. They are a platform like Dribbble where you can showcase your design work. According to Adobe, Behance is the leading online platform to showcase and discover creative work. Behance is free to join. Like the current version of Dribbble, Behance has no invite-only system for new designers. Instead, you can signup right away.
Should I use Dribbble or Behance for my UX portfolio?
You can choose multiple platforms for sharing your designs, with Dribbble and Behance being the two of the most famous ones. Now, I can imagine that you don't have the time to create extensive profiles with a lot of content on both platforms. I wouldn't recommend doing so either.
Which one should you spend your time on and why? Read more about this in my Dribbble vs Behance guide.
The best CMS for building your UX portfolio
Next, it is time to discuss website builders, or content management systems (CMS), which you can use to share your portfolio. The pros and cons of this approach are the opposite of social media platforms. Your reach is smaller. However, the website is yours, and it will remain that way forever.

WordPress is a free, open-source content management solution that is great for designers. It has been around for quite some time, with the initial release of WordPress being back in 2003.
You can use WordPress for free on your website. The big plus for hosting your portfolio is that it is yours. Social platforms like Dribbble and Behance could disappear tomorrow. Your entire online portfolio could be gone if that happens. It will not happen when you create your UX portfolio website yourself.
Another bonus is that you can do additional stuff on your websites like growing your audience, mailing list, and personal branding. These will all enable you to grow a design business and a professional network.
Get your UX portfolio reviewed
I can imagine that this has been quite a bit of information on portfolios. However, after extensively working on your portfolio, you can develop tunnel vision. That's what happens to me when I work on something for a long time. 
Having a fresh set of eyes to look at your portfolio project can help you improve your portfolio even more.
Are you looking for some help with creating your new UX portfolio? Or did you receive yet another rejection when looking for a job in UX? Then, get a UX portfolio review to help you get that UX job you want.
By the way, if you're curious about the most common tips I share within my UX portfolio reviews, you can check out the video above.
Now that you've got the basics down, it is time to build your portfolio. In the meantime, make sure to keep improving your design skills. You can add these to your portfolio in due time.
Start with the structure of your portfolio. Where are you going to keep it?
After that, create a cover page and about you page that shows your unique skills.
Case studies are the main component of your portfolio. Create one for each skill you want to showcase.
Need some help? Use my UX case study template to create a case study within 24 hours, or get your UX portfolio reviewed.
Do you have feedback on this article? Missing something? Or just a question? Reach out to me and I'll get back to you!