Is UX front-end or back-end?
Is UX front-end or backend? That's an important question! In most cases, UX works closely together with front-end development. But there's a catch. I will tell you why in just a moment.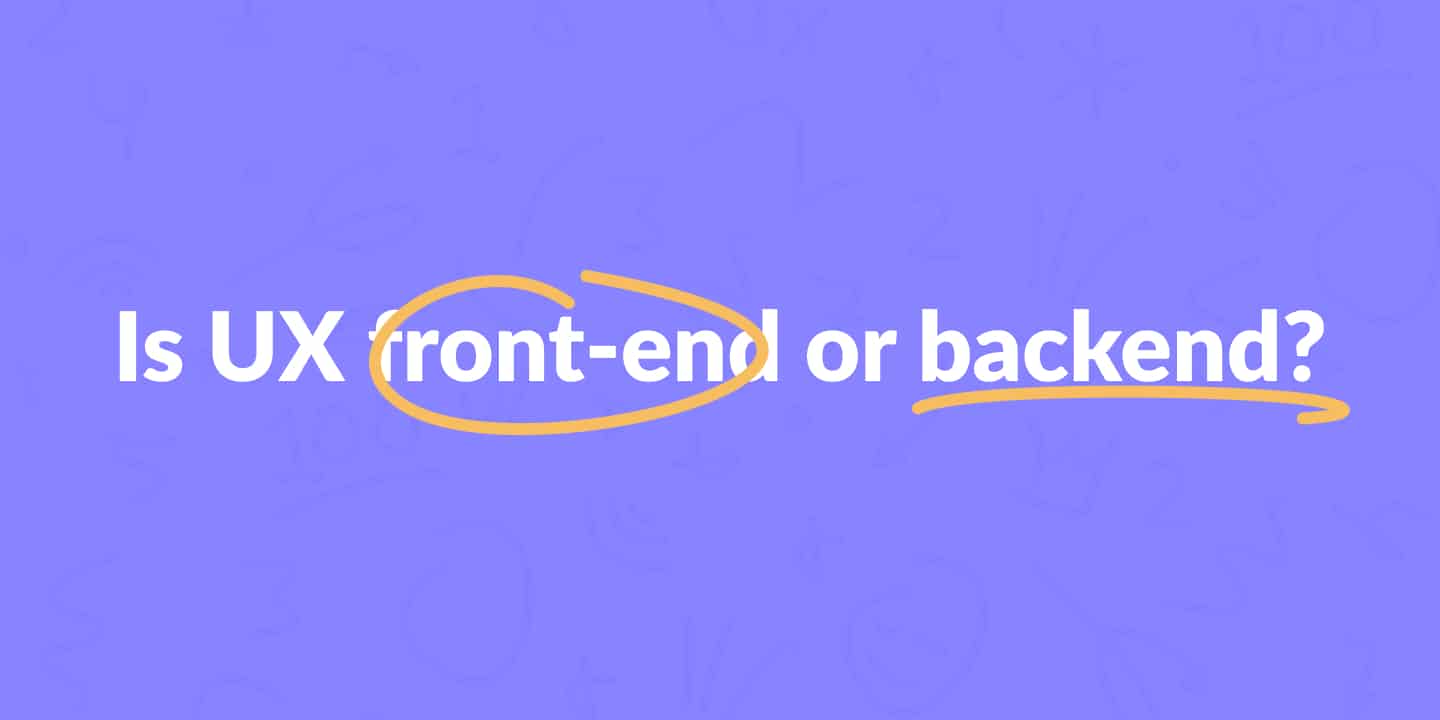 This post will focus on one question. Is UX front-end or backend? I will answer it based on my years of experience working as a UX designer at multiple companies. During that time, I've worked with front-end and backend developers.
Here's my answer to that one question.
Is UX front end or back end?
UX is primarily focused on front-end development. In companies with a higher UX maturity, UX overlaps with backend development, but even then, the main focus of UX is the front-end.
In the remainder of this post, I will explain why by using examples from my working experience as a UX designer. Let's do that right now.
UX and the front end primarily focus on the same thing
UX is about how things work first and how it looks second. As a user, you see the result of UX's work on your screen. In other words, that's the front end of a product.
Front-end developers, on the other hand, are all about making sure what you see on screen works and looks great. It means that UX and front end largely work on the same thing.
And that's precisely what I've seen during my work as a UX designer. A big chunk of my meetings are with front-end developers. We discuss and review my UX design work and how to implement it.
UX and backend only have a slight overlap
When companies attain a higher level of UX maturity, UX will become more involved in the back end of products. It means that you're going to influence what data the products need from users.
For example, I've worked with a company where I was able to remove redundant questions from a signup form after doing UX research. This example shows how UX can work together with the backend in addition to the front-end.
One thing to remember here is that your influence as a UX designer on the backend will be small. Between front-end and backend development, UX is still mainly about the front-end.
Is UX considered to be front-end or backend focused? The short answer is that UX is front-end. Like a front-end developer, a UX designer is responsible for making products look and work in a way that creates a delightful user experience.
You do that together. You will have a lot of meetings with front-end developers to refine and improve your UX design work. Later in your project, you'll review the implementation of your work to help the front-end move forward.
So, if you want to learn UX, including some basic knowledge on front-end development wouldn't harm you at all.
Do you have feedback on this article? Missing something? Or just a question? Reach out to me and I'll get back to you!