How to Become a UX Designer
So you want to become a UX designer? That's awesome! However, we can imagine that it might feel a bit overwhelming. There's so much information, courses, books on UX, and more out there. It is hard to keep a clear overview of what you need and where to start on your journey of becoming a UX designer.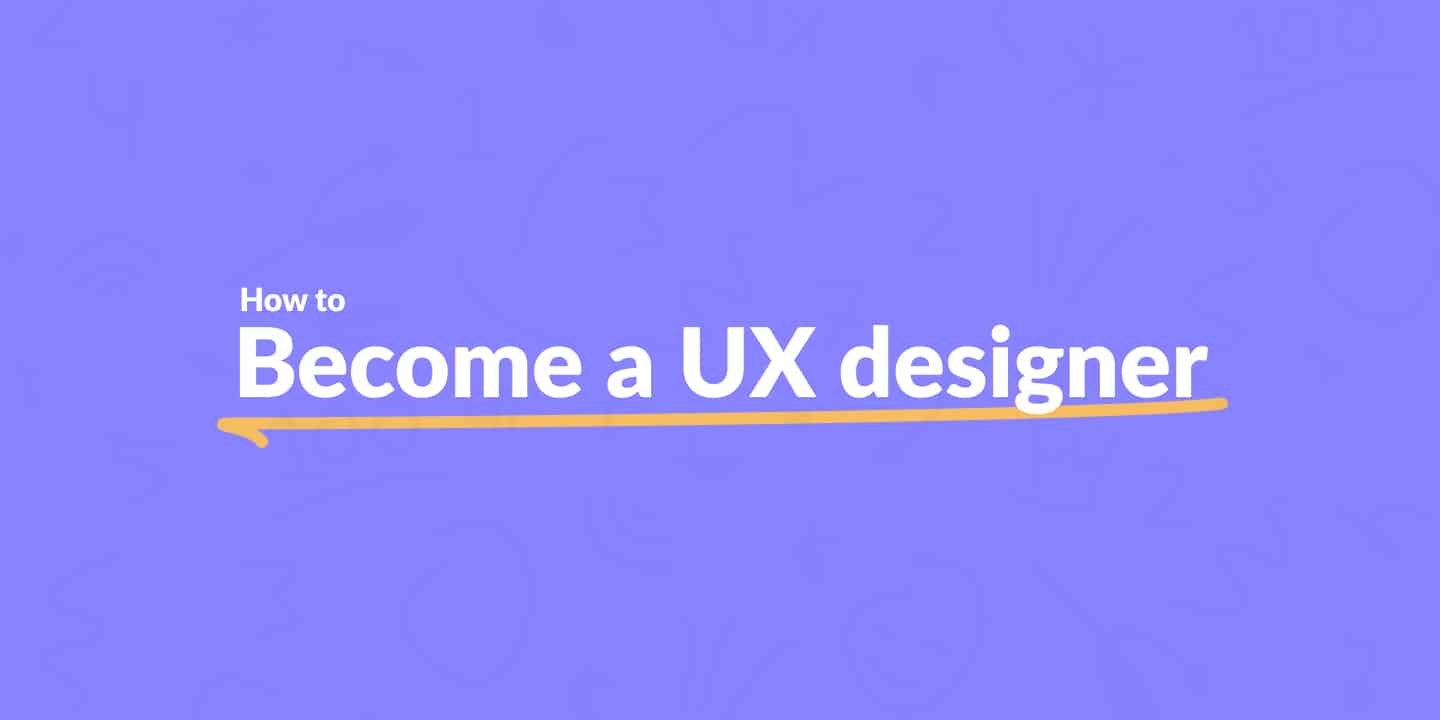 If you want to become a UX designer, writer, researcher, or any other UX related profession, you will most likely have a goal in mind. This could be to find a new job you like, get away from a job you don't like, or just to start doing something you are passionate about altogether.
This will most probably require you to get a job in UX. To do that, you will need to build up a profile. This profile of a UX designer consists of a few main categories where you will have to develop yourself. These are the following.
The four categories of UX designer requirements
Let's start with creating your UX designer profile! Before we get started it is important to take an objective look at yourself and determine how well-developed these categories already are.
For example, you could have some experience in a different (design) field, which might mean that you have some proficiency with tools, a resume, and some working experience. That's good, obviously.
We're going to take a look at each of the categories to break them down for you.
There are a number of important skills in UX design. We're going to divide them into hard skills and soft skills.
Hard skills are skills that you can improve through repetition and experience. They mostly focus on the use of certain tools or abilities. In the case of UX design, examples of hard skills are your ability to use certain tools, like Sketch or Figma, a prototyping tool, or a user research tool.
Soft skills are less tangible than hard skills. You can learn Sketch by practicing a lot, but it is far more difficult to learn consultancy, for example. In addition to consultancy, other soft skills you need in UX include communicating, providing advice, collaborating with clients, and more.
Soft skills are also known as 'people skills'.
As we said before, you can improve your skills by practicing. Hard skills are easier to improve than soft skills. There are many tutorials available online to improve, for example, your skills in Sketch.
Another way of increasing your skills and knowledge is by joining UX bootcamps or courses. These are expensive but can be of great value. You have to determine for yourself to see if they are worth it for you.
Every UX designer needs tools. Your complete set of design tools is what we call a 'stack'. This is something that originates from the world of development but works for design as well. As a designer, you need the following set of tools.
Vector-based UI design tool, like Sketch, Illustrator, or Figma.
The Adobe Creative Suite. This includes the likes of Photoshop, Illustrator, and Adobe XD.
Research tools, like Miro or Lookback.io.
Collaboration tools, like Zeplin or InVision.
Most UX design jobs require you to be proficient with any of the UX design tools. Luckily, there are a large number of online tutorials available for free.
The field of design is a very portfolio-driven place to work. Most people agree that having a good UX portfolio is more important than having a degree or formal design education. We agree, but having both wouldn't hurt.
As a designer, it is important to have a complete profile and your portfolio is a big part of that.
To help you out we've created a post that provides you with everything you need to know when creating your UX portfolio. The post includes answers on frequently asked questions, like how you can create a portfolio without any experience. Even further, there's a list of everything that has to be part of your portfolio to help you land your first job in UX. Check it out below.
Then there's also your resume. There's a lot to be said about what should be on your resume. We firmly believe that you should keep it simple. Recruiters only take a short look at your resume so you need to make sure they see right away what you're all about. Making your resume too complex is something you should avoid at all cost.
Getting experience as a UX designer is as easy as it is difficult. That's because any work you do can count as experience, but it is hard to get a client without some prior experience.
You need work to get experience, but to get working experience you need work. It is a difficult loop to get out of. Don't worry. You can get out of it. Here's how.
You can improve a design you think needs improving, or design something for your favourite brand. This will not only show your commitment to design, but it will also add up nicely in your portfolio. 
There's always someone looking for a good designer. Maybe you know someone from school, a family member, or a Facebook group. An added bonus is that you will get paid as well. Win-win, if you ask us.
There are loads of companies that are looking for extra help. It will not pay much, or even pay at all, but it will get you loads of valuable real-life experience. You can find internships on popular job boards like LinkedIn, Indeed, or certain Facebook groups.
Creating your design workspace
In addition to building your UX designer profile, you're going to need your workspace as well. This is where the magic happens. Your workspace could be while you're on the road, at the office, or when you work from home. Because of your changing environment, it is important for you to be able to take your work with you.
You'll need some tools, like Sketch or Figma. Please be aware that the choice you're going to make regarding your laptop also depends on the tool you choose since Sketch is only available on Mac.
Steps to become a UX designer
Your goal is to create a base level for all of the UX profile categories. But first, take a look at how far along you already are. In most cases, there are one or more categories lagging behind. That's the category you should focus on.
Decide the design direction you want to move towards
There are a lot of different types of design roles out there. For you to become a designer, you first need to make a choice.
What type of designer do you want to become? There are a number of options, including the following.
User interface design, or UI design in short. It is about creating visual interfaces and layouts for applications, websites, and devices.
User experience (UX) design. As a UX designer, you're going to focus on designing solutions to complex problems by doing research, creating concepts, designing interfaces, and testing your designs with users.
Become a specialised expert within UX, like UX research or writing. Our suggestion would be to get the basics down first and focus on one of these later.
We have a great guide on the differences between UI and UX that can help you make a decision. Once you have decided what to do it is time to get started. You have to build up your profile and the easiest way to start is by increasing your knowledge of the subject matter.
Increase your knowledge of UX theory and tools
There's a lot of theory behind good design. It is not as subjective as most people think. As an aspiring UX designer, it is important to get to know the basics of design thinking. It is the methodology used by most designers and design companies. In addition, you need to know something about the fundamental principles of design, how to work as a UX designer in an Agile environment, and how people work.
There are a number of great UX books available online. Make sure to read a few of them to get a basic knowledge of how design works.
Next to theoretical knowledge of design, you will also need to master a set of design tools. Focus on one UI and prototyping tool, an online collaboration tool like Miro, and maybe the Adobe Creative Suite.
Practice your design skills
Theoretical knowledge will only get you so far. You will learn the most from actual practice. This is one of the benefits of being a designer. You can design anything you want, whenever you want, and wherever you want. Here's how you can practice your design skills.
Follow online tutorials on Youtube. After you've done a few, you can combine what you've learned into a design of your own.
Design something you wish you had, like a great app idea, your dream car, or something else entirely.
Redesign a famous brand or something you like. Did you order something recently but didn't the application feel right? Redesign it! It is great practice and something you can add to your portfolio as well.
Create your first resume and UX portfolio
You're almost ready to apply for your first internship or traineeship. But first, you need to create your resume. When you apply for any type of job, you're going to have to send your resume. We're going to assume that you know what a resume is and that you already have one from school or any other work you currently do (or used to do).
Your UX resume will not be different compared to a 'normal resume'. Some think that your resume needs to be extra fancy since you're a designer but that is not the case. The same rules apply to your resume!
Apply for a UX traineeship or internship
Okay, let's summarise. You have decided what type of (UX) designer you want to be. After that, you have familiarised yourself with theoretical knowledge and design tools. You've created your first resume and have practiced some of your design skills. Keep in mind, this process could take weeks depending on how easy you pick things up.
The basics are in place. You can only learn so much on your own. After some time it is more valuable to you to go out and learn from others.
Now it is time for you to try and find a traineeship or internship in design. There are a number of places you could look at. These include mainstream job boards like Jooble, Indeed, and LinkedIn, but also specific Facebook or Reddit groups.
Join a group of designers
Being a part of a group of designers helps you to become a UX designer. Other designers might be a few steps ahead of you. Become of this, they can guide you through the phase you're currently in. In addition, other designers can give you feedback and advice on your current designs and portfolio.
To facilitate this, we've created our very own Slack UX design community. Join today!
I can understand that this is quite a lot to take in. You need to develop your UX profile to become a designer in UX, but how far along are you? To help you out with this, you can get yourself some advice from the Designer's Toolbox.
Just fill out the form below and we will get back to you. Our first conversation will be free of charge. No strings attached!
If you want to know more about getting a UX mentor or UX career coach. You can check out your options there as well!
Ask your questions on UX and careers
You can ask us any career-related question for free by filling out the form below. We'll get back to you as soon as we can.
Frequently asked questions
That's about it for now in regards to becoming a UX designer. However, that doesn't mean that this is all there is to say in regards to this subject. We've covered a few more questions below. Make sure you'll check back every now and then as we are going to create new content around these UX subjects.
Can you learn UX design on your own?
Yes, you can most definitely learn UX design on your own! In most cases, learning by yourself means you will not join a bootcamp or other form of formal design education.
To replace the benefits of doing it this way, you'll need to do a few other things. We believe you'll need to be very open on your progress. Create a social media account where you share your work, for example.
We wrote a post on how you can learn UX design on your own with a lot of tips and tricks to help you get started. Check it out.
How long does it take to become a UX designer?
It is difficult to put a specific time tag on this question. It depends on how far along you already are. For example, it will take a lot longer to become a UX designer if you're starting from scratch. If you already have some experience in a different (design-related) field, or if you are very lucky, you can become a UX designer in months or even in weeks.
The thing is, there is no real point from which you can call yourself a UX designer. Some say you're already there when you've bought yourself your first few UX books, while others say you need a UX degree, course, or even a real job before you are a UX designer.
Our advice would be to just get started. Once you do, you will be on your way to become a UX designer. Isn't that what counts? You will follow the steps as described above, sometimes take a step back, or skip a few steps. You never know what happens. You just have to take the first step and you will be alright.
Can anyone become a UX designer?
Yes. We can be very clear about this. Yes, anyone can become a UX designer. There's this misconception that you either need to be very creative to become a designer, or that will need to do frontend work as well.
None of this is true. If you work hard, follow the steps we provide and have a bit of luck, you can become a great UX designer.
How to become a UX designer with no experience
You can become a UX designer without any prior experience. The only thing is that it might take you a bit longer to get your first job. If you're willing to take this time and put in the work, there's no reason you cannot become a UX designer.
If you're just starting out, pay extra attention to the following points.
Practice every day. As mentioned earlier, you have to practice your design craft. If you do not have any experience in design, it is important to get started as soon as possible. Design something and ask for feedback right away. We have a great design community that's focused on just that.
Try and find a UX mentor. Once again, Facebook groups are full of experienced designers that are more than willing to help you out. You could also try Reddit, LinkedIn, and Quora for that.
Should I learn UI or UX first?
Learn UX first. If you look at the process of a design project, you'll notice that UX comes before UI. Therefore, it only makes sense to follow that structure and learn UX first.
I wrote more about learning UI or UX first in this post. Check it out.
Questions to ask before starting a UX project
The start of a UX project is key to its success. You have to ask a number of questions to discover what to do. Otherwise, you'll run the risk of going into the wrong direction and having to do a lot of rework.
Check out my list of questions to ask before starting a UX project. 
How to give and receive valuable UX feedback
What does a day in the life of a UX designer look like?
A day in the life of a UX designer is never the same. You'll work on multiple projects at the same time. These projects can change from week to week. In addition, there's a lot of presenting, facilitating workshops, and doing stakeholder management involved.
Never a dull moment, so to say! We wrote a more detailed post on what a day in the life of a UX designer looks like. Take look!
In addition to the tips, tricks, and steps you can take, we also provide you with further reading on UX. We wrote a comprehensive post to provide you with the basics to learn UX.
Useful resources to boost your UX career 👇