How to become a T-shaped designer
You might have heard of the T-shaped UX designer. Or maybe you are working on becoming one yourself. But that's easier said than done. There's a lot to consider, and some help would go a long way.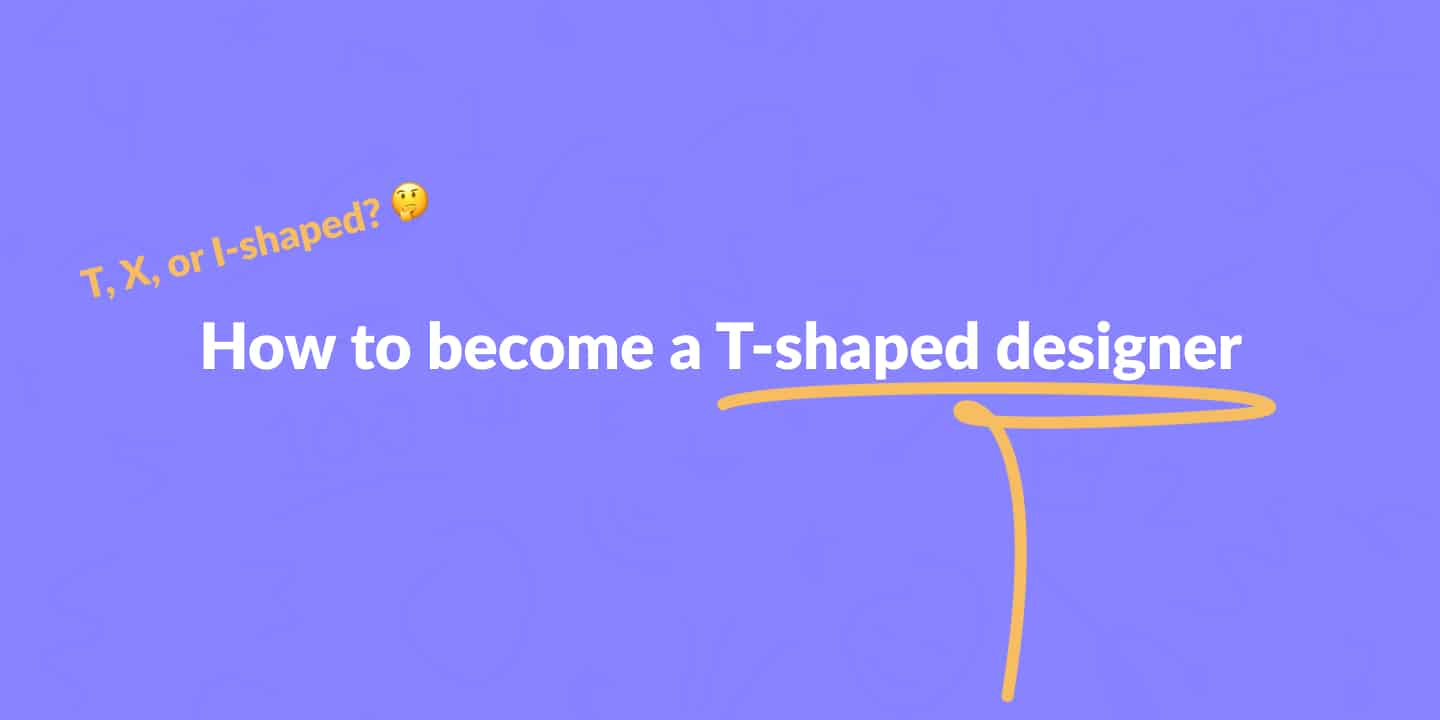 And that's exactly what we're going to do now. In this article, we will look at what a T-shaped designer is, its different variations, why becoming one is a good idea, how to use it to learn UX, and what approach you should take to make it happen.
We'll also examine a real-life example from one of my mentees along the way. He came to me looking to develop into a T-shaped designer.
What is a T-shaped UX designer?
Someone called a T-shaped designer is a designer with an extensive set of skills. He's an expert at one of these skills.
Let's create a graph to visualize this. We're going to align all skills this designer has on a horizontal path. This is the x-axis of our graph and the crossbar of a capital T.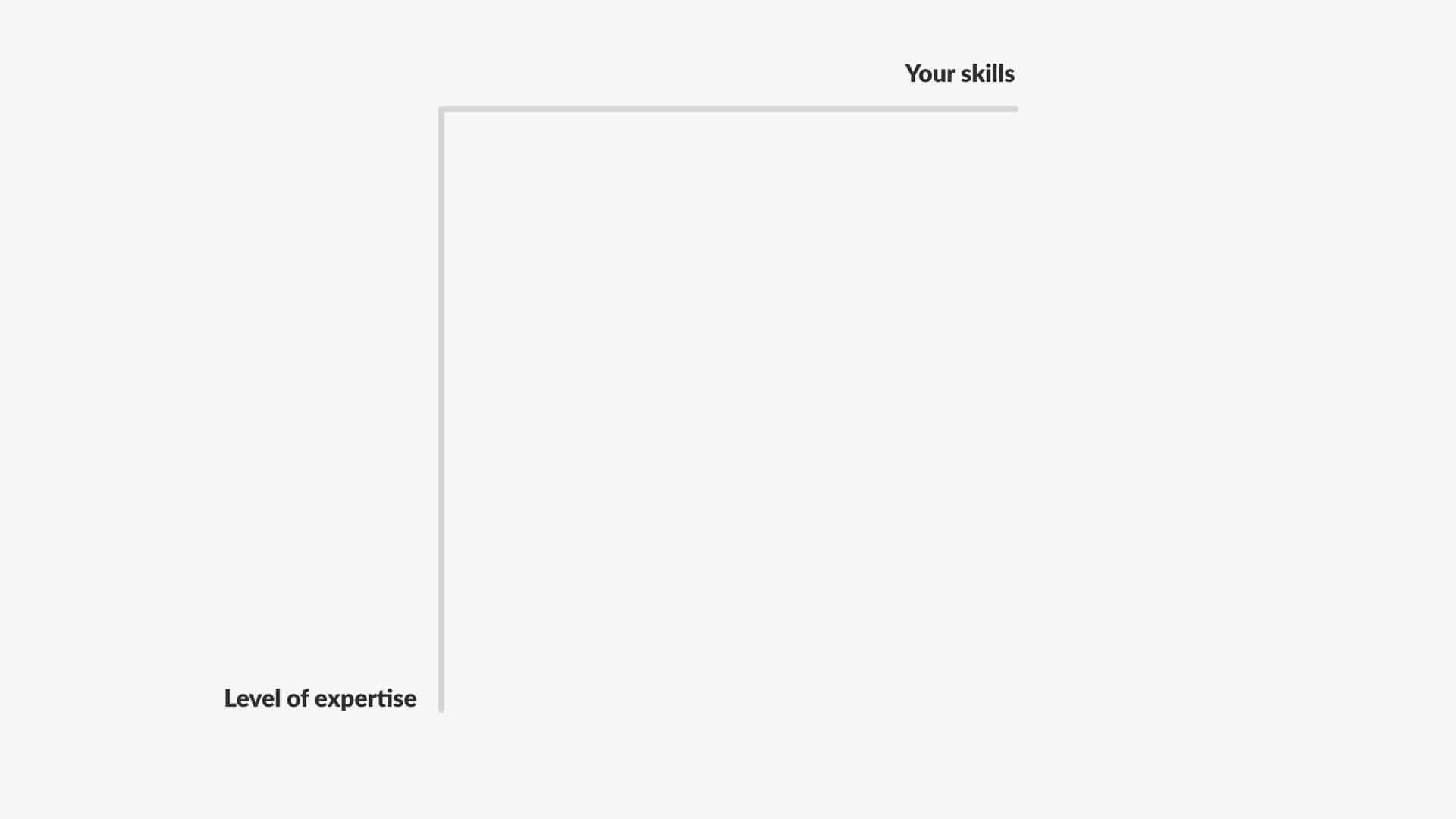 Consider this as a baseline. The designer has a basic knowledge of all skills on this line. The y-axis represents the level of expertise for each skill.
The designer has one expert skill. You move this skill down the y-axis to visualize that expertise. The result? Based on this method, the designer has a T-shaped skill set!
What are some of the skills of a T-shaped designer?
The skills of a T-shaped designer are mostly the same as any other designer. However, there's one difference: the experience of the designer.
The fun thing is that you could be a T-shaped (or differently shaped) designer without knowing it. Becoming one doesn't mean you have to change your approach.
In general, the skills a T-shaped designer specializes in are more niche skills instead of the overall skills you might use as a label for a bigger group of skills.
Let's look at an example. UX design is a skill, but it is also a label for a specific group of skills. These skills include usability testing, creating wireframes, and many more. They are all a part of the bigger UX design skill.
T-shaped designers are skilled in many of those skills, and you'd likely find their expertise in that area, bringing me to that exact topic next.
What does a T-shaped UX designer specialize in?
If you want to become a UX designer, going T-shape is a solid bet. In that case, you have one or two related skills you specialize in. What this skill is, depends on you. It can be any UX-related skill.
However, it does make sense to pick a specific skill instead of a broad, high-level design skill.
For example, instead of picking UX research as your specialty, go one level deeper and choose to facilitate workshops as your expertise.
This makes it easier for hiring managers and your colleagues to understand what you specialize in.
UX research is too vague in this case, while your workshop skills are specific enough for people to understand.
Imagine someone in need of a UX researcher. That's too vague to run with. I would have a lot of questions about skills and requirements.
But imagine being a T-shaped designer specializing in facilitating workshops. Now that's specific! You'd be able to start much quicker, and potential clients better understand what they can expect from you.
How to develop T-shaped skills
Okay, let's say you want to develop your T-shaped skills. You currently have a solid foundation of skills and experience in UX and are ready to turn those skills into a T-shape.
Here's how you can do that. To help you understand the process, I'll include that example from one of my mentees I mentioned at the start of the article.
Make a list of the skills you already have
First, it is super important to know what skills you already have. Start with making a list.
What I like to do is go into Figma and create a FigJam board. Then, I add a sticky note for every skill I have within that board.
Use the y-axis and x-axis I mentioned earlier and create a grid with three levels.
Basic knowledge

Potential expertise knowledge

Expertise knowledge
Add all those sticky notes you made to one of the three levels mentioned above. This is the first and current shape of your design skills.
If you look at what you have now, you might already have a skill set representing a common shape, like the dash-shape, I-shape, or a T-shape.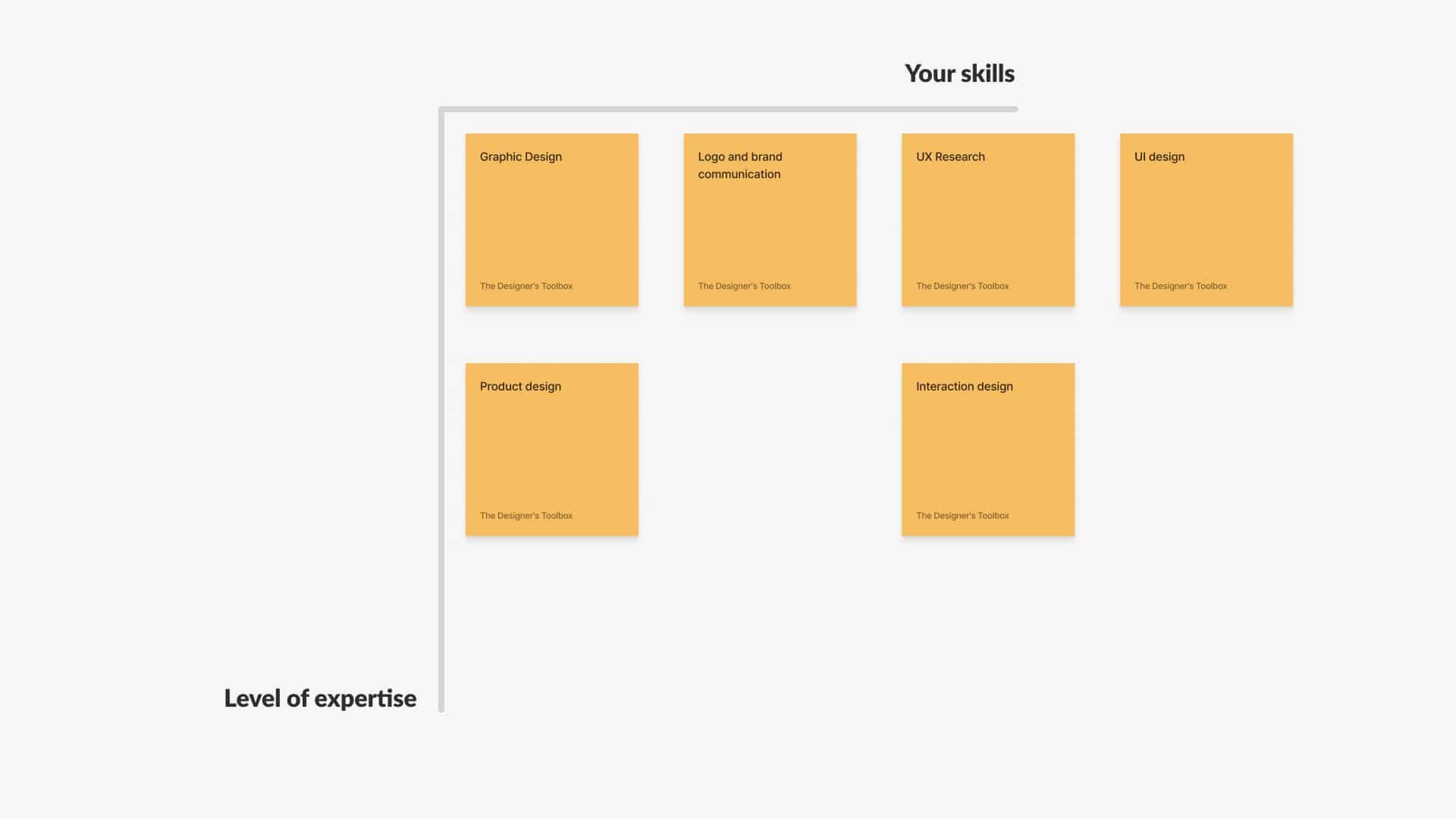 In the example above, the designer has a base knowledge of graphic design, UI design, and UX research, among others.
Based on my mentee's view, product and interaction design have the potential to become expertise skills.
What do you like to do and have to do
The next thing to do is figure out what kind of work you like. Developing skills in areas you enjoy doing is always a good idea.
Likely, the more advanced skills on your list are already the ones you like doing most. Keep that in mind if you have a hard time thinking of skills you enjoy.
If that doesn't work, I recommend you take a week of your time and be very aware of everything you do. What makes you happy during work? Take note!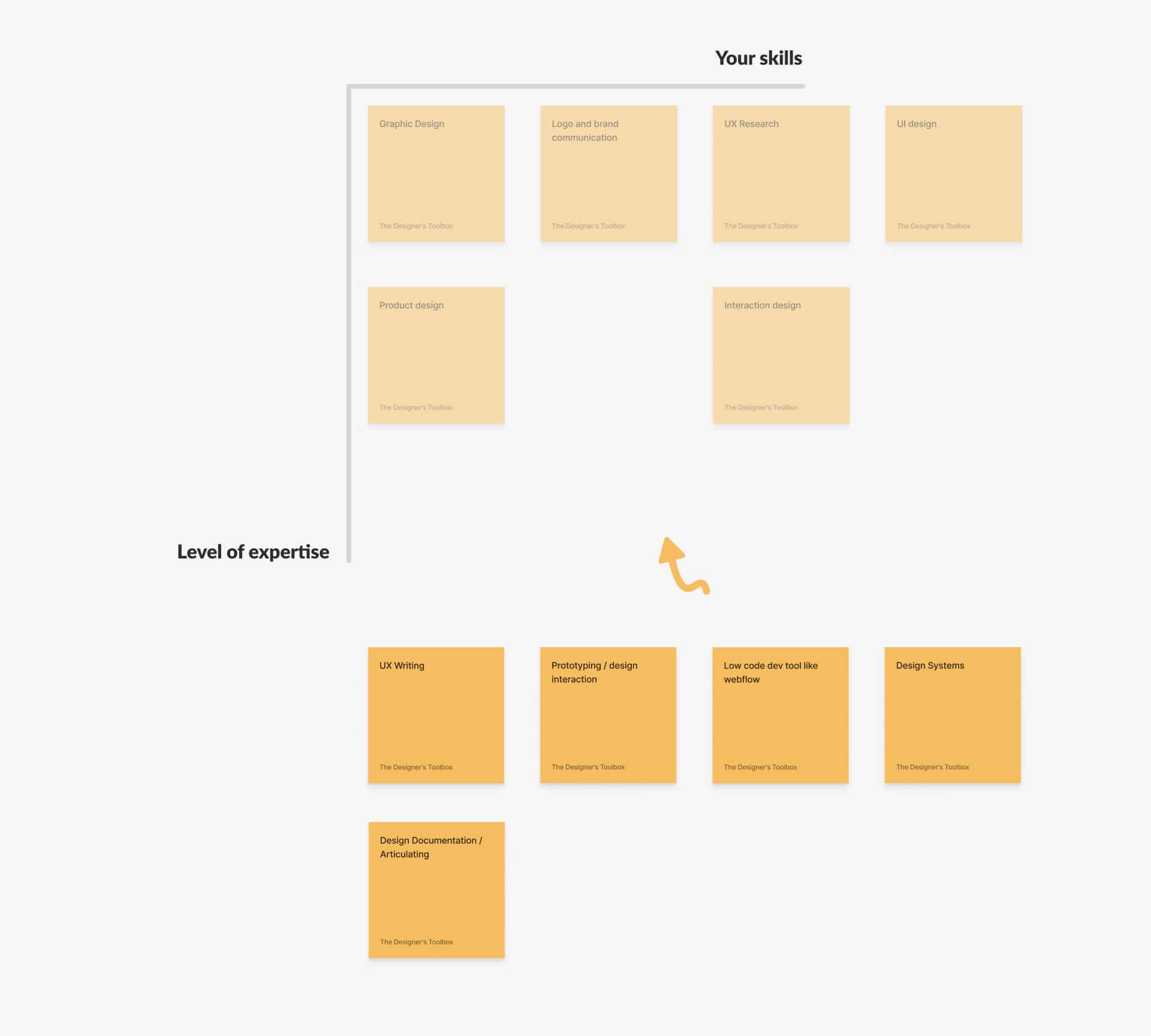 If we go back to our example, UX writing, design systems, and a few others are skills my mentee wants to develop more.
He made a note of that and added it to his skill overview. I recommend you do the same.
That's it for the work you like to do. Unfortunately, there's also the work you have to do.
I'm talking about design trends and your job. Developing design skills in that area helps you become a T-shaped UX designer that's of interest to the UX job market. You want that!
For example, accessibility is a very popular design trend in UX today. So that could be an interesting skill to further develop in your T-shaped skill set.
Determine your next steps
Now, you have an overview of your current skills and your knowledge of these skills. You also have a list of skills you'd like to use and the ones that you'd have to use.
The third and final step of developing your T-shaped skills is to figure out your next steps. How are you going to develop your T-shaped skills? Here's how.
Pick one skill from your list. You're going to start there. See if any of the following options are available to you.
Work on that skill in your current job. Are there projects you can pick up? 

Shadow a colleague that's proficient in that skill at work.

Ask your 

UX mentor

 how to develop that skill further.
As a final tip, I'd like to mention that in some cases, the skills on your list overlap somewhat. If that's the case for you, you can work on more than one skill simultaneously. That's efficiency right there!
In addition to T-shaped designers, there are more shapes to consider, like I-shaped and X-shaped designers. Then there's also the M-shaped designer, which is not commonly known but the one you're most likely to encounter when you start working on your skill shape.
Let's take a look at all of them below.
First up is the I-shaped designer. This is someone with a profound understanding of one particular skill. You can call this designer a true expert in his craft.
Compared to the T-shaped designer, this designer has a more narrow base of skills and a deeper understanding of the skills he masters.
Examples of I-shaped designers include UI designers, logo makers, and workshop facilitators.
Up next, let's talk about the X-shaped designer. There's a lot of discussion going on about whether or not this shape is attainable.
That's because X-shaped designers cross over into multiple roles. Imagine what we call the UX unicorn. In other words, a UX unicorn is a proficient designer and a coder in one person.
Can people become X-shaped with a multi-role set of skills? I think they can! It is uncommon but not impossible.
The final one I'd like to mention is the M-shaped designer. This one isn't mentioned a lot. However, I do notice it a lot during my UX mentorship meetings.
I noticed that the T-shaped designer's theory is too focused on extremes. You either have a base knowledge, or you're an expert.
There's something in between, however. For example, you could be learning to become an expert in a particular design skill. It means you're more advanced than the basic level but not quite an expert yet.
In that shape diagram we discussed above, you'd have multiple stems. With some fantasy, you can see an M-shape. This is the most realistic shape your skills will make at any given moment.
That's it for everything on T-shaped designers. We've discussed the skills these designers possess and the ones they're experts in.
Are you considering developing yourself into a T-shaped designer? This is how you start.
First, list all skills you currently possess and those you'd like to learn.

For each skill, place them in one of three categories: basic knowledge, potential expertise, and expertise.
You'll notice your first skill shape right here. From this point forward, you can choose which route to take. For example, you could further grow your skill to turn that potential expertise into true expertise or decide to add a skill that's entirely new for you to your skill set.
Consider talking to a UX mentor to help you decide what's best for you. Their expertise and industry experience are great tools for helping you make that next step on the UX designer career path.
Do you have feedback on this article? Missing something? Or just a question? Reach out to me and I'll get back to you!