UX Designer Career Path: Junior to Lead
UX is a very diverse field to work in. With people proficient in UX research, design, and many others, there are a lot of routes you can take on your UX design career path. But which one should you take? And how do you figure out where on this path you are now? Let's see if we can find that out together.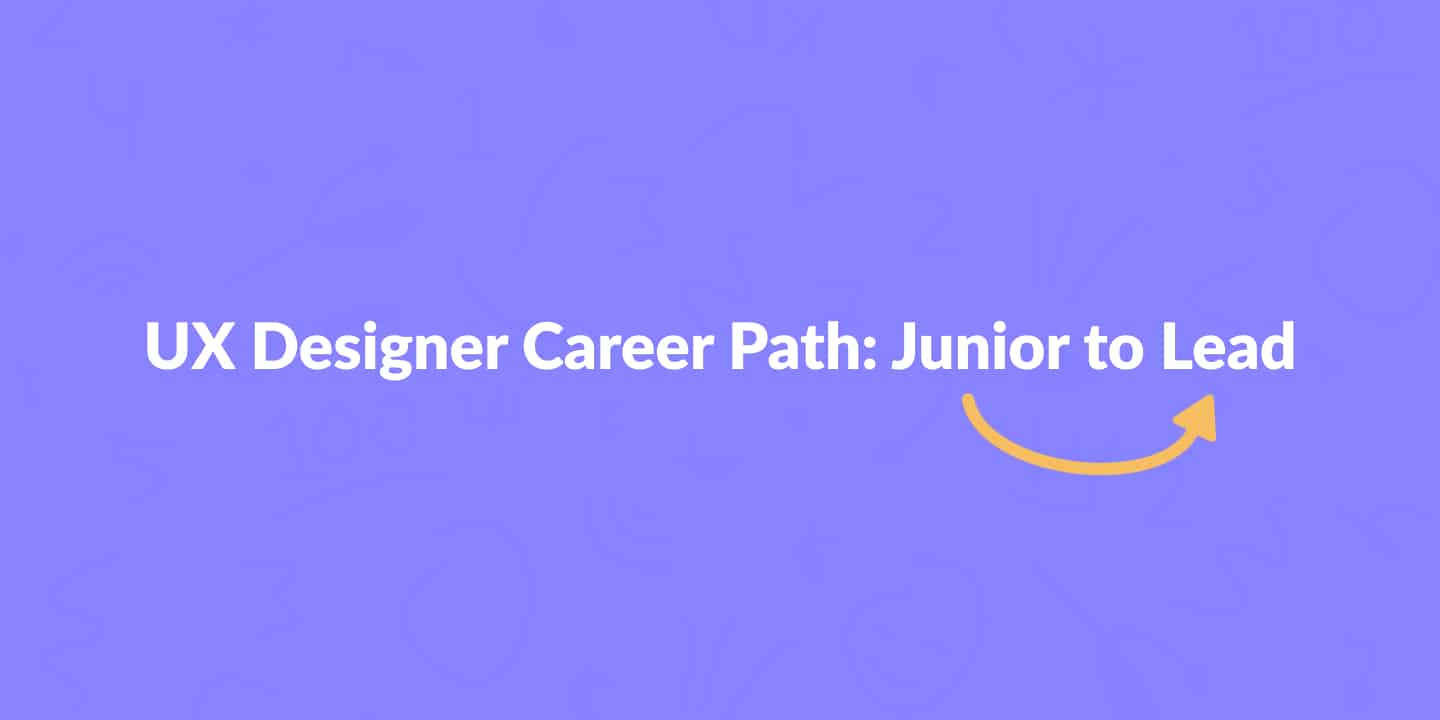 In this article, we'll look at how to determine your current position on a typical UX career path and what your next step might be. There are two ways of looking at that question, and we'll tackle both.
The UX designer career path
Your career path as a UX designer can move horizontally and vertically. That vertical direction is your experience and starts at an entry-level role. However, you can go as far as a director-level designer. In addition to the vertical direction, you also have the horizontal direction. This is your expertise as a designer. 
Looking at your design career like that can help you become a T-shaped designer. And to help you make that happen, we'll discuss some of the levels you'll encounter in both directions.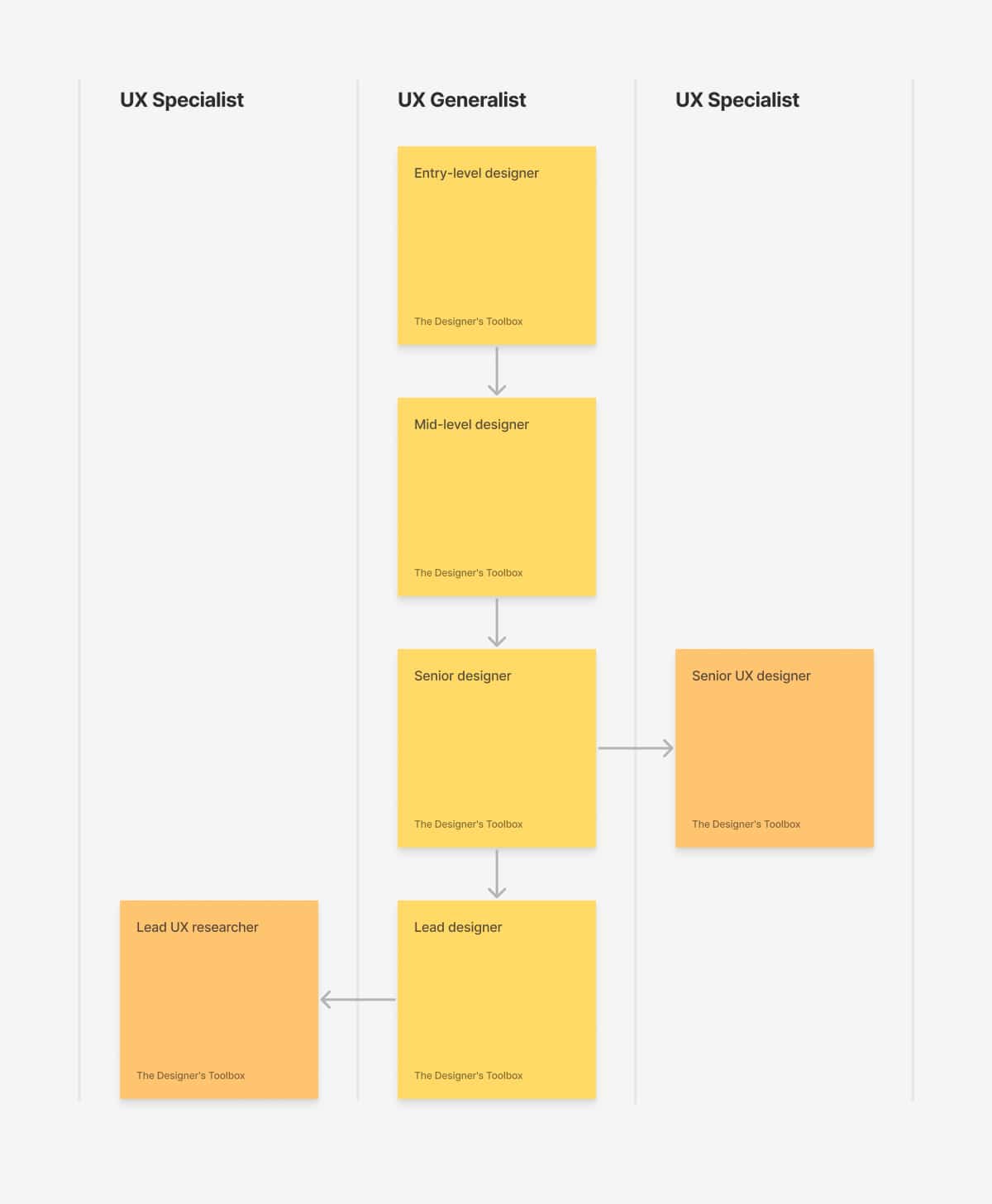 The vertical UX design career path
You first have to determine your current position before we can look at the different vertical career levels you can achieve as a UX designer. So let's do that now.
To figure out your current position, it is best to look at your current job. Do you currently have one? If so, that might be your current career level.
After working in that job for a few years, it is time for you to move up. However, if you're looking for your first job in UX, you'll most likely get a job as an entry-level (or junior) designer.
Junior-level roles, also known as entry-level roles, are the jobs you can get after you graduate school or a UX bootcamp.
At the job, you're most likely to work as part of a team. This team has a few developers on board and a senior or lead designer who can be a UX mentor for you.
You're not expected to do any of the office politics that a more senior designer has to deal with. Instead, you can focus on the actual UI and UX design work. This includes designing prototypes and wireframes, for example.
After one or two years on the job, you can grow to a mid-level UX design role. This role is in between the junior and senior level design roles.
As a mid-level designer, you need less support from a senior designer and can do more work yourself. As a result, your responsibilities grow, but you're unlikely to be involved in politics or high-level decision-making.
If you're the first designer at a startup, you could do this as a mid-level designer. In that case, you can grow into your role just as the startup grows. Then, once the startup goes to the next level, you can grow into a more senior role together.
Most UX design career paths take you to a senior role after two to four years on the job. It depends on how you develop yourself, but also on your goals and what the company you work for has in mind for your role.
Some government agencies only have a set number of senior roles available, for example. The only way for you to move into a senior position is if someone else moves up another level or leaves the agency.
Senior-level UX designers are capable of doing a complete design project without supervision. It is the main thing you need to do if you want to move from junior to senior UX roles.
They can handle stakeholders and know how to start a project from scratch. In addition, they're also able to work on design systems, facilitate a design workshop, and do development handovers.
The final stage of your vertical UX design career path is that of the lead designer. Once you get here, you can be a design lead or even a head of design at a director level.
The latter is more common at large corporations where you have a board of directors and multiple large design teams. Someone needs to be responsible for those design teams; that could be you at the director level.
To become a design lead, you need to be able to mentor junior designers, handle office politics, and have strong stakeholder management skills. For this role, most companies ask you for over five years of working experience. Some even ask you for leadership experience in addition to your design experience.
The horizontal UX design career path
Throughout the years, your design career progresses on the vertical career path. However, you can also develop in a horizontal direction. This is what's called your design expertise.
You could be a mid-level UX designer on the vertical path, for example, but also a UX researcher if you discover this is the horizontal direction you want to go in.
Keep in mind that picking a horizontal direction is optional. It is perfectly fine to stay a UX generalist. However, for those interested in choosing an area to specialize in, we'll take a closer look at a few possible directions.
Up first is UX design. This is a common direction for your design career and the only one you're most likely to start in as an entry-level designer.
As a UX design expert, you're capable of helping companies turn an outdated experience into a modern, state-of-the-art experience. To make that happen, you know all about design systems, how a design thinking project works, UI design, and how to do a developer handover.
As a UX researcher, you focus more on the first half of the double diamond or design thinking way of working. You're an expert at understanding your users and turning user pain points into design challenges. You can tackle those during workshops that you facilitate.
Since you focus on the first half of the design thinking process, you know what to deliver to the UI and UX designers that will continue the design process you started. Furthermore, you understand how to present your research findings to your stakeholders and how to save your insights for knowledge transfer later on.
And finally, UX strategy. This is the UX career path for those who like to play the office politics game.
As a UX strategist, your main focus is to involve UX in business decisions. And this is not easy. As designers, we know the value of UX, but sadly, this is different for several of your stakeholders. You have to convince them.
UX strategy is a long-term play with a lot of resistance. Because of that, you have to want to do this for a longer time. You'll work less on actual designs, and Figma or Sketch will not be your main tools during the day. This expertise is recommended for senior designers.
Now that we've discussed the different directions your UX career path can go, it is time to answer some frequently asked questions about UX career progressions. Take a look at the most common ones below.
Is UX design a good career in the future?
Yes, UX design is more than a good career for the future. It is future-proof, and there's a growing demand for designers.
With the growing influence of artificial intelligence (AI), many people are concerned that their jobs will disappear. However, user experience is something universal.
Even in virtual reality or self-driving cars, UX is super important. There's always something that needs to be done or understood. And that's where you, as a UX designer, come in.
UX is future-proof. However, it will still change in the coming years. AI will help you speed up your UI design work. It'll allow you to focus more on the design thinking aspect of your job.
At the same time, designing for new experiences will allow us to learn new skills. So to make yourself even more future-proof as a UX designer, start learning about current topics like VR and how design can help these topics. You'll need that in the future.
How long it takes to become a UX designer?
You can become a UX designer in a relatively short time. On average, you can become a designer within months. If you're unlucky, it can take a year or more.
To become a UX designer, see if you can surround yourself with a community of other aspiring designers and a UX mentor or two.
Your career path as a UX designer can take many shapes and forms. The first step for you is to figure out where you currently are on the overall UX career path. Then, consider where you want to go. You can answer that question in two ways.
On the experience level. As a UX designer, you can grow from junior to a design lead or even a design director. However, you have to consider how far you want to go.

On the direction level. Once you understand the basics of UX and have some experience, you can pick a specific UX career path to further progress in.
Do you have feedback on this article? Missing something? Or just a question? Reach out to me and I'll get back to you!