Can you learn UX design on your own?
As an aspiring designer, you might be wondering if you can learn UX design on your own. Yes, you can. We're sure about that. Yet, there are some challenges you might face if you decide to become a self-taught UX designer.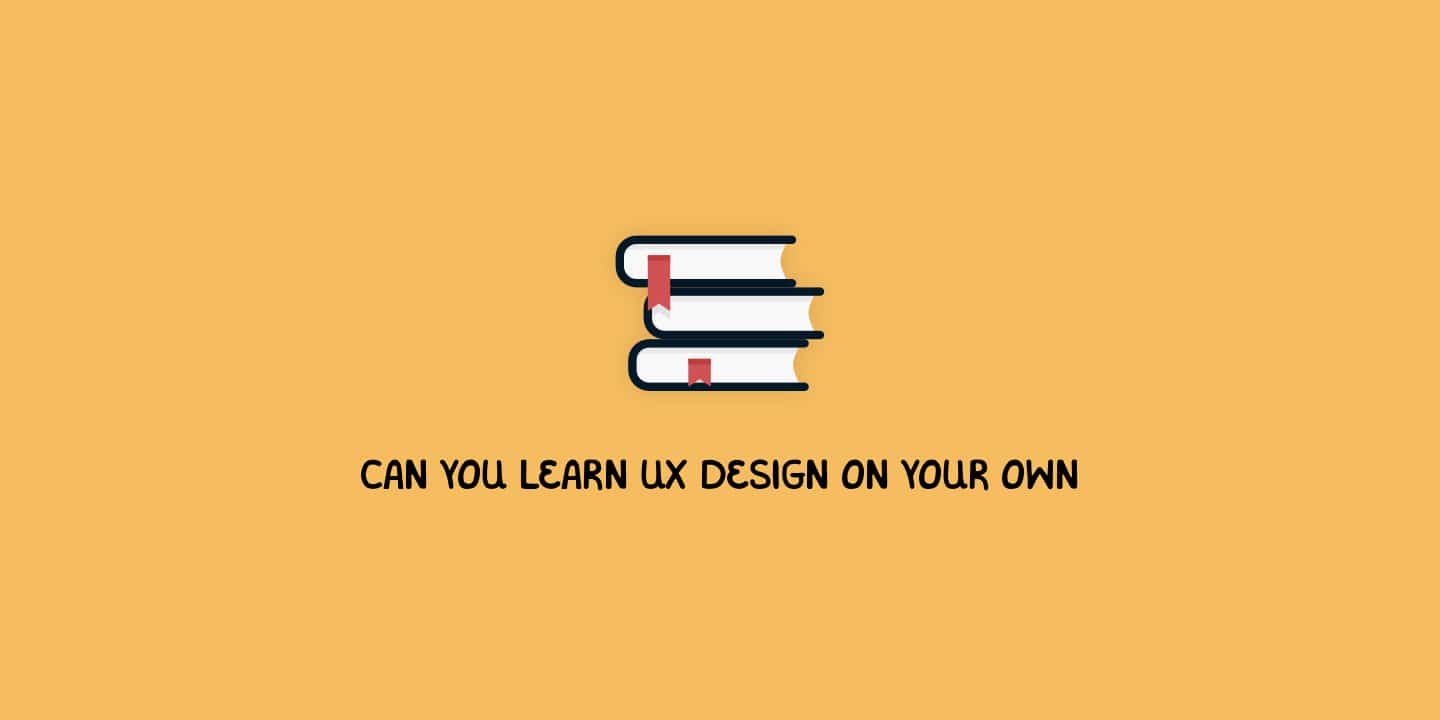 If you look at the social aspect of learning UX design, you can either do it on your own or by joining some sort of educational system. We're talking about a school or bootcamp here.
Now, there are benefits to learning UX the old-fashioned way. Schools and bootcamps come with the opportunity to network. You'll be able to talk to other designers and learn together.
You might be wondering why you would learn UX design on your own if you look at it like that. Well, there are certainly options. Here's what they are.
How to learn UX design on your own
To learn UX design on your own, you will have to replace the benefits you would otherwise have had from school or bootcamps. These benefits include proximity to experienced (design) teachers and networking options. This is what you can do on your own.
You can still network when you learn UX design on your own by posting regular updates on social media, for example. You can update your LinkedIn headline or join a Slack UX design community to find like-minded professionals.
With no experienced teachers with you in the room, you have to boost your knowledge of UX theory in other ways. You could read some UX books. This way you can read about UX from old masters like you're there in the same room.
In all other regards, learning UX on your own is the same as becoming a UX designer in a regular sense. You'll have to work on your online prescence, your portfolio, and both your soft and hard skills.
Tips and tricks to learn UX on your own
The most important thing when you want to learn UX design on your own is to make sure your progress is visible to the outside world. Here are some tips and tricks when learning about UX design on your own.
In our post on learning to become a UX designer, we talk about the four categories of a complete UX profile. These are design tools, skills, your portfolio and resume, and your working experience. When we talk about being visible, we mean showing your progress in these four categories.
What kind of social media accounts do you currently have? Let people know you're learning UX design by updating your profile or headliner. This way you can let your network know what you're up to. Maybe you'll land your first client this way. This tackles the experience category as well as the others indirectly.
At this moment, the 'build in public' movement is gaining a lot of momentum. Why not start a 'design in public' movement? This way you'll show potential recruiters your way of working. There are many creative ways you can use to share your work with the world. Share your work and ask for feedback. You'll become a better designer by growing your design skills.
There are a lot of tips and tricks when you want to learn UX design on your own. Most are quite specific, like the ones we've just mentioned. However, one very broad tip we would like to give you is to make sure you have someone or something that can help you stay motivated.
Without other students or a teacher with you, being motivated can be difficult. Yes, you can learn UX design on your own. But that doesn't mean you have to do it all by yourself. There's an important difference there.
Learn UX design on your own...together
In most cases, learning UX design on your own just means that you want to learn about UX without joining an expensive bootcamp or university. We get that! You don't have to do that per se as long as you substitute the benefits of a bootcamp for something that's just as good.
Over at the Designer's Toolbox, we have such substitutes. For example, you could join our Slack UX design community. There you will meet a lot of designers with similar goals. You'll be able to learn and grow together as UX designers.
Looking for something more? Check out our Gumroad page for other resources that might be of use to you.
Can you learn UX design on your own? We believe so! The tips and tricks we've written about here should be able to get you in the right direction.
However, whether you learn on your own or in a group, the basic steps to become a UX designer are the same. We have many posts available to help you become a designer. Check out the linked post to get started on your journey of learning UX design.
Do you have feedback on this article? Missing something? Or just a question? Reach out to me and I'll get back to you!