Can you be a UX designer without a degree?
Some type of UX degree is an important part of your portfolio if you want to be a UX designer. Yet, there's a lot of uncertainty about whether or not you should spend time and money to go get your degree in UX. Here are our two-cents on what to do.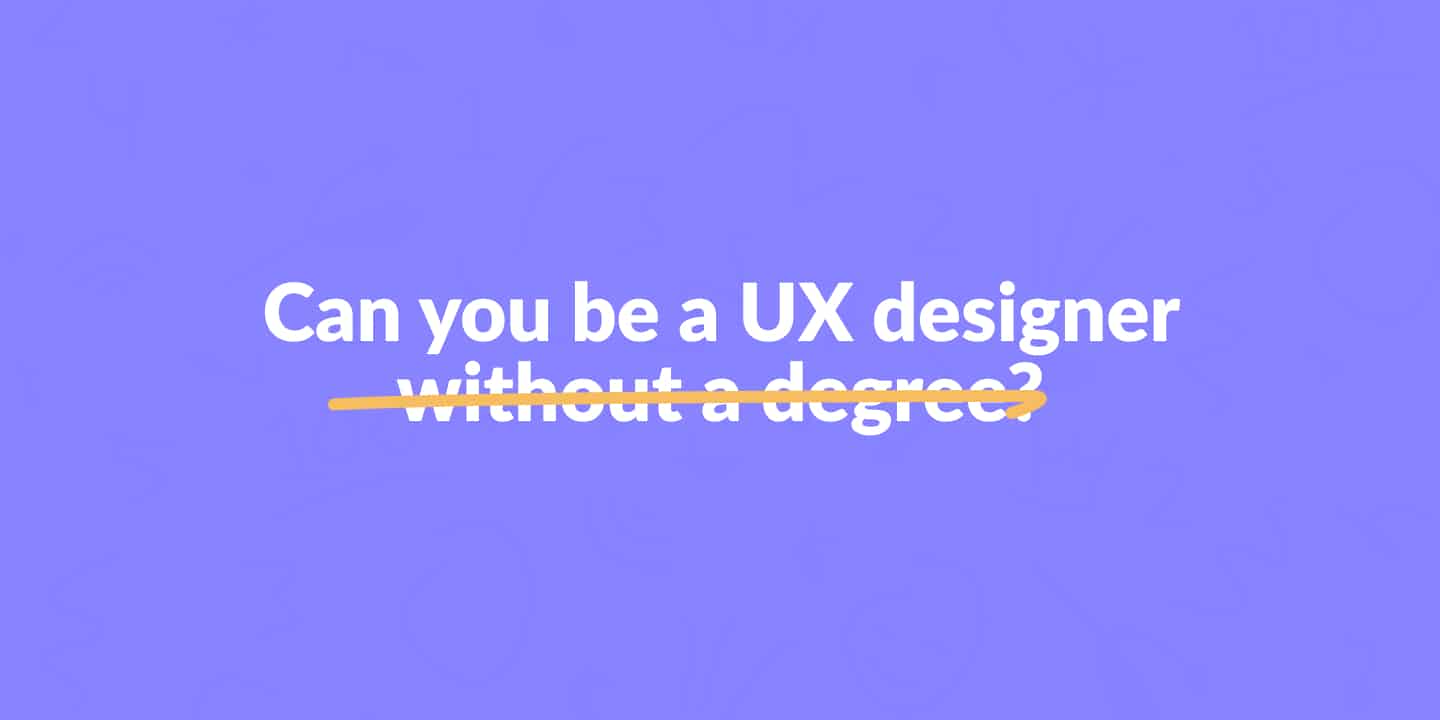 Can you be a UX designer without a degree?
Yes, you can be a UX designer without a degree. There are many alternatives to classic college degrees today like UX bootcamps, courses, and company training. However, that doesn't mean you shouldn't even consider going for a degree in UX.
The field of UX design is still relatively new. Because of this, many designers transitioned from a different design field into UX. That means they do not have a specific UX degree. Yet, in most cases, they are experienced designers. These UX designers have many years of experience, lots of projects, and case studies. This replaces the lack of a UX degree.
Let's be honest here. Skipping the time and effort it takes to get a UX degree sounds like taking a shortcut. That's not the attitude that will get you a job in UX. You will need to put in the time to build a complete UX profile for yourself if you want to get a job. Invision has a great post on how you can become a UX designer without a degree.
Can you replace the lack of a UX degree with projects and years of experience? If that's not the case, you will need to do something. Keep reading to find out what that could be for you!
The importance of a UX degree
There are some clear benefits to having a degree in UX. For starters, having any form of formal education strengthens your credibility as a designer. The idea is you must know what you're talking about when a well-known school or university gives you a degree. If they believe in you, so will your next employer.
Another plus to getting a degree in UX is the networking opportunity. During your time in school, you will have to do internships where you meet new people. Your fellow students might end up at companies where they could use your expertise.
Finally, you will learn a lot in school. You'll see everything there is to know about design. This will help you make your choice in regards to design fields and specialties.
There's still a lot to getting a 'classic' degree in UX. Take your time to really think about what you want and what you're looking for. It is important to do as it can influence the next steps of your design career to a great degree.
What to do instead of getting your UX degree
Going for a degree in UX is one way of doing things. If you decide to go the other way there are a number of options you can take. Keep in mind, this is the road less taken. It is going to be difficult since employers prefer degrees.
Here's our list of UX degree alternatives.

Increase your knowledge of UX theory by reading books by very experienced designers. Reading books is a low-risk and high reward  type of investment. For just a few dollars you can learn about UX best practices, ways of working, and tools.
We've compiled a UX reading list with all the classics you need. Check out our list of must-read UX books in 2023.
The strongest replacement for a UX degree is having a lot of real-world experience as a UX designer. Nobody can argue with your credentials as a designer if you have a portfolio and a resume that shows your working experience. In fact, once you have one or two years of experience under your belt no recruiter will ever look at your UX degree ever again.
By doing so, you will create a case for yourself. No, you will not have a degree but you have a portfolio that shows your way of working and the willingness to learn and grow as a designer. That's exactly what companies are looking for in a junior designer.
If you combine knowledge of UX theory and case study experience you will get a bootcamp or course on UX. This will get you as close as you can get to a degree in UX.
However, a UX bootcamp is almost as expensive and time-consuming as a college degree in UX. If that is the case, you might wonder if it is worth it to skip college and go for the alternative. We're currently writing a curated list of bootcamps and courses. Stay tuned for that!
Another thing to keep in mind is Google's certification plans. You can already get Google certifications in a number of fields including SEO and Adsense. Now, you can also get a Google UX certification.
Deciding your way of getting into UX is a hard choice to make. This post shows you the options you have. In case you're looking for help, you could join the Designer's Toolbox and get personal advice on your current situation. Let's learn UX together!