Does UI or UX pay more? An interesting question for anyone who wants to start in UI, UX, or for those looking to relocate. And that's exactly what I'm going to cover in this article. Let's see if UI or UX pays more in different parts of the world.
To process this topic thoroughly, we first have to define what UI and UX are. Even though those two are often used interchangeably, they're not the same thing, but they're part of the same process.
The user interface, or UI, is the design of your application that you can see on the screen in front of you. It starts with the layout and goes all the way to the smallest details like the color of your links.
UI designers frequently take over where UX designers left off. UI designers take the prototypes and low to high-fidelity wireframes delivered by UX designers and turn them into complete, thorough wireframes. Then, they give these wireframes over to the developers, who will turn everything into an actual, live, working product.
User experience, or UX, is how your user experiences your design, layout, and application flow. From user research and personas to user testing, prototypes, creating wireframes, UX designers are in charge of it all.
A UX designer is involved in just about everything that goes into making a pleasant experience for consumers who use digital products. You can read more in-depth about how to get a job in UX in one of my previous articles.
In terms of functionality, UI refers to how things appear, whereas UX refers to how they perform. UX is a method, whereas UI is a product.
It brings me to the question, does UI or UX pay more? However, there's one more thing. Some people consider UX and UI to be a single discipline, which means I often see job openings for UI/UX designers. I have my thoughts on it, but that's for another article.
Instead, this article will explore the average salary for all three roles mentioned above: UI, UX, and UI/UX, for different countries.
According to Payscale, the average UI designer salary in the US is $66,074. Base salaries start at $46k for beginners and can be as high as $96k for seniors. If you add bonuses, the salary can be as high as $100k.
Also, Payscale has solid info on UI designer salaries outside of the US.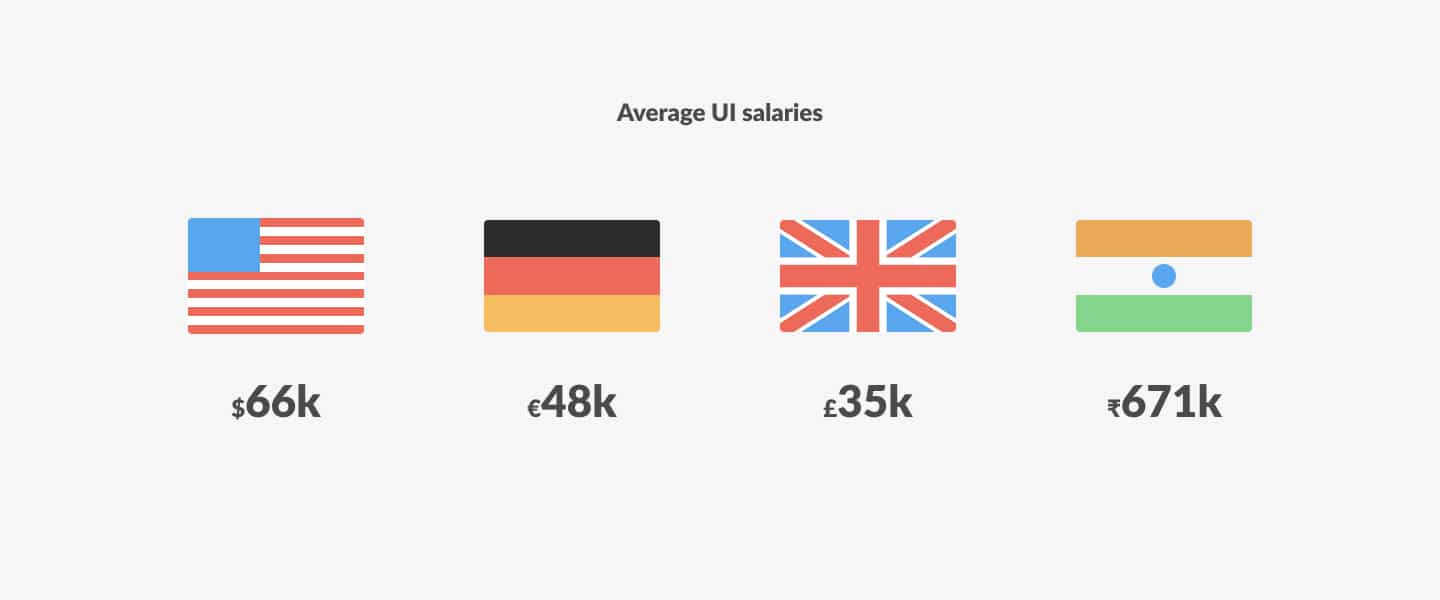 Up next is the UX designer. The average UX designer's salary in the US is $76,104, just over $10k higher than that of the UI designer.
Base salaries start at $51k, around $5k more than a UI designer's base salary, and can reach $109k. The difference for senior roles is $13k. With bonuses, this salary can reach $116k.
In Germany situation is a little bit different when it comes to UX designers. According to Payscale, at €45,033 ($48k), the average UX design salary is €3k lower than for UI designers. Also, in the UK, UI design pays more than UX at a total annual salary of £31,748 ($40k).
Unlike America, where UX pays more than UI, India's situation is like the situation in Europe. On average, UX designers earn ₹600,560 ($7,831), which is ₹71k ($925) less than UI.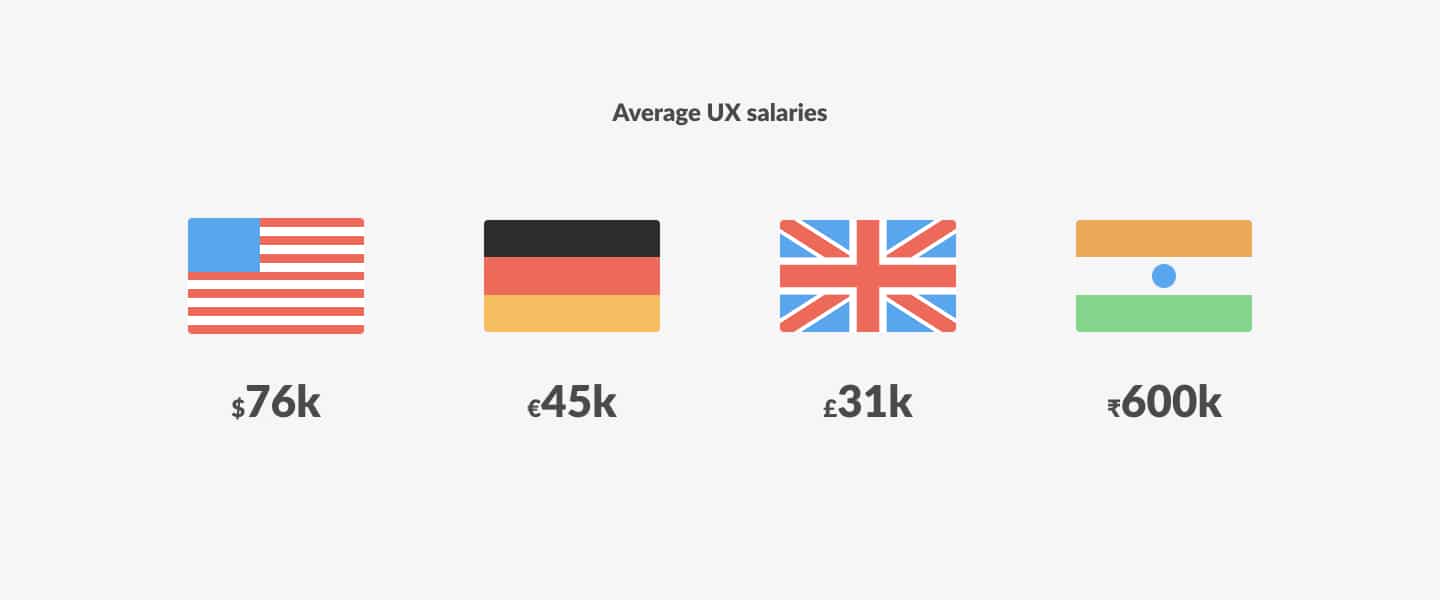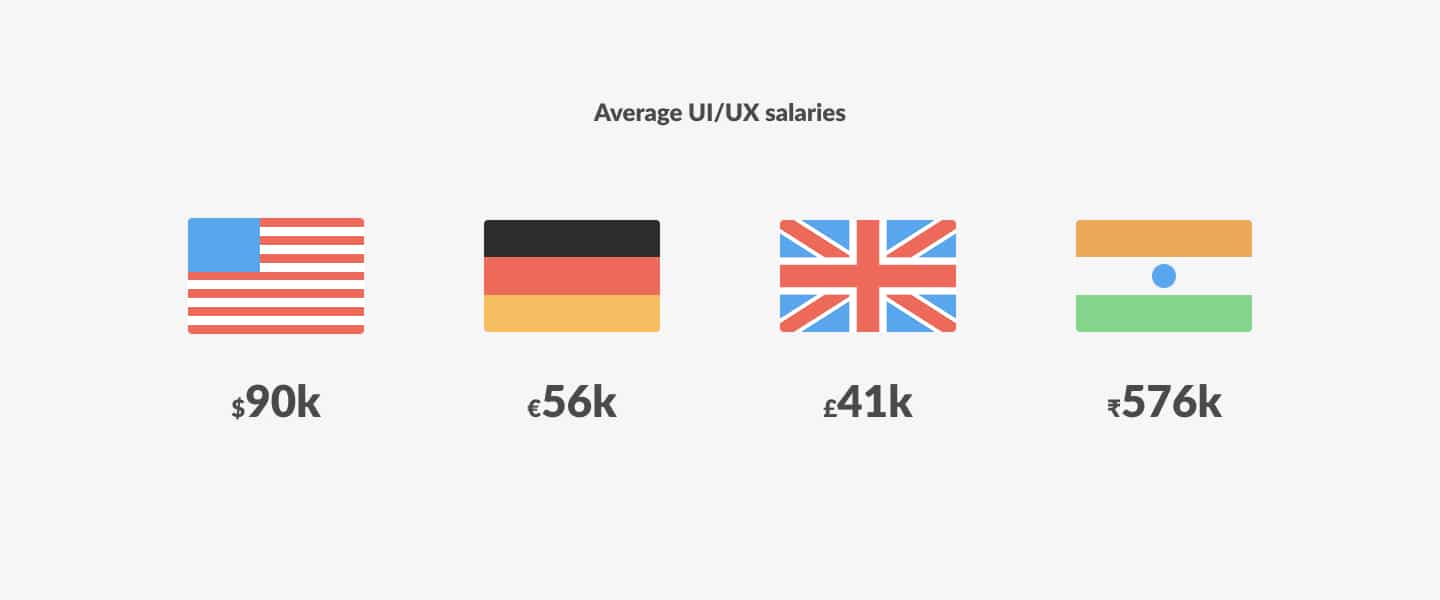 So, does UI or UX pay more? As you can see from the examples above, there is no rule in terms of salary size. It depends on the country, your knowledge, and your experience. Even the city you're in can make a difference. To get some sense of how "good" or "bad" the average salary is, it is essential to realize that every country has a different cost of living. Subtract expenses like rent, groceries, and gas from your income to see how much you have leftover. The more, the better, of course.
According to this article on Wikipedia average salary in the US in 2020 was $69,392. It means that the average salary for an entry-level UI designer is lower than the actual average salary, while UX and UI/UX pay more than the average salary. However, in all three roles, the salary grows above the average once you hit medior or senior levels.
In the UK average salary is £42,249 ($54k), which means that any of those roles have a lower average salary by several thousand pounds than the total average salary in the country. In Germany, the situation is just a little bit different. The gross average wage amounts to €50,100 ($54k), which means that only UI/UX earns more. But once again, keep in mind that you will grow past the average with experience.
According to Jobted.in, the average salary in India is ₹387,500 ($5k), which means that all three of the roles pay more than the gross average salary in India.
Do you have feedback on this article? Missing something? Or just a question? Reach out to me and I'll get back to you!