Is it hard to get a job in UX?
Is it hard to get a job in UX? The short answer? Yes, it is. However, it is not impossible. With the proper guidance, tips, and tricks, you can smoothly get your way into the UX industry. But how would you do that?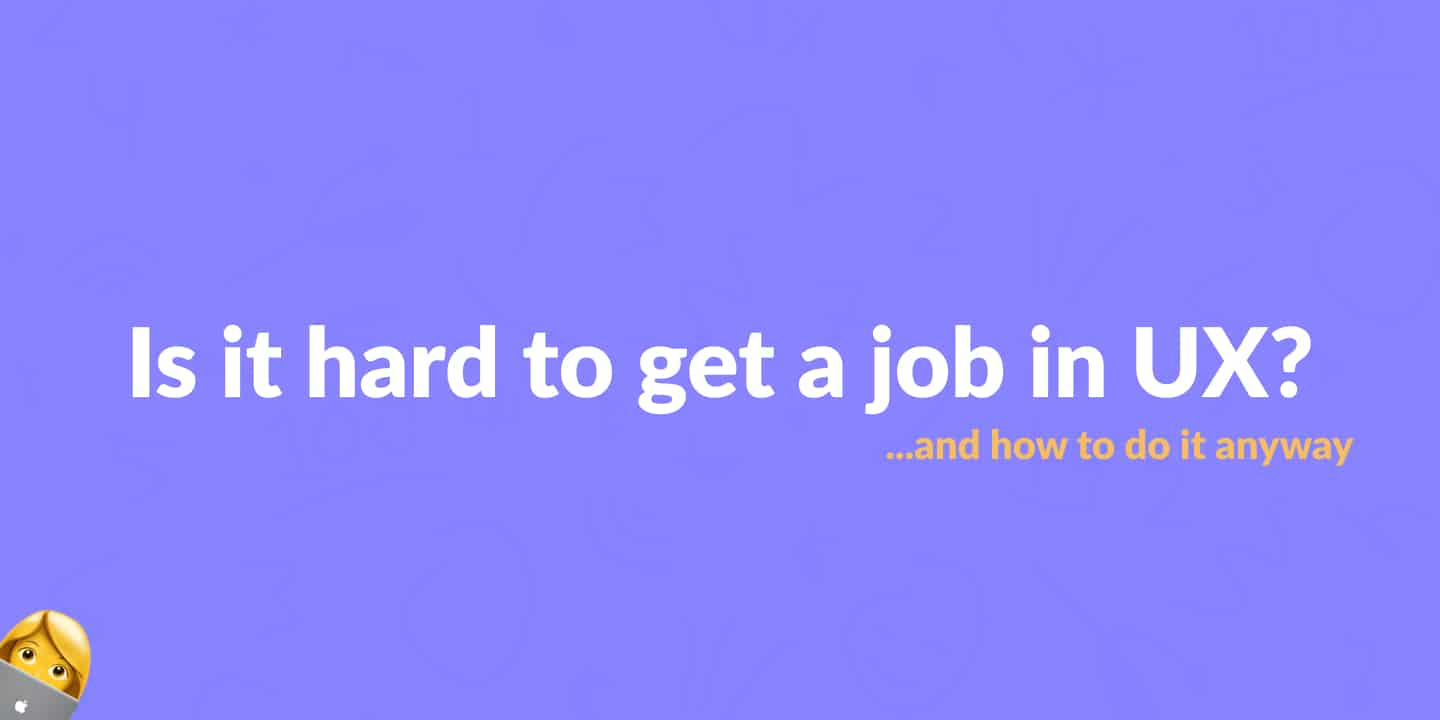 Worry not! This guide on how to get a job in UX tells you everything about the industry and how to crack it. So, hold, and let's start when you are ready.
If you are considering a career in UX design, you need to know how to get a UX job. The UX industry has grown up to be something gigantic. You won't be amazed to know that the global average salary of a UX designer is $53,000. That's a lot of money, isn't it?
Why is it hard to get a job in UX?
Let's say you want to get a job in UX. We believe that to be a great choice! However, the UX industry can be a hard wall of stone to crack. Most people give up before even trying their best for a long time. And this is not how it works. One case study or a boot camp isn't enough. You have to put in the work daily. Over and over again.
But, what makes the UX industry so hard to crack? Here's a list of reasons why.
First of all, most of you reading this right now are either planning to start your UX career or have had some experience in a different (design) field. Sadly, in many cases, that is not enough when you go and apply for a job.
The UX design industry is very experience and portfolio-driven. Most companies prefer advanced professionals with years of experience over starting designers.
Stupid, right? How can you grow when you don't have experience? And how can you gather experience when no one gives you a chance? It is a common problem that needs a bit of luck to be solved. Sadly.
Competing with other professionals
Suppose you have gotten into the industry and started your job. First of all, congratulations! Now the fun starts.
You could face challenging design tasks that can take you out of your comfort zone. The most challenging thing you will face at work could very well be your colleagues. In most companies, you will encounter some of the best UX designers with invaluable skills.
Being a part of the same company, you are expected to perform on similar levels. It creates a lot of expectations that you will have to face and overcome. This creates a problem in the UX industry which stops the hirers from hiring people of lower skills. Why hire a junior designer that requires a lot of attention and work when you could just as easily hire a senior designer that's ready from the get go?
There's a lack of UX maturity at many companies
UX is still viewed as a luxury by most companies out there. Many companies still believe that UX can be taken care of by primary web designers or app makers. Just create the UI and be done with it. That's what you'll hear a lot.
And so, they don't want to spend money to build a dedicated UX team. While more prominent companies are interested in hiring UX designers, smaller companies often don't. We see a shift into the right direction, but be aware that it might take some time to get there.
Now that you know the challenges, we hope you're still willing to give it a try. It will be worth it if you try and succeed. We wrote the UX Jobs Handbook to help you land your first job as a UX designer.
Many of the tips we'll cover below (and more) are a part of the UX Jobs Handbook as well. In addition to tips and tricks, the ebook also includes tutorials and great examples to help you get that hard job in UX.
UX Design is a big umbrella under which there are several other professions. You can be a designer who takes care of the designing part, a UX researcher whose responsibility is to discover user pain points, wants, and needs and study their response to a particular visual design.
Before you apply for any job position at any company, make sure you get your preference set. Employers like designers that know what they want.
In the world of design, startups could be an easier way in. New companies still have a lot to figure out. You could even be the first designer that joins the startup. Because of this, there often isn't a design culture yet. You can enter the startup with lower expectations and grow together with the startup.
Update your knowledge on UX
You should never stop learning about UX. Just as in every industry, a UX designer needs to know their profession well. Also, you have to stay updated about everything happening in your industry. Best practices, the tools we use, and design patterns change every day. The way you handle these changes is what could set you apart from other designers.
Remember that it's not the degree the companies value, but your knowledge and skill. So, keep upgrading yourself with every project you get, and each moment you spend learning. Here's what you can do.
As you keep working, focus on building your UX portfolio as well. Most companies and clients value these portfolios. In fact, we believe it to be one of the most important parts of getting a job in UX.
While building a portfolio, make sure to write some great case studies. Include as many visuals as possible. Also, make your portfolio ready online for others to check. You can do this by creating a website or joining a design platform like Dribbble or Behance.
Connect with other designers
Networking is essential for every UX designer out there. This include both talking to other designers as well as to people outside of UX. Networking helps you share your thoughts and make things a little better. If you leave a good impression, others might come back to you for a project they need help with. 
Networking can result in new clients. Do not underestimate that! Always spend some of your time talking to others. You can force yourself to do this by setting up daily or weekly goals for yourself. For example, set yourself a target of speaking to one user online every day.
Prepare yourself for interviews
Once you have applied some of the tips we've mentioned, you might have gotten yourself an interview or two. Well done! It is time to prepare yourself for these UX job interviews.
Your job interview is the most exciting and terrifying part of getting a job in UX. Luckily, you can prepare yourself well to make the best of your interview.
For example, if you have a personal backstory to tell to your interviewers, you should definitely do so. This will set you apart from other candidates.
In addition, interviewers in the UX designing industry often value skill, experience, and knowledge more than your degree. Chances are you'll get a question or two about your working preference, your work experience, and how you would tackle certain challenges.
Is it hard to get a job in UX? It could be, yes, but it is not impossible. We hope that these tips and tricks on how to get a job in UX will help you overcome the challenge. As we mentioned before, the UX Jobs Handbook can help you along your way. Be sure to check it out!
Useful resources to boost your UX career 👇