Is it hard to get a job in UX?
Is it hard to get a job in UX? The short answer is yes. However, there's more to it than that. You can make your way into the UX industry with proper guidance, tips, and tricks. Here's how.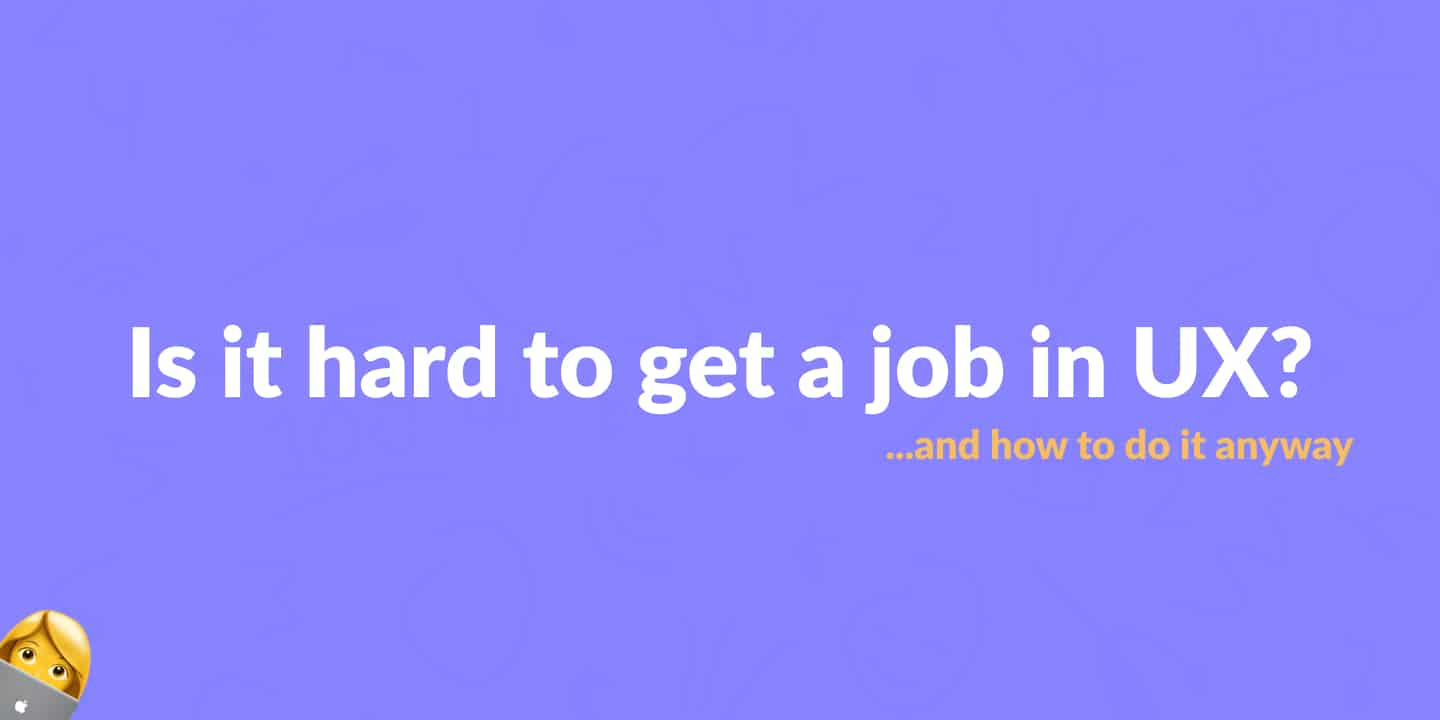 In this article, we'll look at why getting a job in UX is hard. I'll also share some tips that have helped some of my mentees get a job in UX, regardless of how difficult it is.
But first, let's figure out why getting a job in UX is so hard.
Why is it hard to get a job in UX?
Let's say you want to get a job in UX. Great choice! However, UX can be a difficult industry to enter. But why?
It is hard to get a job in UX because of several reasons. First of all, many designers are looking for a job. Because of that, competition is fierce, and companies know it. They can go for someone with a lot of experience, even if the job doesn't require it.
At the same time, not all companies know enough about UX to look for the right people. As a result, some UX job openings require more of a UI designer and vice versa. It's hard to understand by just reading the job opening.
There's more to it, of course. So let's take a closer look at some of these reasons.
First of all, I assume that most of you who are reading this right now are planning to start your UX career. Unfortunately, it means that you have very little working experience.
In many cases, that is not enough when applying for a job. The UX design industry is very experience-driven. Most companies prefer advanced professionals with years of experience over starting designers.
Stupid, right? How can you grow as a professional when you don't have the experience? And how can you gather work experience when no one gives you a chance? It is a common problem that needs to be solved quickly.
Competing with other professionals
You have a lot of competition when looking for a UX job. I've seen entry-level UX job openings get hundreds of replies within a day of posting. That's crazy!
In today's UX job market, there's too much demand for senior professionals and not enough demand for junior designers.
That's because it is easy to become a designer. At the same time, it is hard to get a job once you are a designer. People get stuck at the start of their careers because of it.
Lack of UX maturity in many companies
Sadly, a lot of companies see UX as a luxury. They still believe that a web designer or software developer can work on the UI of a product just as well as a seasoned UX professional. Just create the UI and be done with it. That's what you'll hear a lot.
The result? Companies don't want to spend money to build a dedicated UX team. It means that there are fewer UX jobs available than there could be, which makes it harder for you to get a UX job.
But there's good news as well. After completing multiple UX projects last year, I noticed a shift in the right direction. Large companies are interested in hiring more UX designers. That's a good thing, but it might take some time to see a noticeable change in UX job availability.
Yes, getting a job in UX is hard and takes a lot of work. But that doesn't mean it is impossible—quite the opposite, to be honest. I hope you're still willing to give it a try.
Let's take the reasons we discussed above to heart and work out some ways to make it easier to get a job in UX.
By the way, some of the tips I'll cover below are also part of the UX Jobs Handbook. In addition to tips and tricks, the ebook also includes tutorials and great examples to help you get that hard job in UX.
UX is a large umbrella that contains several other roles. Here's a list of roles that you'll find under the UX umbrella.
UX designers who take care of the UI and UX design of a project.

UX researcher whose responsibility is to discover user pain points, wants, and needs.

UI designers who focus on building a design system.
What do you prefer? Before applying for UX jobs, ensure you find your desired UX role. If you focus your profile on one or two roles, you'll become an expert in those roles. That increases your chances of getting a job in UX tremendously.
Instead of trying to get a UX job within an established company, startups could be an easier way in. I'm not talking about fancy Silicon Valley unicorns but rather local startups.
Here's why getting a job at a startup is easier. New companies still have a lot to figure out. Sometimes, you'll be the first designer to join the startup.
Because of this, there often isn't a design culture yet. As a result, you can enter the startup with lower expectations and grow together with the startup. Not every designer wants this, which could lower the amount of competition you're facing.
Update your knowledge of UX
Learning about UX is a never-ending process. Best practices, the tools you use, and design patterns change every day. You have to stay up-to-date about everything happening in your industry. 
Getting a job in UX is all about standing out compared to your competition. Learning about new design trends and increasing your UX knowledge can help you do that.
As you go through the UX job hunt, focus on building your UX portfolio as well. In today's job hunt, your portfolio is still super important. For almost every UX job I got, presenting my portfolio was part of the recruitment process.
Years ago, building a portfolio was all about great UX case studies. In 2023, however, you need to create a different kind of portfolio. Instead of only adding case studies, add something about who you are as a person.
Show that you go the extra mile. Personal projects, your UX podcast, or a YouTube channel are great ways of showing that you care about your job. In today's design world, they're just as important as your best case study.
Networking is essential for every UX designer. Of all designers that I've helped get a job in UX, almost all of them did so through networking.
Networking includes talking to other designers and people outside of UX. If you leave a good impression on people, they will likely come back to you at some point. It can even result in new clients. Do not underestimate that!
Always spend some of your time talking to others. You can force yourself to do this by setting daily or weekly goals. For example, set yourself a target of joining a UX event once a month.
Prepare for UX job interviews
Once you have applied the tips from this article, you might get a UX job interview or two. Well done! Your next step is to prepare yourself for these UX job interviews.
Your job interview is the most exciting and terrifying part of getting a job in UX. However, there are several interview basics that you can prepare before you start the interview.
For example, if you have a personal backstory to tell your interviewers, you should definitely do so. Your backstory is what sets you apart from other candidates.
In addition, you'll likely get a question or two about your working preference, work experience, and how you would tackle certain challenges. You can prepare for these questions! It's a good investment of your time because they return in many job interviews. 
Is it hard to get a job in UX? Sadly, yes. Lots of competition, lack of experience, and low UX maturity in many companies all contribute to this situation.
You can do several things to make getting a job in UX easier.
Focus your job hunt on one or two roles within UX.

Look for a job at a startup.

Stay up-to-date on UX trends.

Build a strong portfolio.

Network a lot.
Do you have feedback on this article? Missing something? Or just a question? Reach out to me and I'll get back to you!