Everything you need on creating your UX portfolio
As a UX designer, it is of great importance to have a well-crafted UX portfolio. You use your portfolio to show potential employers or clients who you are and what you are capable of. By creating your portfolio in a well-thought-of way you're setting yourself up for that one job or project you've been dreaming about. That's easier said than done of course. There's not one default way of designing your portfolio. Every designer has their way of creating a portfolio. Even though this might be the case, there still are a few tips, tricks, and best practices that can be applied to every UX portfolio.
We're going to show you what these tips and tricks are and how you can incorporate these to bring your portfolio to the next level.
First, you need to know what a portfolio is. After that we're going to focus on how you can build your own UX portfolio and finally we're going to talk about how you can share and review your portfolio.
What does a UX portfolio look like
A portfolio is a place where you showcase your work. This can be a website, a video, a booklet, or anything else. That's up to you. Be creative!
For UX in particular, your portfolio consists of several projects (or case studies) you've taken part in.
Another important part of your portfolio is the 'about you' section. Over here you tell your readers something about yourself. This can either be something about your working history, a backstory on how you got into design, or something else entirely.
It is important to make this part personal since this is a section that enables you to set yourself apart from your competition. This might sound strange, but that really is the case. When you apply for a job there will be other applicants that have a multitude of the number of projects you have. Your secret weapon is who you are as a person and the unique skill set you have. That's where you can make a difference.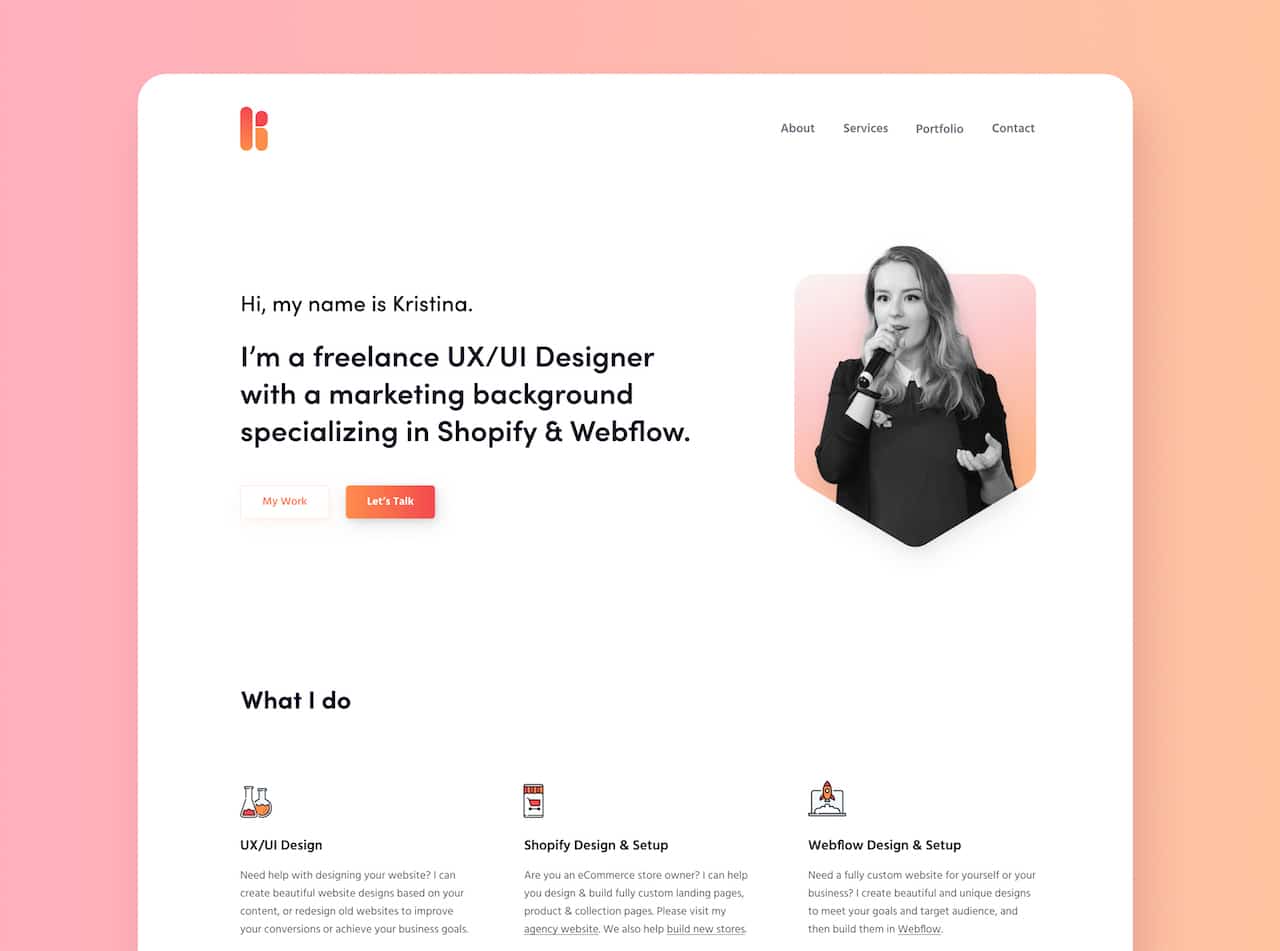 Cover page
Great UX portfolios have a very clear cover (or landing page, if you have an online portfolio). This cover page is the first thing your readers will see.
In some cases, it is the only thing they take the time for to see. This page is your biggest chance to leave a great first impression. Include the following on your landing page and cover.
1. Who you are and what your role is. Companies and recruiters are looking for a candidate to fill a certain role. For example, if you're a UX designer you need to show that right away. One way to do that is to have a nice header on top of your page where you introduce yourself and what your role is.
2. What your design skills are. After you've introduced yourself you have to state what it is you can do. Are you a great UX designer, an expert in facilitating design sprints, or a visual designer with a unique style? Let your readers know!
3. How you can be reached. Imagine that someone has visited your portfolio. They now know who you are and what you do. Because of that, they are interested in hiring you. There has to be a way for them to contact you. Include your contact information like an email address, LinkedIn page, or phone number.
4. Other things you can do here. Your cover is also a great spot for you to share something personal like your backstory on how you got into design, a personal quote, or a summary of who you are. Also, don't forget to create your own portfolio style. Kristina Volchek has an example of a great portfolio cover page on her Dribbble page as shown above.
Keep it short and simple. The whole point of the cover page is to summarize who you are. Your readers can dive deeper into the details later.
About you
This is where you go more into detail about who you are. You can share a short bio about yourself. It is important to make this part unique and personal.
For example, in my portfolio bio I talk about how my father inspired me to become a designer when I was only six years old. It has always been a nice ice breaker during interviews. Clients and employers always seem to remember that personal story better than that one extra case study I might have added to my portfolio.
Case studies
Case studies are front and center in every UX portfolio. In a case study you show a project you worked on. For this project you explain the challenges you've faced, how you've tackled these challenges, and your way of working during the project.
It will show potential clients and emoloyers how you do your work. Because of that, it is important to not only show end results but your process and way-of-working as well.
If you're just starting out, aim for a portfolio consisting of around three case studies.
How to get started on your UX portfolio
Whenever someone starts a portfolio the first thing they ask is where they should share their UX portfolio. Even though that is a valid question, you should get the basics right first. These basics include having a folder on your computer for your portfolio and a portfolio structure.
1. Find a place to keep your portfolio
Let's start at the beginning. You need to have a place to keep your portfolio. I keep a 'portfolio' folder next to my 'clients' folder on my computer. I keep a copy of this folder in the cloud so that I have it with me wherever I go. You never know who you might run into so having your portfolio with you is always a good plan.
Some designers like to keep a printed version of their portfolio. This is a cool old-school way of presenting your portfolio. If you go to an interview you can leave behind a copy of your portfolio. You'll make a great impression if you do that, believe me. I've done that a few times and it made the interview easier every time. You can literally browse through your portfolio.
2. Set up your UX portfolio structure
Once you have a place to store your portfolio it is time to think about your portfolio structure. What is the message that you want to communicate when someone reads your portfolio? This message can be about what your unique way of working is. Take your time when thinking this through since it is a very important part of your portfolio. 
One way of figuring out portfolio structure is by using the 'STAR' method. STAR stands for Situation, Tasks, Activities, and results.
By using this method, you can write a very nice case study that covers the initial challenge you were facing (situation), what you did to tackle the challenge (tasks and activity), and how your design helped your client (results).
We're currently working on some examples to give you a better idea about how this might look in a portfolio. Check back on this shortly!
UX portfolio checklist
Now that you have a general understanding of what a portfolio looks like I hope you had a chance to set things up. Do you have a folder and structure for your UX portfolio? It is time to get started on your portfolio!
To help you out, we have a free checklist for you. You can use it to audit your UX portfolio and use it for guidance while creating your portfolio. Download the checklist for free below.
Download your UX Portfolio Checklist
The checklist includes a to-do list for your portfolio and UX case studies. For free.
How to build a UX portfolio with no experience
It is a common misconception that you either can have no experience or cannot build a UX portfolio without having any experience.
The thing is, you always have experience in something. If you are a designer or if you want to become a designer you always have your education and the work you did in regard to your education. If you're new to the field of design it could be that you don't have any educational history but that doesn't mean you don't have experience. Maybe you're thinking about joining a UX bootcamp. These often let you practice with a real-world case study.
There's something that triggered you to become a designer. Maybe you have an eye for design. Explain why you want to become a designer in the about you section of your portfolio. Maybe you just like to draw. You can always use your drawings in your portfolio.
1. Take a look at what you already have
You have more experience than you might think. This could be anything from drawings you like to make in your free time to a logo you made for your uncle's blog. Your portfolio doesn't have to consist of projects you did for paying customers. It is about what you do as a designer. That can be anything. Everybody started somewhere. So do you.
2. Ask around
Now that you've added some of the work you did previously to your portfolio it is time to add new design work. Since you do not have any working experience it can be difficult to add projects to your portfolio.
Not to worry. What you can do instead is go and contact local shops in your city. Call them and offer them your design services. You're going to be surprised how often you're going to get a 'yes' from your phone calls. When I started, I managed to get two small projects this way. These two projects became an important part of my UX portfolio back in the day. It helped me land my first UX job about 6 months later.
3. Do the work and ask for feedback
After you've completed your work, ask your client if you can write a case study on the work you did for him.
In most cases, your clients will feel honored and are happy to support you in this. If you're lucky you can get a nice testimonial as well. This applies to previous work as well. I've once asked a client for feedback well over a year after completing a project for him.
4. Create something yourself
Another good way of coming up with portfolio content is by creating your own case study. You can use tooks like sharpen.design to give yourself challenges, you can create a redesign of a product or service that you like, or you could join a UX bootcamp. Most bootcamps give you the opportunity to work on a real-world case.
Best platforms for UX portfolios
Once you have the basics of your portfolio down it is time to find a platform for you to share your portfolio.
There are a few well-known social platforms you can use like Dribbble and Behance. You can also build your portfolio website via a content management system (CMS) like WordPress. Keep in mind that these do not necessarily exclude each other. You can use a combination or even all of the aforementioned platforms. For example, I host my own portfolio website via WordPress, but I also write on Medium, LinkedIn, and Dribbble.
Let's take a closer look at some of the platforms.

Dribbble was founded back in 2009. Since then they've grown to be one of the biggest social design sharing networks in the world. According to Dribbble, they help designers share, grow, and get hired by some of the most innovative brands worldwide.
The fun thing about Dribbble is that you have to get invited to join. When you create an account you become a prospect that has to be drafted by another designer who's already on the platform. Once you're drafted, Dribbble offers a lot of features like design jobs, sharing your work, showing yourself as an available-for-work designer, and more.

Behance is part of Adobe's suite of design tools and services. They are a platform like Dribbble where you can showcase your design work. According to Adobe, Behance is the leading online platform to showcase and discover creative work. Behance is free to join. Unlike Dribbble, Behance has no invite-only system for new designers. You can signup right away.
WordPress is a free, open-source content management solution that is great for designers. It has been around for quite some time with the initial release of WordPress being back in 2003. You can use WordPress for free on your website. The big plus for hosting your portfolio is that it is yours. Social platforms like Dribbble and Behance could disappear tomorrow. Your entire online portfolio could be gone if that haappens. This will not happen when you create your own UX portfolio website.
An additional bonus is that you can do additional stuff on your website like growing your audience, mailing list, and personal branding.
WordPress themes for UX portfolios
Next to all upsides, WordPress has a downside as well. WordPress itself is free but many of the great portfolios you see online are built using several paid plugins. This isn't that big of a problem of course, but having a UX portfolio that was free of charge would have been ideal. Social platforms like Dribbble and Behance are free. That's a big plus.
Some plugins we think are essential to having a great website. The most important of which is to have a premium WordPress theme for your portfolio.
By investing a few dollars you will save yourself hundreds of hours of work. Take a look at a few of our top choices.
Elementor
To build a portfolio quickly and efficiently you're going to need a page builder plugin.
Elementor is your go-to choice. According to Elementor, they are the number one WordPress page builder in the world. I've been using Elementor for some time now and it has been a dream. By using this page builder you're able to create post templates and save global elements (like headers, footers, and call-to-actions) that you can reuse everywhere on your website.
By doing so, you can create a default way of building your portfolio cases. The only thing you have to do is set it up once. After that, you can create portfolio case studies in minutes.
You can use the basic version of Elementor for free or get the Elementor Pro version for $49 a year.
Astra and other WordPress themes
After you've got Elementor it is time to get your WordPress theme. There are a few great marketplaces for themes like ThemeForest, for example. You can get some great portfolio themes for a few dollars. For this website, we're using Astra in combination with Elementor. Astra is a very broad theme that allows you to customize your website any way you want it. It is a more time-consuming way of creating your portfolio but by doing so you can customise your website to your personal needs.
If you want a great theme that's ready-to-go right away, go for ThemeForest.
Get your UX portfolio reviewed
I can imagine that this has been quite a bit of information on portfolios. After working for some time on your portfolio you can develop tunnel vision. That's what happens to me when I work on something for a long time. Having a fresh set of eyes take a look at your portfolio project can help you improve your portfolio even more.
Are you looking for some help with creating your new UX portfolio? The Designer's Toolbox offers a free UX portfolio review to help you out.
Best UX portfolios examples of 2020
Take a look at some of the best portfolios we like. It might help you get inspired when designing your UX portfolio.
The examples above all feature the tips and suggestions we provided to you earlier. They show right away what the designer does, who he or she is, and how to contact them.
Do you have another contender for this spot? Let us know!
Further reading
Now that you've got the basics down it is time to build your portfolio. In the mean time, make sure to keep improving your skills as well. You can add these to your portfolio in due time.
For example, take a look at what we believe are some of the best must read books on UX.
Was this post helpful to you? Share it with others!