3 Things Every UX Designer Can Learn from Leonardo da Vinci
Leonardo da Vinci (1452–1519) was one of the most famous painters that have ever lived. In fact, calling him (just) a painter does not do him any justice. Did you know that Leonardo da Vinci was a sculptor, an architect, and an inventor as well?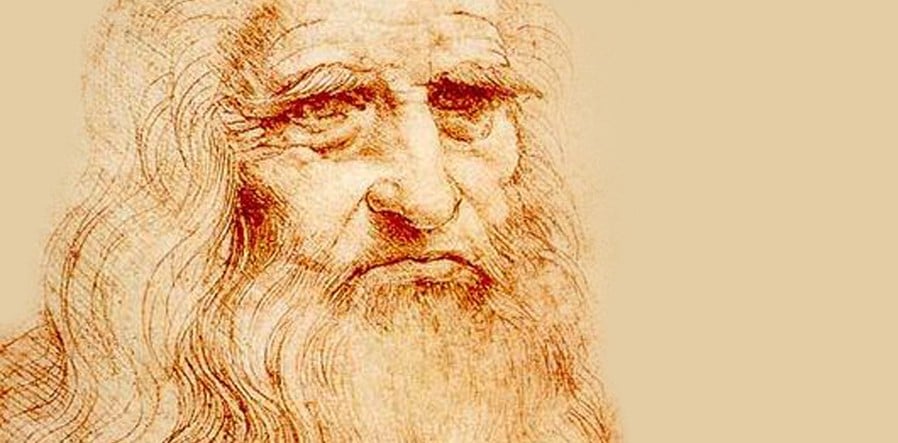 We are still talking about his work 500 years later. Just last year, 500 years after his passing, we dubbed 2019 the year of Leonardo da Vinci with many art galleries celebrating his work. His work has stood the test of time. Because of that, we as UX designers can still learn a lot from the way he did his work today.
Let's take a look at one of the most famous stories from the start of his career.
From an early age, Leonardo da Vinci was very curious. He was interested in everything he laid eyes on. He was obsessed with detail.
There's a story where he's claimed to have sneaked into his father's office to steal paper. He needed the paper to draw, of course. He liked to explore the city and its surroundings. During his explorations, he wrote and drew everything interesting he saw. Don't forget that paper wasn't as common 500 years ago as it is today. Leonardo was very lucky that his father worked as a notary. Because of this, his father had enough paper for his son to steal out of his office.
Leonardo da Vinci used the paper to draw anything he saw, ranging from birds to buildings and everything in between. Even when the weather was bad, you could find young Leo out and about the city of Vinci, making his drawings.
This youthly enthusiasm is something he never let go of. He did everything in his power to enable his work. Leonardo da Vinci always went the extra mile to turn a good design into a great design.
He took his enthusiasm and passion with him when he joined world-famous artist Andrea del Verrocchio as a student. During Leonardo da Vinci's time there, the master asked his students to paint a Christian angel on canvas.
Design thinking 500 years ago
Where the other students started painting right away Leonardo da Vinci started with research. He wanted to understand what he was going to paint first before he ever touched a brush and canvas. His research covered several areas, including the following.
To be able to paint facial expressions in a realistic way he visited a local church on multiple occasions. During his visits, he observed how people were praying. Capturing the emotion of prayer was essential to completing Verrocchio's assignment.
The painting's background was going to be based on the drawings Leonardo da Vinci made during his younger days of exploring the city. He kept his drawings throughout the years.
To paint angel wings, Leonardo da Vinci purchased birds from the local market. He needed the birds to examine the anatomy of the birds and their wings. He could use this information to replicate wings as a part of the angel's posture.
Leonardo da Vinci did his research. He immersed himself in his project, the requirements, and the 'user'. This is the first phase of what we now call 'design thinking'. Leonardo da Vinci was already working via his way of design thinking about 500 years ago.
Leonardo da Vinci's flying machine
After completing his painting, Leonardo da Vinci couldn't let go of his birds. He was fascinated by the little creatures. His studies of birds were not finished just yet. A new interest was born…Leonardo da Vinci wanted to know everything about flying.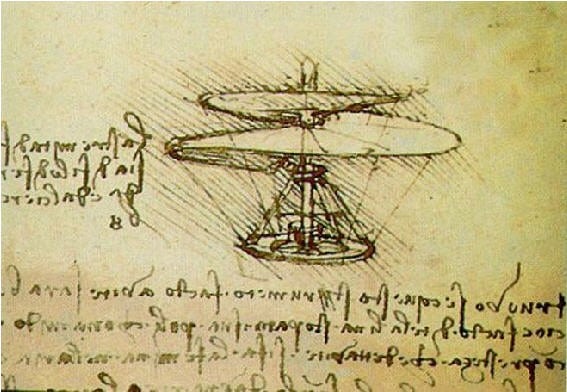 This wasn't without a result. In one of the many books he made, we can see an early drawing of something we now call a helicopter. He came up with this drawing of a helicopter well over 500 years ago.
What UX lessons we can learn from Leonardo da Vinci today
The inspiring story of Verrocchio's assignment speaks to who Leonardo da Vinci was. We can take many learnings and insights from his way of working.
Here are several lessons that'll help us learn UX by looking at Leonardo da Vinci's way of working.
Leonardo da Vinci was obsessed with everything he came into contact with. He wanted to know every detail. Because of this, he was able to make his work his own. Where most artists (and other practitioners of creative arts) saw their work as an art, Leonardo da Vinci saw his work as a science. He studied every aspect of his work to help him understand and achieve the best solution possible. This meant that he kept researching and improving his work to a maddening intensity. His stakeholders didn't always like that. For example, did you know that Leonardo da Vinci kept working on the Mona Lisa in secret for 10 years after delivering his work to his client?
Lessons we can learn today
Your work is never finished. Leonardo da Vinci knew this all too well. He based his work on research and kept improving his work iteratively.
This applies to modern UX design. Leonardo da Vinci's way of working is what we now call 'design thinking'. As a UX design, always try to improve your work. Take a look at the requirements you've set at the beginning of your project. Do they still apply? Can they be improved? As Leonardo da Vinci showed, you can keep asking yourself these questions for years to come.
More than just a pretty picture
Leonardo da Vinci was more than (just) a painter. He was an architect, a philosopher, and a writer. He is known for inventions that were years ahead of their time. Leonardo da Vinci learned about many subjects, jobs, and crafts to get a better understanding of his work. By doing so, he could improve his work tremendously.
For example, if he had to make a realistic painting of a building he learned about how the building was built. In other words, he studied architecture to improve his understanding of buildings. This in turn helped him deliver a better end product.
Lessons we can learn today
This way of working is still applicable today. As a UX designer, you can improve your UX work by learning new relevant skills. You can learn about research, UX writing, or visual design for example.
In addition to that, you can learn about the context of your assignment. Are you working in finance? Learn about finance. Are you working in retail? Learn about retail. The list goes on.
As a designer, it can be interesting to learn about storytelling, psychology, and mythology as well. These are not UX-related per se but are common in other fields where you might end up working. It can be valuable to have a basic understanding of these subjects.
By doing so, you will enable yourself to get to a great end result just like Leonardo da Vinci did on multiple occasions over 500 years ago.
More than just a pretty picture
Leonardo da Vinci wrote a lot. According to the most recent estimates, he wrote or drew a grand total of well over 25,000 pieces of paper. This originates from the time when he sneaked papers out of his father's office when Leonardo da Vinci was just a child.
Lessons we can learn today
I'm not saying you should write thousands of papers as well. However, having a pen and paper next to your computer wouldn't hurt. There are great benefits to starting your design process on paper.
You can sketch very fast. Did something come to mind? Write it down! Make a quick drawing of your idea.
Easy prototyping. Did you think of a solution to a challenge you were facing? When you sketch your idea you can prototype it right away. Talk to your stakeholders about it, or make a paper prototype. This can be done easily and quickly without ever touching a computer.
You're free of the restraints of modern digital design tools. Using Sketch or Figma has great benefits. Both are great applications. Yet they come with restraints. If you start on paper you can quite literally color outside the lines without a problem.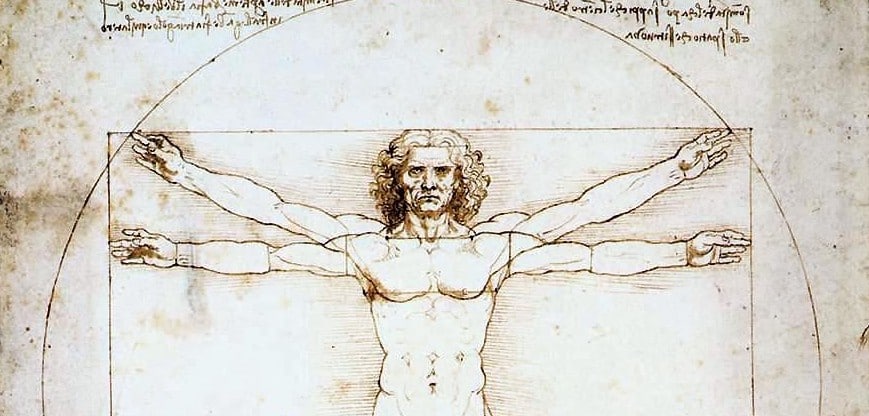 By the way, did you know Leonardo da Vinci was able to write with both his left and right hand? Once again, still speaks to the way he did his work. He was always trying to improve himself as a painter. Being able to write with both of his hands is just another great example of that.
Further reading - know your UX classics
In the world of culture and entertainment, a common saying is that you should know your classics. This isn't any different for the world of design. Knowing your classic designers from the rich history of UX can bring great benefits. Even today we can still learn a great deal about design from Leonardo da Vinci. Both from adesign thinking and a personal development perspective.
Do you have feedback on this article? Missing something? Or just a question? Reach out to me and I'll get back to you!