The Design of Everyday Things – an honest review in 2023
Is The Design of Everyday Things still a must-read book for every UX designer? I've purchased the book to review it and find out whether or not the book is the classic every designer says it is.
Most designers know who Don Norman is. Of course, in the case of this review, we will focus on him as the author of The Design of Everyday Things. Yet, he did so much more. Did you know he is credited for inventing the term user experience (UX) and the founder of the Nielsen Norman Group?
If you would make a list of must-read UX books, this book is on every list. With such a reputation, I purchased this book with great anticipation. 
About the Design of Everyday Things
One important thing to remember is that this book has two versions. The original book was released in 1988 under the title 'The Psychology of Everyday Things.' Later on, the book got the title we know today.
As a UX designer, the second version is the one to buy and read. It is called 'The Design of Everyday Things: Revised & Expanded.' This version of the book was released in 2013.
In the image below, you can see the new version I received in the mail after purchasing it online.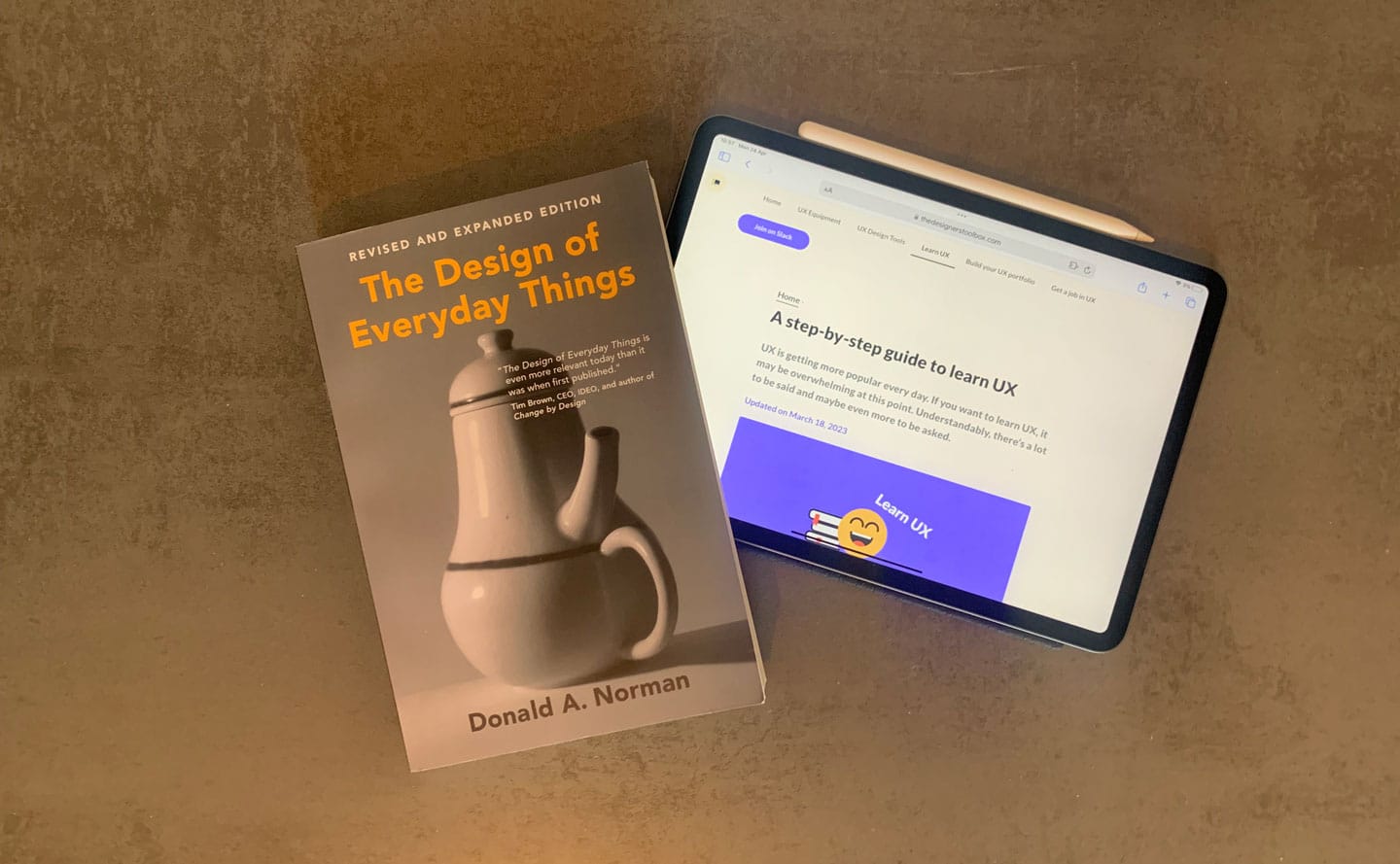 The Design of Everyday Things is a book written by Don Norman. Within the world of design, Don Norman is known for introducing several phrases, theories, and subjects. The most famous of those is, of course, how he introduced UX to the world.
Don Norman talks about how and why he wrote the book in the video I've embedded below. He talks about how he took a sabbatical and found out he didn't understand how to use certain doors, water taps, and other everyday things.
In theory, Don Norman says, everything we use has a set of rules that apply to the use of that given object. The Design of Everyday Things explores these rules and gives you a great insight into the world of user experience.
After reading the book, you'll know how better to apply these guidelines to your UX design work.
You can, for example, create a lot of parallels between the guidelines from the book and using a design system during your day-to-day design job. Each element from your design system has a set of rules, just like the things mentioned in the book.
Understand the book, and you'll understand your design components better.
The Design of Everyday Things Summary
Let's look at the summary of the Design of Everyday Things. With a length of around 300 pages, the book isn't that much of a long read. Yet, having a clear summary can help you decide whether or not you want to buy the book.
As Don Norman said in the video above, you have to keep several guidelines in mind when designing something. This applies to design in general but also to your work as a UX designer.
He calls these the seven basic principles of design. Here's an overview.
Discoverability

Feedback

Affordances

Constraints

Signifiers

Mappings

Conceptual Models
You will need to cover these principles if you want to design something that is easy to use, delightful, and useful to your users.
The Design of Everyday Things provides examples and theories on each of these principles to help you out. Looking at a random object you use every day will never be the same!
Especially affordances are one to keep in mind. Don Norman is credited for applying the term (as previously introduced by James Gibson) to UX design. Affordances are ways of showing the user how they can use an object.
For example, the Design of Everyday Things discusses doors and door handles at length. The Norman Door is a famous term known by many UX designers.
As a UX designer, you design with the user in mind. You design solutions, platforms, and applications that benefit users' wants and needs. We call this user-centered design.
Don Norman came up with this way of designing before he wrote The Design of Everyday Things, but the term only gained traction after the release of this book.
The theory and examples, as told in The Design of Everyday Things, have great takeaways for every designer. Yes, they apply to real-world objects. However, that doesn't mean they do not apply to digital objects either.
Keep the seven fundamental principles of design in mind the next time you design something. Accessibility, usability, and usefulness are more important than making your designs look shiny. The book talks a lot about how you can apply these principles to your day-to-day work.
Here are a few great examples of the lessons and takeaways you might get from The Design of Everyday Things.
As designers, we are responsible for designing something that is useful to the user. We're here to protect the user's best interests.

Didn't you understand an object or product right away? Don't be sad! The product was designed in a bad way. The book explains why and how to do it better.

Follow cultural conventions. Users use more than just your designs. Follow what's known as common knowledge. Do not reinvent the wheel.
The Design of Everyday Things is a must-read for every UX designer. The theory, basic knowledge, and great examples have great value. Do you want to become a UX designer or improve your craft? Start with this book!
If you want to read The Design of Everyday Things by Don Norman, you can do so by clicking the link below. Amazon has the book as a paperback, audiobook, and Kindle.
Do you have feedback on this article? Missing something? Or just a question? Reach out to me and I'll get back to you!