How to give and receive valuable UX feedback
Feedback is an important part of UX design. To improve the work you do you need to be able to give and receive good feedback. Receiving valuable feedback is in your own hands. By asking the right questions and providing the right environment you enable yourself to receive valuable feedback.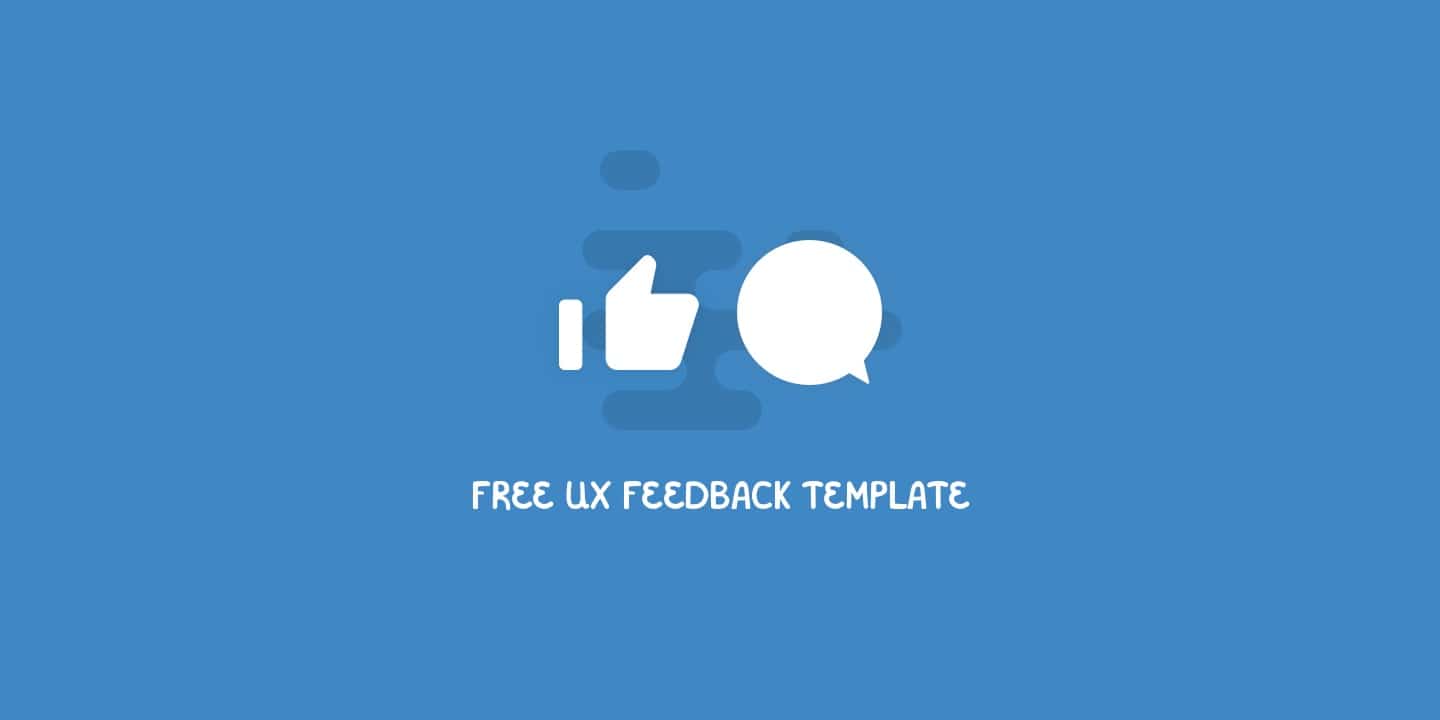 Setting up a default way of asking feedback will help you get better feedback sooner in a less stressful matter. It is an important part of learning UX and to become a UX designer.
You have to ask the right question to get the right answer that will ultimately help you forward. Here's what you can do to get better feedback.
Are you here to download the free UX feedback template? Scroll down the page to get it.
The setup for receiving valuable UX feedback
Setting up a default way of asking feedback will help you get better feedback sooner in a less stressful matter. By following this to the point you can scale it as well. You can create recurring review moments where designers come together to discuss each others' design work.
Provide context. Since you've been working on your design project for some time you know exactly what the project is about. You know what your stakeholders want, who the users are, and the restrictions you're facing.The people you're asking for feedback do not have this context. By providing the context you enable them to give UX feedback while keeping in mind the information you see as a given.
Be clear. What type of feedback you would like to receive? Maybe you're stuck at a specific point in your design process, you need advice on how to facilitate next steps, or you want general visual design feedback. You have to be clear about this before you ask for feedback. Otherwise, your feedback might be too generic. For example, you might receive feedback about the UI while you were hoping for feedback on the usability of a certain element.By asking the right question you will receive the right feedback.
Set a timeline. This can be easy when you have set a meeting to discuss your design work. As a facilitator, you can set the deadline to receive feedback to the end of the meeting. When you ask for feedback via mail, chat, or online this can be more difficult. You have to make sure you communicate well to receive your feedback in time.You could, for example, specify that you need the feedback before the end of the week since you have to provide a new version of your design the next week. Providing a reason for your deadline (i.e. the delivery of a new version the next week) helps in receiving your feedback on time.
Tips & tricks on receiving feedback
Context helps people understand the project you've been working on. By providing context, asking the right questions, and setting deadlines you will set yourself up to receive very valuable feedback. This feedback will in turn help you improve your design.
Take a look at some additional tips and tricks that could help you out.
You don't have to follow every bit of feedback you receive. When someone asks you why you've used the color blue you do not have to translate that to 'change the color blue to something else'. You should be open to feedback but you don't have to change everything. You can have reasons to design something the way you did. These reasons can remain intact after discussing it.
Ask feedback early on. By asking for feedback early on you will save yourself a lot of extra work. For example, it is far easier to change the header on one page than having to change it everywhere because you've waited too long with asking for feedback.
Here's something when you're the one that's been asked to provide feedback.
Ask for context. Not everybody knows how to ask for feedback in an efficient way. Now that you do make sure others do as well. Ask about context, ask about the questions someone has, and ask about deadlines.
Keep it positive. Asking for feedback can be difficult. Someone's showing his work to others. Talk about how the design can be improved instead of what makes the design bad. By keeping your feedback positive, you create an environment where people are comfortable sharing their work.
Introducing the UX feedback template
It is time to put theory into practice. We're going to create a template that you can use multiple times. The next time you ask for feedback, provide the following in your request.
What is your question? This is the step where you provide context. What have you tried so far? What are we looking at now? Tell your stakeholders here. End this part with a question.
How far along are you in your design process? You can keep this short by stating a percentage and a summary. For example, 25% if you're just starting out or maybe 90% if you're working on the finishing touches.
Provide a link to the work you want to discuss. Share some visuals of the current state of your work. This can be a prototype, a Sketch or Figma file, a screenshot, or something else entirely. That is up to you.
Get the UX feedback template for free
The template includes more tips, a Q&A format for you to use, and an example of the template in real life.
Do you have feedback on this article? Missing something? Or just a question? Reach out to me and I'll get back to you!