Surface Pen vs. Apple Pencil
There have been many comparisons in tech over the past decades. Everything from computers to software and mobile devices has been compared. In this post, the comparison will be Surface Pen vs Apple Pencil. Here's what to keep in mind when looking for your next stylus.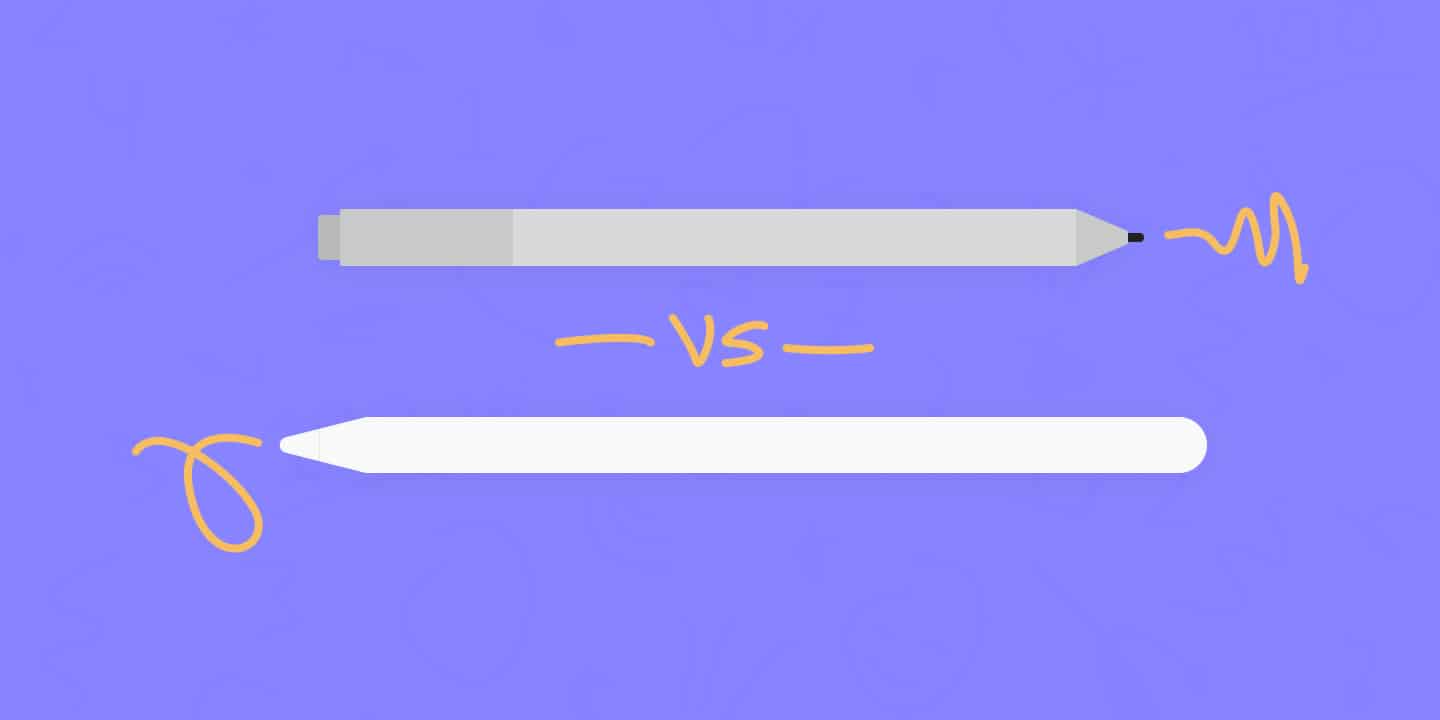 Having a stylus as a part of your UX equipment has many advantages. First, it allows you to grow a lot of extra skills.
For example, you can become faster in making notes while traveling with a stylus. In addition, you don't need to bring a heavy laptop and your days of struggling with an onscreen keyboard on your iPad or tablet are over.
Furthermore, you can grow your skills as a designer by drawing your UI design, wireframes, and images just like you would draw them on paper to have them with you wherever you go.
But which pen is best? In this post, I will compare the Microsoft Surface Pen and Apple Pencil. As I use both in my day-to-day work, I will give you my honest opinion on both before making my final comparison. Let's start!
Surface Pen vs. Apple Pencil
Let's do a generic Surface Pen and Apple Pencil comparison first before I will share my experience of using both extensively as a UX designer.
The short answer is that your best bet is to use the Apple Pencil when you're a Mac user and the Surface Pen when you use a Windows machine for your design work.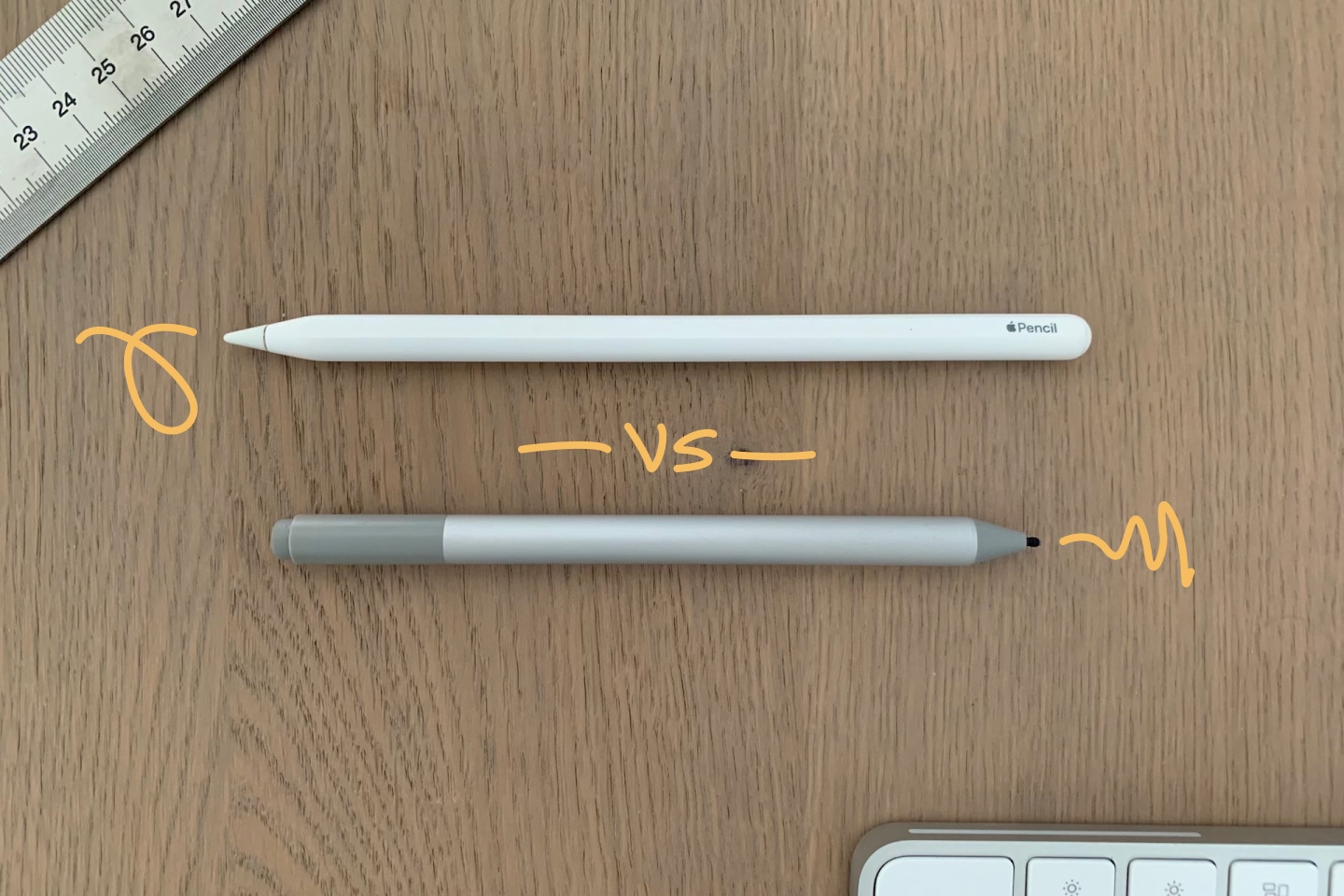 There's more to it, obviously. One extra thing to compare is the latency of both pencils.
Latency is an important feature to compare between the Surface Pen and Apple Pencil. In other words, latency is the delay between your input and what you see on screen. It is usually measured in milliseconds (ms). The lower your latency, the better. There must not be any delay for both styluses to feel like pencils.
According to Microsoft, the Surface Pen has a latency of 21ms. The Apple Pencil, on the other hand, has a latency of 9ms. That makes the Apple Pencil just slightly quicker. However, both have such impressive scores that you will not notice a difference between the two. Both the Surface Pen and the Apple Pencil are top-in-class when it comes to latency. 
I want to highlight one of the functions of the Apple Pencil that has been a blessing and a curse for me. By tapping the pencil twice on the flat surface, you switch between drawing and erasing. I very often switch between them per accident. This works better with the Surface Pen because the eraser is positioned on the back of the pencil. Changing between the pen and the eraser takes more time but is less error-prone.

Up first, we have the Microsoft Surface Pen. Let me be clear from the start. It is an excellent choice if you're already planning on getting a Microsoft Surface laptop for graphic design. And here's why.
The Surface Pen is a stylus that is best compared to a mechanical pencil. It has the looks, shape, and weight of a mechanical pencil. It even has an eraser on the back, just like a mechanical pencil. This way, you can easily use the eraser without changing any settings. In addition, the eraser is clickable, and because of this, you can also use it as a clicker while presenting your work. 
Speaking of clickers. Here's how to use the Surface Pen as a clicker. The Surface Pen is easily connected by Bluetooth 4.0. It is the first step to getting started using the Surface Pen. Second, you can open your slideshow and begin using the eraser at the back as a clicker. For a more detailed step-by-step guide, see Microsoft's page on using the Surface Pen as a clicker.
The Surface Pen works well with all Surface line devices, including the Surface book. However, one of the downsides is that the Surface pen works on AAAA batteries. If it runs out and you don't have them by hand, you can't use your pen anymore. So keep that in mind when traveling!
Next, let's talk about Surface Pen tips. Every now and then, you have to replace the Surface Pen tip. The tip is made of a soft material that enables drawing by twisting, skewing, and turning your pen. When the soft material runs out, for example, after heavy usage, the tip might start to scratch the screen. You don't want that.
Another cool feature is that these tips come in different shapes that enable you to pick the best Surface Pen tip for your type of work. Tip sizes include the 2H, HB, and B pencil tips.
But when to replace the Surface Pen tip? It depends on how long the tip lasts. According to user reports, the tip rarely wears out. It means you do not have to replace the tip for a long time. The only reason to replace the Surface Pen tip is when you want to use a different type, as I mentioned previously.
Frequently asked questions
With that out of the way, let's move on to answering some frequently asked questions about the Surface Pen.
Can you use the surface pen in word?
The easy answer is yes; you can use the Surface Pen in Word. By using the surface pen, you can write whole letters by hand. You can even create your own handwritten font to make it look more realistic. For writing more extended notes, I'd recommend OneNote.
Is the Microsoft Surface Pen worth it?
If you have any device from the Surface line, the Surface Pen is a great addition. It can come in handy when you are, for example, on the road a lot or if you want to make a fast sketch in front of a user or customer.
It can help you write faster, and it can help you design faster. The Surface Pen is also a great choice because you can use it with every Surface device. It is not wasted on only one device. Therefore, I think it is definitely worth it if you are a designer.
That's it for the Microsoft Surface Pen. It is a great stylus and a must-have for any designer or artist working on any of the Surface products available today. It is a versatile tool you can use with a lot of tools, as well as a clicker while presenting your work.

Next is the Apple Pencil. After Steve Jobs' famous remarks on the stylus, Apple released the first-generation Apple Pencil in 2015. Skip to today, and you'll see that we now have the second-generation Apple Pencil. It was released in 2018.
Unlike the Surface Pen, the Apple Pencil is created with only one kind of pen tip. The way you move your pen determines the thickness of your drawing line. How you do this depends on the app you are using your pen in. For example, in native iOS apps, you do this by moving your pen faster. In Procreate, however, it depends on how you hold your Apple Pencil in terms of angle and pressure.
Changing the brush type is also quickly done with the Apple Pencil because you can do this within the app you are using. Like the Surface Pen, the tip of the Apple Pencil will wear out in time. You'll notice this when the tip does not feel smooth anymore. If it worsens, you will lose touch between the pen and your device.
Will the Apple Pencil work on a Surface Pro?
But will the Apple Pencil work on a Surface Pro or other Surface device? You might prefer the Apple Pencil versus the Surface Pen while already owning a Surface product.
Sadly, the short answer is no. You cannot use the Apple Pencil on a Surface Pro. The Surface Pro and other products from the Surface line work with a technology called Windows Ink. Needless to say, Apple does not have the Windows Ink technology. Therefore, the Apple Pencil will not work on Surface Pro.
With that out of the way, our next topic is iPad accessories. The Apple Pencil is one, yes. But you also have the Apple Magic Keyboard. You could be wondering if you should get the Apple Pencil or keyboard. Both are used for writing, of course. Let me put it this way. If your main goal is writing, get the keyboard. However, if you want to sketch, draw, and paint, the Apple Pencil is your go-to choice.
Comparing the Apple Pencil Gen 1 vs. Gen 2
The Apple Pencil is available in two generations. Keep in mind that the current second-generation Apple Pencil is compatible with iPad models from 2018 onward. The previous generation Apple Pencil works with all older devices.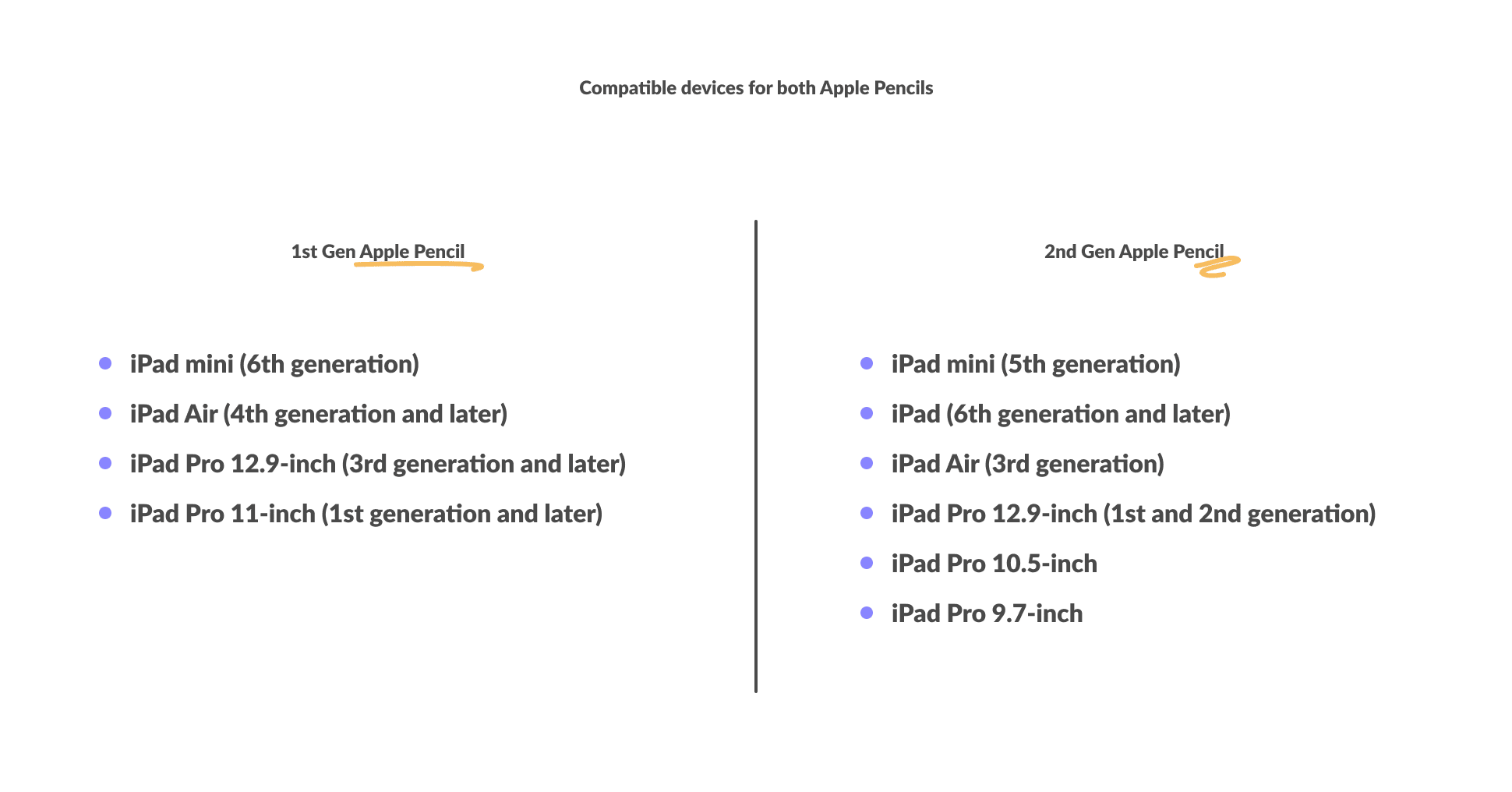 Are you a designer or artist working on an iPad? If that is the case, the Apple Pencil is your stylus of choice. It fits perfectly within the Apple ecosystem. The only thing to keep in mind is the iPad you have. Check the overview above before making your purchase.
Both the Surface Pen and Apple Pencil are top-of-the-line styluses in their own right. However, while they are very similar, they have some of their own features. For example, the Apple Pencil charges while attached to an iPad. In addition, the Surface Pen can be used as a clicker and has an eraser on top that works better than Apple's gesture-based eraser.
Solving the Surface Pen vs Apple Pencil debate depends on the products you already have. You can't use the Apple Pencil on a Surface and vice versa. Do you use a Mac for UX design? Go for the Apple Pencil. Are you the owner of a Surface product? Go with the Surface Pen. It only makes sense!
Some of the links of this page are affiliate links. I might earn a commission if you order through these links. This doesn't cost you anything, but it helps me run this website.
Do you have feedback on this article? Missing something? Or just a question? Reach out to me and I'll get back to you!