What is the Best Mac for UX design?
Many options are available when looking for a Mac that you will use for UI and UX design work. You can get a MacBook, an iMac, or in some cases, even an iPad. With Apple having that many options available, selecting the best Mac for UX design can be challenging. And that's where this guide comes in. It will help you pick your next Mac as a UX designer.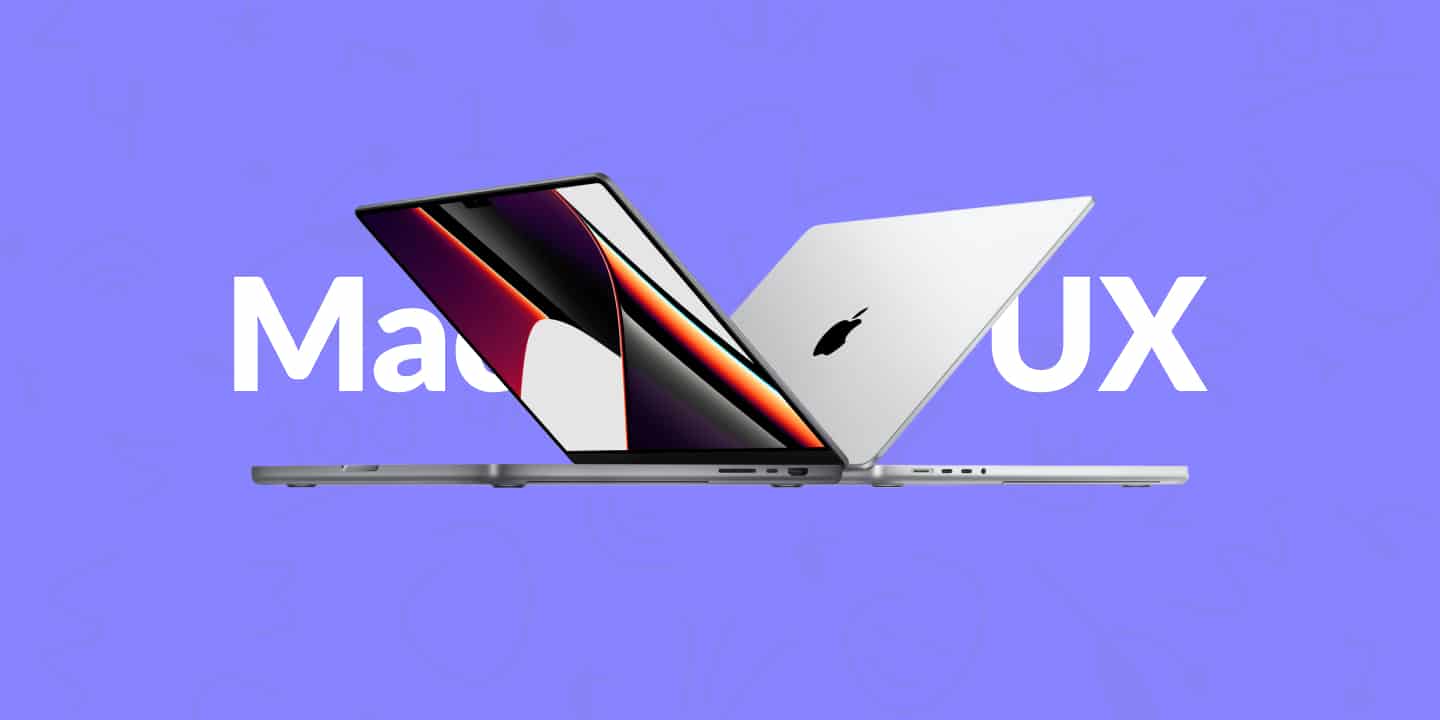 Today, you can purchase a brand new Mac, buy a used one, or even rent your new Mac. If you add these options to the increasing number of Macs available, selecting the right Mac for you becomes even more challenging.
This guide takes the specific Mac requirements for UX designers into account. I've updated this post to include my recommendations for getting yourself the best Mac for UI and UX design based on Macs available in 2023. Alright. Let's dive in.
In a rush? Get the best Mac for UX design today 👇
For UX designers, the best Mac is the latest MacBook Pro. The 14-inch M3 Pro version will get you more than enough performance.
First, let's determine what type of computer you need. As a UX and UI designer myself, I've had to pick a new computer multiple times. Based on that experience, I recommend you to go for a UX design laptop.
But why a laptop? Why not an iMac or even an iPad for UI and UX design? Here's why.
As a UX designer, you will be on the road a lot, doing user research and usability testing. Therefore, being able to bring your work with you is essential. That's why a laptop is a great choice. It is lightweight yet very strong in performance.
As you know, Apple's laptop is called the MacBook. So the only question that remains is…which one? Which MacBook is best for UI and UX design?
Should I get a MacBook Pro or MacBook Air for UX design?
Apple laptops are called MacBooks. When selecting a MacBook you want to use for design work, you have two options.
The

 MacBook Pro

 is Apple's top-of-the-line flagship laptop. One of the best in the world. It is expensive but powerful, making it an ideal laptop for visual or graphic designers, video and motion graphic designers, and UI and UX designers.

And then there's the

 MacBook Air

. Still a great laptop but more focused on lightweight tasks while on the road. The MacBook Air is cheaper than the MacBook Pro and less powerful. Because of this, the MacBook Air is unfit for designers that need to have a powerful Mac, like video and visual designers. This laptop might just do for designers using Sketch and Figma, but not by much.
That is the main difference. The MacBook Air is smaller, lighter, and cheaper. The MacBook Pro is more powerful and bigger, but that comes at a price.
I've done my research, asking about 100 UX designers that have been using a Mac of their own. Most of the UX designers I've asked (70%) preferred the MacBook Pro. Advocates of the MacBook Air stated that using a second monitor takes away the issue of the smaller screen. In addition, with the latest MacBook Airs featuring the M2 chip, you do your work as a UX designer without trouble.
For the remainder of this guide, I will only include MacBook Pro options for my recommendations. However, if you're set on getting MacBook Air, you can get one on Amazon right here.
The best Mac for UI and UX design
After using multiple Macs, the best Mac for UI and UX design is the 16-inch MacBook Pro with the new M3 Pro chip.
It has excellent performance, a bright and colorful screen, and fantastic battery life. I'd like to highlight the battery life. After 9 hours of video meetings, sharing my screen, and working in Figma, my MacBook Pro still had 21% battery left. All while listening to podcasts in the background. That's super impressive!
Here's the list of all MacBook Pro M3 Pro specs from the latest model available in 2023.
Screen size:

 16.2 inches.

RAM:

18 GB (you can upgrade to 96 GB).

CPU:

12-Core M3 Pro.

GPU:

18-Core M3 Pro.

Storage:

 512 GB (you can upgrade to 8 TB).

Battery life:

 up to 21 hours.
This MacBook Pro gets you great value for money. With the current price of $2,499, this Mac is cheaper than the M3 Max Macs but more expensive than the regular M3 Macs.
You might be hesitant to pay this much for a laptop. I get that. However, if you look at it for the long term, you will see lower costs on a year-to-year basis since you will not have to replace your MacBook Pro for at least five years.
That's way cheaper than buying a new cheap laptop every one to three years. In addition, these Macs retain an excellent resell value.
Something else to keep in mind is the cost of using UX and graphic design software. You will have to pay a monthly or yearly fee in most cases.
I wrote a post on how to graphic design on Mac which includes a list of (free) graphic design software you can use. It will save you money as well.
Cheap MacBook alternatives for UX design
If getting the brand new MacBook Pro with an M3 Pro chip is beyond your budget, you can choose the following alternative. This alternative is still a great Mac that you can use for almost any UI and UX design job.
This year's 14-inch MacBook Pro is a valid option for today's UI and UX designers. It does have the new Apple Silicon M3 chip on board.
Of course, the M3 chip isn't as powerful as the M3 Pro, but it does feature the great battery life I mentioned earlier. In addition, the 2023 MacBook Pro is future-proof for years to come because of the M3 it has onboard. Take a look at the specs below
Screen size:

14.2 inches.

RAM:

8 GB.

CPU:

8-Core M3.

GPU:

10-Core M3.

Storage:

512 GB.

Battery life:

up to 22 hours.
This MacBook Pro is almost $1,000 cheaper than its bigger brother. You could even upgrade this Mac to have more RAM and storage while still saving a lot of money.
Frequently asked questions
You might want to use your new Mac for more than just UX design. If that's the case, I'm sure you have questions. For example, is the Mac I just recommended for UX design also a good fit for graphic designers? Should I go for Apple Silicon Macs? And if so, which one?
I will answer these and more frequently asked questions below.
Is a MacBook Air good for graphic design?
It will be difficult for a MacBook Air to be a good fit for graphic designers. Graphic design tools from the Adobe Creative Suite, like Photoshop, Illustrator, and InDesign, rely heavily on the GPU of your laptop. And that's where the MacBook Air is lacking. It has less GPU power than its bigger brothers.
Here's why the MacBook Air could have issues handling these GPU-reliant apps. According to Adobe's help page, your Mac is recommended to have 16 GBs of RAM and 4 GBs of GPU memory. Unfortunately, Apple does not disclose how much memory the MacBook Air GPU has. Therefore, you're taking a significant risk in getting a MacBook Air for graphic design without knowing the exact specs.
If you compare the MacBook Air to the bigger MacBook Pro, you'll see that the MacBook Pro is better suited for the task. The MacBook Air starts at 8 GBs of RAM and is upgradeable to 16 GBs. On the other hand, the MacBook Pro already starts at 16 GBs of RAM and can be upgraded to a whopping 128 GBs of RAM.
I recommend going for a MacBook Pro or even an iMac if you have the budget for such a purchase for your graphic design work. You will have a stronger Mac that is future-proof and ready for your design work.
Should I buy an Apple Silicon Mac?
Yes, you should! In fact, the Macs I recommend for UX and UI in this guide are all Apple Silicon Macs equipped with either the M3, M3 Pro, or M3 Max.
It has been close to two years since Apple released its first three M1-equipped Macs. Since this moment, we've seen the release of multiple M1, M2, and M3 chips, and the software support has become better a lot as well.
These Apple Silicon Macs take a big step performance-wise while keeping the power consumption low. You will notice that in battery life, as I mentioned earlier.
However, there's a slight problem as well. Still, not all software is supported on Apple Silicon. Yes, the support is getting much better, but it isn't complete just yet.
Check out my post on everything you need to know about Apple Silicon Macs to find out more. This post includes a list of design software and apps currently (un)supported by Apple Silicon.
Now that you've read everything you need to know about Macs for UX design, it is time to choose. Do you want to go for the lightweight MacBook Air, or do you want to go all-in and go for a new M3 Pro or M3 Max? Read our Apple Silicon comparison post to help you decide.
Read our UX equipment guide to learn everything you need to know about picking the right hardware.
Some of the links of this page are affiliate links. I might earn a commission if you order through these links. This doesn't cost you anything, but it helps me run this website.
Do you have feedback on this article? Missing something? Or just a question? Reach out to me and I'll get back to you!