How to Graphic Design on Mac
Mac is the perfect spot to start graphic design. There's a rich history of graphic designers using the tools and applications that are available to any Mac user. You can do this as well. With all the information that is available today on how to graphic design on Mac, it is easier than ever.
That's also the problem. There's so much information available on how you can graphic design on Mac. It can be quite daunting to select the information that is relevant for you. We're going to focus on the Mac that is best for design work as well as the apps and software you will need.
Here we go!
How to graphic design on Mac
Now that you've decided on the Mac you're going to use it is time to start collecting the design tools you need to get the graphic design job done. These apps are all available on Mac. With some practice, experience, and the use of online tutorials you can learn any of the graphic design apps we list below.
Lunacy is a free design tool for UX and UI designers created by Icons8. This design tool has many of today's features, like auto layout, import from Figma, and AI-powered support.
One big advantage it has over some of its competition is the fact that Lunacy also has an offline mode. That's super useful for when you're designing on the go and might go without a stable connection for a while.
And last but not least, you can import and export well-known file formats right into Lunacy which makes working together with clients and other designers very easy.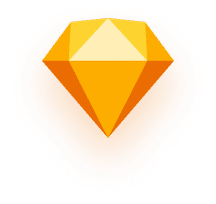 Sketch is one of the best all-round design tools available today. You can use the Sketch app for graphic design, UI, and UX design. The software is vector-based which means you can scale your designs to unlimited sizes.
The scalability of your design work is important in today's mobile device landscape. Every phone or tablet brand has its own screen sizes, ratios, and resolutions. Sketch has multiple templates and a wide pallet of plugins to help you become a very productive graphic designer.
Sketch isn't the best tool for print. The app doesn't have features aimed at that. If you want to be a graphic designer that is aimed at print and press we recommend checking out the software we talk about further along this list.
To be able to be a graphic designer on Mac, using Sketch is essential. You can try Sketch for free using a 30-day trial. After that, you're required to purchase a license for $99.
We wrote a post on everything you need to know about Sketch to help you get started. Do you want to learn more about graphic design in Sketch? We recommend reading that post!
Ah, yes. Who doesn't know the good old Adobe Photoshop? This application is a classic in the world of graphic design. You can use Photoshop for a wide array of graphic design tasks. This includes web design, photo edits, and drawing.
Adobe Photoshop is a raster-based application, which means that it is best used for graphic design that aims to be on mobile and web devices. If you want to create high-quality print designs in Photoshop you will need a very strong GPU and a big hard drive. It is possible, of course, but keep in mind that it will also cost you a lot of money.
You can try Adobe Photoshop for free as well. After the trial period, you will be billed $20 every month. This will give you access to Adobe Photoshop. If you want to use the entire list of apps you will have to pay $53 every month. This will be a better value if you want to use apps like InDesign or After Effects as well.
Go for the 'all apps' package once the total monthly cost of individual apps goes beyond the price point of the 'all apps' software pack. You'll then get all of Adobe's graphic design apps for the same price.
Illustrator is the vector-based assist to Adobe Photoshop. You can use Adobe Illustrator for any kind of graphic design work that needs to be printed. Because of the vectors used in this application, you can scale your design to be as big as you need them to be without creating gigabytes worth of design files.
From a graphic design perspective, you can best use Illustrator for logo design and any form of artistic drawing. The pricing is the same as we just discussed above.
Free graphic design software for Mac
All of the graphic design apps we've mentioned above will cost you money on a monthly or yearly basis. Sometimes this isn't an option. We get that. Luckily, there is also great graphic design software available for free. This is our list.
Some graphic designers will scoff at the idea of Canva being on this list. However, if you make a list of the best free design software available for Mac in 2023 you can't get away with not including Canva.
Canva is a great piece of design software for graphic designers that are just starting out. You can start your design work from any number of Canva templates. Do you want to design a brochure? Use a template! It is as easy as that. From that point forward, you can edit your design and export the final product as a printable PDF.
As we mentioned before, Canva is a great application for starting graphic designers. If you're wondering if you can be a graphic designer on Mac, Canva is your starting point.
Finally, keep in mind that Canva is based on a freemium model. You can use the app for free. However, if you want more templates you will have to get the paid version of the app.
If you break it down, Gravit Designer is a free alternative for Adobe Illustrator. It is a vector-based graphic design tool that is very user-friendly and easy to learn. The software is browser-based. This means you can use Gravit Designer on any of the main operating systems. All you need is a stable internet connection.
Just as the other free graphic design software solutions on this list, Gravit Designer has a free and a pro version. One downside to this particular design tool is that the developer is quite forward with trying to get you to pay for the Pro version of the tool. There's the occasional pop-up that tries to convince you about the benefits of Gravit Pro.
Compared to the free version, Gravit Pro will give you more export options, the ability to work offline, and additional color profiles. If you mainly design for web, the free version will do just fine.
Are you a graphic designer that wants to design for print? Then you will need the Pro version of Gravit Designer. You can use most of the Pro features for free in the first 30 days of using this design tool. After that, it will cost you $49 per year.
Krita is painting and sketching graphic design software that is free to use for everybody. The app is open source as well. Sounds great, right?
As we said, you can use Krita for painting and sketching which makes this design tool more artistic and creative than most of the other graphic design tools we put on this list. Krita has a steeper learning curve so getting to know this tool takes a bit more time. However, once you do, this is a great app that will get you great design results.
The open-source nature of Krita means that anybody can access the app. Everybody can also improve and edit the application. This is both a pro and a con since you might get bugs in a new version or you might lose a feature that you really liked. 
In summary, Krita is the only design tool on this list that is truly free to use. That comes with its own kind of downsides. If that is your preference, Krita is the graphic design tool of your choice.
Do you need help getting started as a designer?
That's our list of design tools. We've made this list to help you determine where to start your journey of becoming a graphic designer on Mac. We believe that this list is diverse enough to have a tool that fits every designer's needs.
Do you still need some help? We've created a program to help you become a better designer. If you join, you will get access to our exclusive group of designers that are on the same journey as you. You can also ask us anything. Do you need some career advice? You got it!
Do you have feedback on this article? Missing something? Or just a question? Reach out to me and I'll get back to you!