How to UI and UX design on iPad in 2023
Are you considering a new iPad but are you not sure if the iPad is good for UI and UX design? Here's that question answered after using an iPad as my primary design tool for a month.
Let's say your UX equipment is ready for an upgrade. Your trusty laptop is a few years old and is getting more difficult to use professionally by the day. Suddenly, a question comes up. Should you get an iPad or play it safe and get a new Mac?
That's a reasonable question and one I had as well. Luckily, I had an iPad lying around that I could use for an experiment. And that's exactly what I did.
I've used my iPad for UI and UX design for a month. Can it replace a laptop? Here's what I found out.
Can you do UI and UX design on iPad?
Yes, the iPad is an excellent fit for UX design. With iPads getting more powerful every year and more UX design tools becoming available on iPad, there's less need for UX designers to purchase a laptop for work.
Let's take a closer look at both arguments and how they make a case for using an iPad for UI and UX design.
A performance like this from a tablet was impossible just a few years ago. And I've only compared the iPad to other Macs. It is as powerful and maybe even more powerful than many Windows laptops. How cool is that?
However, it brings us to another question. Yes, the iPad Air is as powerful as the MacBook Air. Okay, that's one thing. But is the MacBook Air good for UI and UX design?
The short answer is yes; it is strong enough to do UI and UX design. But if you want something that's even more powerful, you'll need the MacBook Pro. No iPad can match the power of the MacBook Pro. Yet.
The tools you use as a UI and UX designer are the second most important factor to consider when getting a tablet for UI and UX design. I tried to use Figma and Sketch to see if that would work on an iPad.
At first, I never liked using my iPad for UI and UX design. It does take some getting used to. What helped me a lot was the Figma app for iPad. It came out at the end of 2021.
Before that, you had to use your browser to open Figma on iPad. That was okay, too, but it was more time-consuming than using Figma on a laptop because of the secondary click and lack of hovering options, for example.
Sketch, on the other hand, isn't available on iPad. That's strange given the fact that Sketch is a native macOS app. You'd expect it to be available on iPad then as well. Well, maybe someday.
Luckily, you can use Figma on iPad, which works very well. So, an iPad is also an excellent choice for any UI and UX designer on the software front.
The complete iPad for UI and UX setup
Did you decide on getting an iPad for your UI and UX design work? Congratulations! I think that's a wise choice. But that leaves us with a few more questions.
For example, should you get an iPad Air or an iPad Pro? Here's what I use as a complete iPad setup as a UX designer.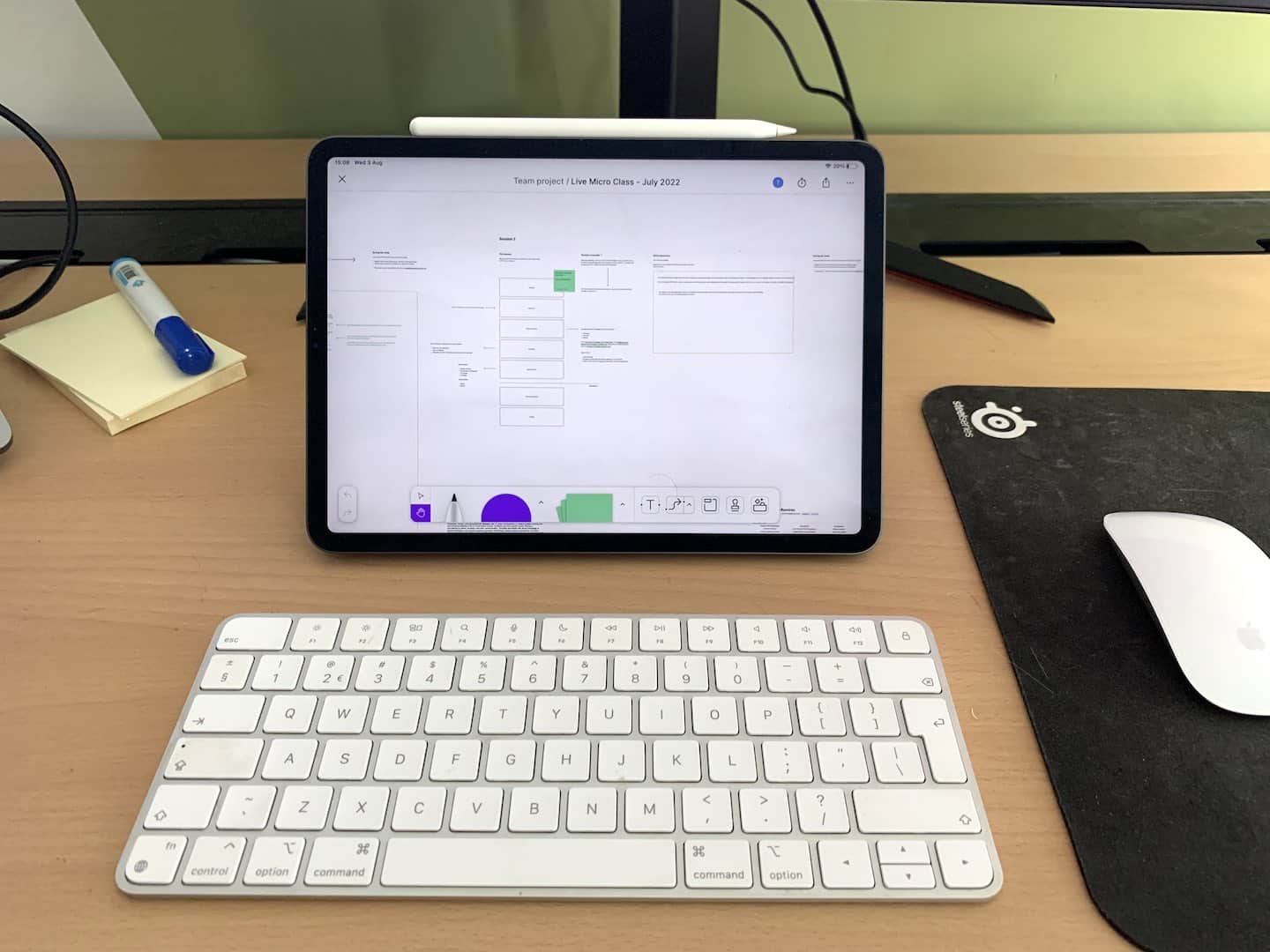 First of all, you only need an iPad Air. It has the same M1 chip as the iPad Pro and is therefore just as powerful but comes at $100 less.
The iPad Pro has a slightly better screen and camera isle on the back, but that's not so important for UI and UX design work.
Instead, spend that $100 (and some more) on accessories. For example, I learned that you need an external keyboard and mouse to be as productive on iPad as you would otherwise be on a laptop.
I've always used the Apple Magic Keyboard. It works great and has the same layout as a Mac keyboard. So that will be very familiar for you if you're used to working on Mac.
You could go for other brands, and that's okay as well. However, I like to have hardware from the same manufacturer because they work best together.
The same goes for Apple's Magic Mouse. It is somewhat of a meme because of how you charge the mouse. But, regardless of that, it is still a great mouse that works very well with your iPad.
In my iPad setup, I use the Smart Folio. But why not Apple's new Magic Keyboard for iPad? First, it is more expensive than the Smart Folio, Magic Mouse, and regular Magic Keyboard combined. 
Furthermore, you then get a keyboard and a mouse that you can move freely instead of as a part of the iPad. It also makes the iPad a lot easier to carry around when you don't need the mouse and keyboard.
The iPad is an excellent tablet for UX design. There's no doubt about that. Especially today, where the iPad has the same M1 chip as some of Apple's professional laptops, it is an easy choice. You can now use Figma on iPad just as easily as on any laptop.
However, If you want to play it safe and go for a laptop, I'd like to invite you to read my guide on the best laptop for UX design you can get today.
Some of the links of this page are affiliate links. I might earn a commission if you order through these links. This doesn't cost you anything, but it helps me run this website.
Do you have feedback on this article? Missing something? Or just a question? Reach out to me and I'll get back to you!