The best laptop for UX design in 2023
As a UX designer, you need to have a powerful laptop to do your work. However, with so many to choose from, it is challenging to pick the best laptop for UX design. Here's my advice for designers looking to get a new laptop in 2023.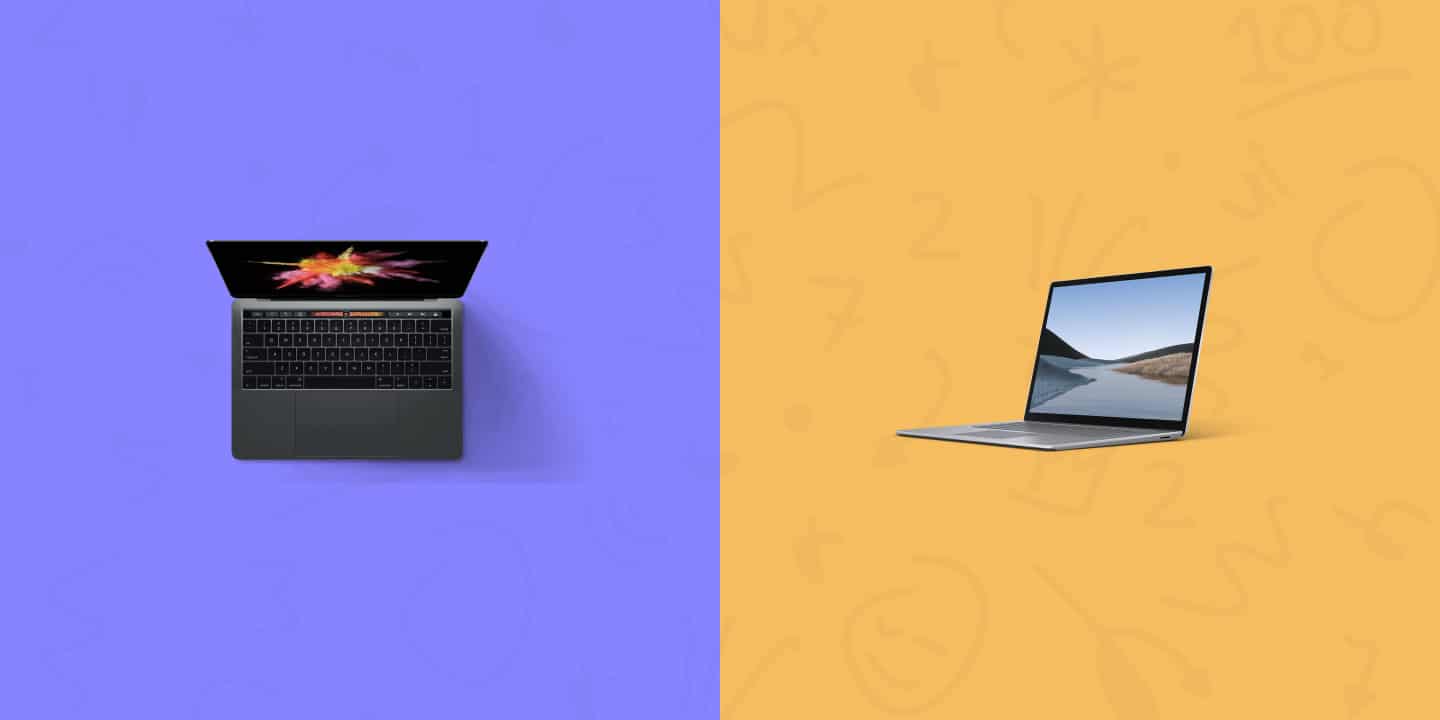 The problem is that there are too many different computers on the market today. Each laptop has slightly different specs and uses jargon in its description that not everybody understands. You can easily get lost in all of that.
In this post, I will help you select the best possible laptop for your UI and UX design work. This post will also include budget options for design students and beginners.
In a hurry? Here's the best laptop for UX design 👇
The best laptop for UX design is without a doubt the new 14-inch MacBook Pro. With the new M2 Pro on board, it is blazing fast and the battery will last the entire day.
I will focus on selecting a suitable laptop for any UI or UX designer. That includes the modern UI/UX design role and specialized UI and UX designers. To help you pick, we'll walk through three steps.
Choosing between Mac and PC for UI/UX design.

The specs you need for your design laptop.

My recommendations based on the previous two steps.
I've updated this post with the most recent information to ensure you get a design laptop relevant in 2023.
Choosing between Mac or Windows for UX design
When selecting the best laptop for UI and UX design, the first thing to do is choose between Mac and Windows.
Back in the day, Mac used to be the king of design. Yet, you can perfectly use a Windows PC for design. Today, most designers still use Mac. It has always been this way. Sketch, one of the main tools designers use, is only available as a native macOS application. Maybe they did this because of that. Who knows!
Anyway, you don't have to use Mac as a UI or UX designer. It is common, yes, but there are other reasons to consider. Ask yourself these two questions.
What computers do my colleagues or business partners use?

Do I already have other Mac or Windows products?
It will save you a lot of time and frustration if you follow the computers of choice from your colleagues or business partners. They work together better. Do all your colleagues work on a Mac? Get a Mac as well.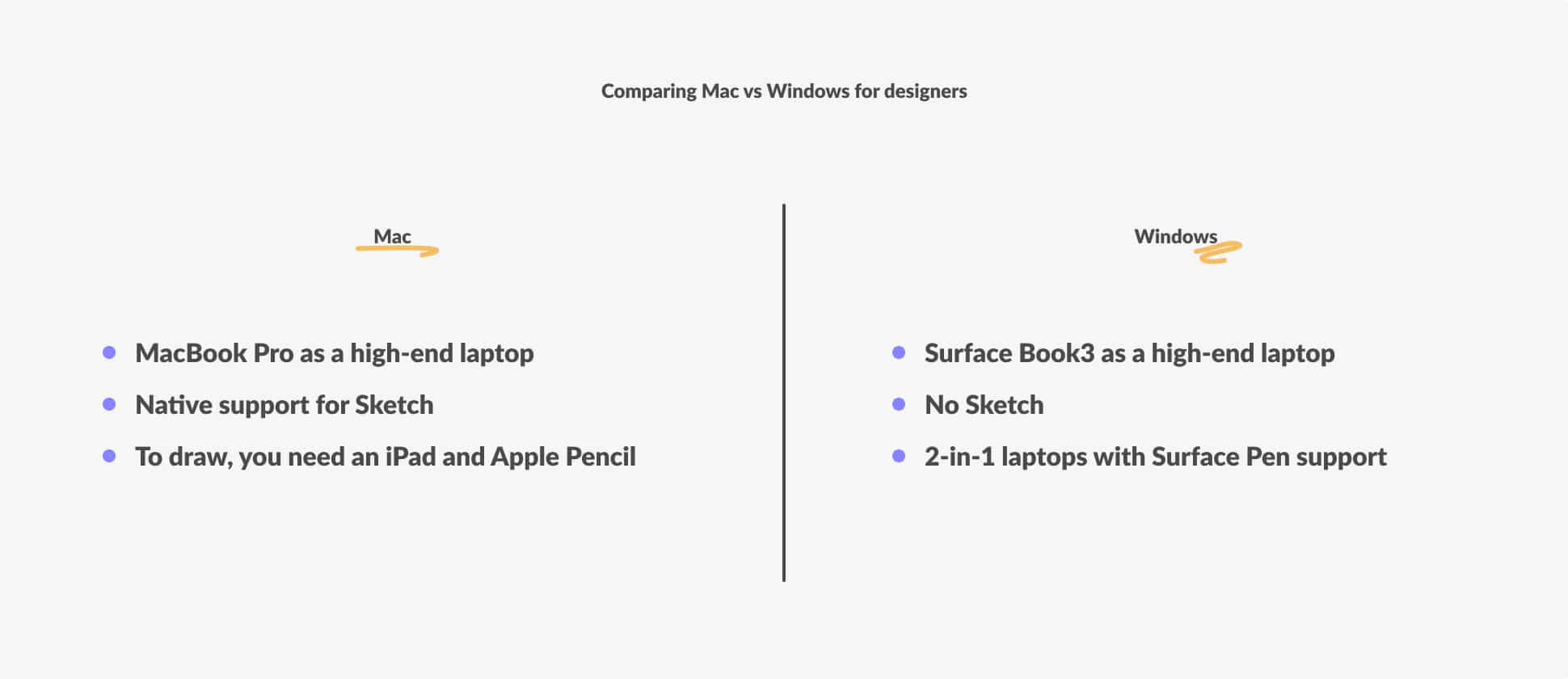 And finally, there's the misconception that Mac is more expensive than Windows laptops. Yes, the high-end MacBook Pro is very expensive. However, the same goes for a similar Surface Book 3.
Take a look at the comparison image above. It'll help you choose between Mac and Windows for your next laptop for UI and UX design.
Laptop requirements for UI and UX design
There's not just one model of computer that's best for UI and UX design. You can pick between brands, models, and lots of requirements. If you're looking for a new computer, focus on those laptop requirements rather than brands. Most brands sell laptops that have the requirements you need for a good laptop you can use for UX design.
There are a few categories of requirements you have to keep in mind. These are the following. I will recommend you a minimum requirement for all of these categories.
CPU

GPU

RAM

Storage

Screen size
The CPU stands for Central Processing Unit. It is the brain of your computer. If you're a UX designer, you need a powerful CPU to handle your daily work. Powerful CPUs have a high speed (GHz) and many cores.
When looking at laptops, a lot of them feature Intel CPUs. Intel has i3, i5, i7, and i9 CPUs. However, Apple has moved away from Intel. Check out my post on the best Mac for UX design to read more about the CPU Apple uses for its laptops today.
There's an ongoing discussion in the design community about getting the i5 or i7 CPU for your laptop. As a UI and UX designer, you will be okay with a laptop featuring an i5 CPU. If you want something more, you can get the i7, but it is unnecessary.
Keep in mind that every processor is from a particular generation. For example, an older generation i7 can be slower than a newer generation i5.
As a UI and UX designer, you need a laptop with at least the current Intel i5 CPU. Going higher than that is optional.
GPU stands for Graphics Processing Unit. It is responsible for rendering graphics on your laptop. You can divide GPUs into two categories.
The first one is where the GPU is a part of the CPU. This kind of setup is known as an internal GPU. You often see this in cheaper laptops since internal GPUs are more affordable, energy-efficient, and smaller.

The opposite is a GPU on a separate chip, also known as a dedicated GPU. Such a GPU is far more powerful but also more expensive.
UI and UX designers do not require this power as their tools are most often vector-based. However, with designers working on multiple tools simultaneously, I recommend getting a laptop with a dedicated GPU anyway.
Get a laptop with a dedicated GPU. It is a must-have for any laptop you want to use for UI and UX design. Vector-based design tools aren't that heavy on the GPU. However, having that extra headroom makes your laptop future-proof.
Random-access Memory, or RAM, is essentially the short-term memory of your laptop. It is very fast. RAM remembers everything your application needs to access right away. You notice this when you start an application for the second time. It will launch significantly quicker.
If you want to run your design applications smoothly, go for at least 16 GB of RAM. More RAM is better. It is cheap to upgrade compared to the other specs you might see in a laptop for UX design.
There has been a lot of development in regards to RAM. The current standard is something called 'DDR4' RAM. Both the Surface Book 3 and the MacBook Pro have DDR4 memory installed.
Since the price of RAM is relatively low, you can get a good amount of RAM for a relatively low price. Therefore, I advise you to go for at least 16 GB of RAM for your new laptop.
Bigger is better. More storage means more room for your documents, pictures, and movies.
The storage of today's laptop is called a solid-state drive (SSD). A solid-state drive is a lot quicker than the traditional HDD. In addition, it also makes less sound, has fewer moving parts, and is less power-consuming.
SSDs are available in different forms. The most recent one is PCIe. It is the smallest one in terms of dimensions and also the quickest one. If you compare PCIe to the older SATA standard, you'll see that PCIe can be up to six times faster than SATA SSDs and up to twenty times faster than the traditional HDD.
As for the storage of your laptop, we recommend not going lower than 250 GB of storage. Go for 500 GB if you can. Remember that solid-state drives (SSDs) are still very expensive, so going for more storage will set you back more.
Laptops typically come in sizes between 13 and 16 inches. Once again, more is better, but more comes at a price. The screen size is probably the most significant factor in how expensive your laptop will be.
In some cases, going for a larger screen can double the price of your laptop. It is mainly because of how expensive display panels can be and because most larger laptops have better specs overall.
Another thing to keep in mind is the resolution of your laptop screen. I recommend a laptop with at least a Full HD (1920×1080) resolution for UX and UI design work. However, go for a 1440p or 4K screen if you have the budget.
If you work on a second screen, you can pick a 13 or 14-inch screen size for your laptop to save some money. You can get away with this size screen if you don't mind things getting a bit crowded on screen. However, a smaller screen size laptop also has lower other specs in most cases.
If picking the right screen size is important for you, I can recommend watching the video above where I compare the 14-inch and 16-inch MacBook Pro based on screen size.
I suggest going for a 13 or 14-inch laptop if you're a UI and UX designer. But, if you can, go for one size bigger. The bigger screen is worth it.
The best laptops for UI and UX design in 2023
This table shows a list of the best laptops for UX design.

| Laptop | Brand | Features |
| --- | --- | --- |
| MacBook Pro M2 Pro 14" | Apple | Very powerful laptop that lasts the entire work day. |
| Surface Book 3 13.5" | Microsoft | 2-in-1 hybrid with touch and Surface Pen support. |
| Surface Laptop 4 13.5" | Microsoft | Great choice if want a Surface that isn't hybrid. |
| MacBook Pro M2 13" | Apple | Includes the power efficient M2 chip. |
| Legion 5 | Lenovo | Has the GPU to function as a gaming laptop also. |
| i5 Touch | HP | Touch screen and dedicated graphics. |
| Pavilion | HP | GeForce GPU and large SSD storage. |
| GF63 | MSI | Large screen to do your UX design work. |
| IdeaPad Flex 5 | Lenovo | Cheaper 2-in-1 hybrid alternative. |
| ZenBook 14" | Asus | One of Asus' best affordable laptops. |
| Galaxy Book Odyssey | Samsung | Samsung's answer to the MacBook and Surface Book. |
| ConceptD 3 | Acer | High-end 2-in-1 with touch and pencil support. |
Take a look at the table above. These are some of the best laptops for UX designers available today. They are all based on the following features.
CPU:

 Current generation Intel i5 or better.

GPU:

 A dedicated GPU, like an NVIDIA GeForce, for example.

RAM:

 At least 16 GB.

Storage:

 At least 250 GB of SSD storage.

Screen size:

 At least a 13-inch display.
You can filter on these specs at most online retailers. For example, if you search for laptops on Amazon, you will find the laptops I mentioned above and more.
Recommended laptops for UX design
Out of the list I mentioned above, I suggest you'd get either a Microsoft Surface Book 3 or a MacBook Pro.
Having both the hardware and software produced by the same company is a big plus. You'll find that this is the case for both the Mac and the Surface Book. I believe that both are great machines in their own right. They are close in price and performance. As a UX and UI designer, you will be set for years with either one.
Let's take a look at both laptops.
First up is the latest MacBook Pro. This is the 14-inch M2 Pro configuration. After using this machine for a while, I can safely say it is a fantastic machine for any designer.
As I said earlier, having the same hardware and software manufacturer is an important feature. Apple does just that. The hardware is top-notch, and macOS is a high-performing powerhouse. Here's a list of the specs.
CPU and GPU:

M2 Pro with a

 10-core CPU and 16-core GPU.

Storage:

 Up to 8 TB.

RAM:

 Up to 96 GB of RAM options.

Screen size:

 14″.

Battery life:

 Up to 17 hours.
Yes, you only need the 14-inch version of the MacBook Pro. The performance of the 14-inch and 16-inch models is very similar. You can configure the 16-inch model to have an M2 Max. However, you do not need the M2 Max to run your design software.
I also believe that the laptop is big enough to do your UX design work. However, if this isn't enough, you can always get a second monitor for your UX design work.
Go for the smaller model. Choosing the 14-inch model will also save you hundreds of dollars on an already expensive purchase.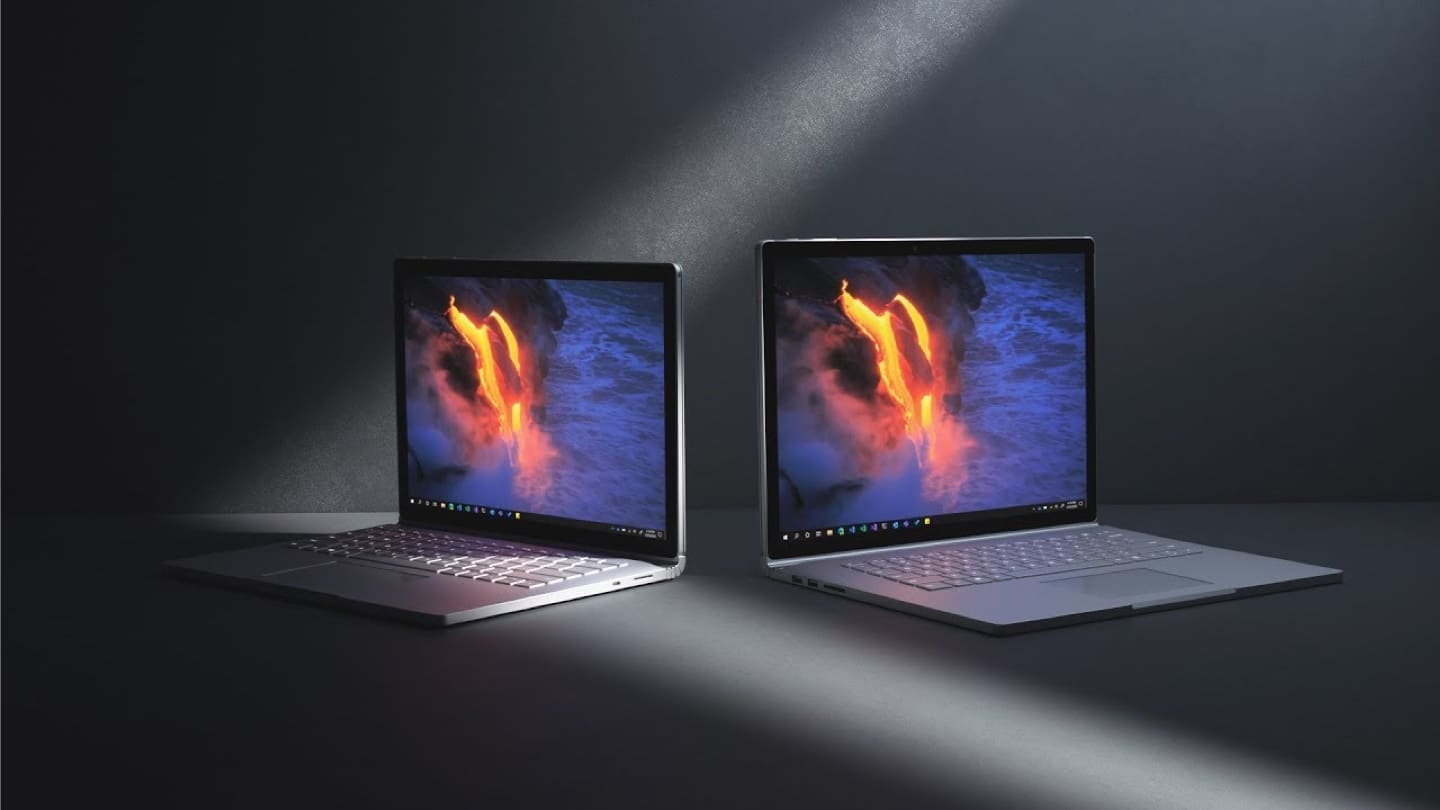 The Surface Book 3 is an excellent laptop for any type of designer. I can be short about that. Microsoft has finally made a Windows-based alternative for the MacBook Pro.
This laptop is a 2-in-1 hybrid laptop that you can use as a tablet. In addition, the laptop has Microsoft Surface Pen support for all of your creative needs. Just think of what you can do while you're on the go. Take a look at the Surface Book 3's specifications below.
CPU: 

Intel Core i7 with a speed of 1.3 GHz.

GPU:

 Dedicated NVIDIA GeForce graphics.

RAM:

 8 GB and 16 GB options.

Storage:

 256 GB and 512 GB options.

Screen size:

 13″.

Battery life:

 Up to 20 hours
Now, I do not have to explain further what Windows 10 can do for you. Like Figma and the Adobe Creative Suite, all the software you need is available for you to use. In addition, the Microsoft Surface Book 3 has got a hardware refresh recently, so it will still be a great purchase in 2023.
Best UX design laptops below $1000
Since a new laptop can be costly, I will also include some budget options.
These laptops will be good enough for you to use but can face some issues in the long run. For example, you might have to replace your laptop earlier, which will make your long-term costs bigger than when you would go for one of my suggestions above.
Laptop accessories for UX design
To create a complete workspace for yourself, you need a few accessories to go with your laptop. The most important ones are a laptop stand and a second screen as they will help prevent back and neck issues after long days of working behind a desk.
Other accessories include a mouse, external keyboard, storage, and a mouse pad. I'm working on creating a complete list of laptop accessories. Check back in a little while to see the updated list.
Frequently asked questions
That's it for the recommended specs for UI and UX design laptops. However, before I'm going to conclude, I still have a few frequently asked questions to answer. Please take a look at them below.
Should I buy a two-in-one hybrid laptop, like the Microsoft Surface Book, for example?
Yes, you can! There are many great options available in the tablet-laptop-hybrid department. For example, look at all the Microsoft Surface laptops for graphic designers.
One of my favorites is the Microsoft Surface Book 3, an excellent two-in-one Windows PC. I highly recommend it. It checks all the marks I've mentioned above. It can even work as a tablet, which is nice if you are on the road a lot and if you like to draw.
Can I use a tablet as a UX designer?
To give you a short answer. Yes, you can use a tablet as a UI, UX, or visual designer. Tablets get better every year when companies like Apple and Microsoft release new versions of their tablets.
You only have to keep in mind that you get a tablet with enough power and a big enough screen size. You can use Figma on any tablet. It will work just fine if you use a Bluetooth keyboard and mouse.
Are gaming laptops good for graphic design?
Yes! In almost any case, you can use gaming laptops for graphic design. However, the other way around works as well. That is because, in both cases, these laptops would require a powerful dedicated GPU.
If you have a gaming laptop, the chances are that it has a powerful GPU. That's exactly what you need. However, there is more. If you're curious about that, I recommend reading my post on why gaming laptops are good for graphic design.
Getting yourself the best laptop for UI and UX design is essential in your career as a designer. Especially when you're looking to select the right UX equipment, getting the right laptop for you is even more important.
Your next laptop, of course, depends on your budget, the tools you want to use, and personal preference. Take your time to make the right choice. Then, check out more of the posts I've mentioned previously.
Do you have feedback on this article? Missing something? Or just a question? Reach out to me and I'll get back to you!