The best tablet for UX design (2023 Updated)
Tablets improve with every new version that gets released. In today's market, tablets can be as powerful as regular laptops. But are tablets good enough to replace the laptop you've used as a UI or UX designer? And if so, what is the best tablet for UX design? You'll find out in this post.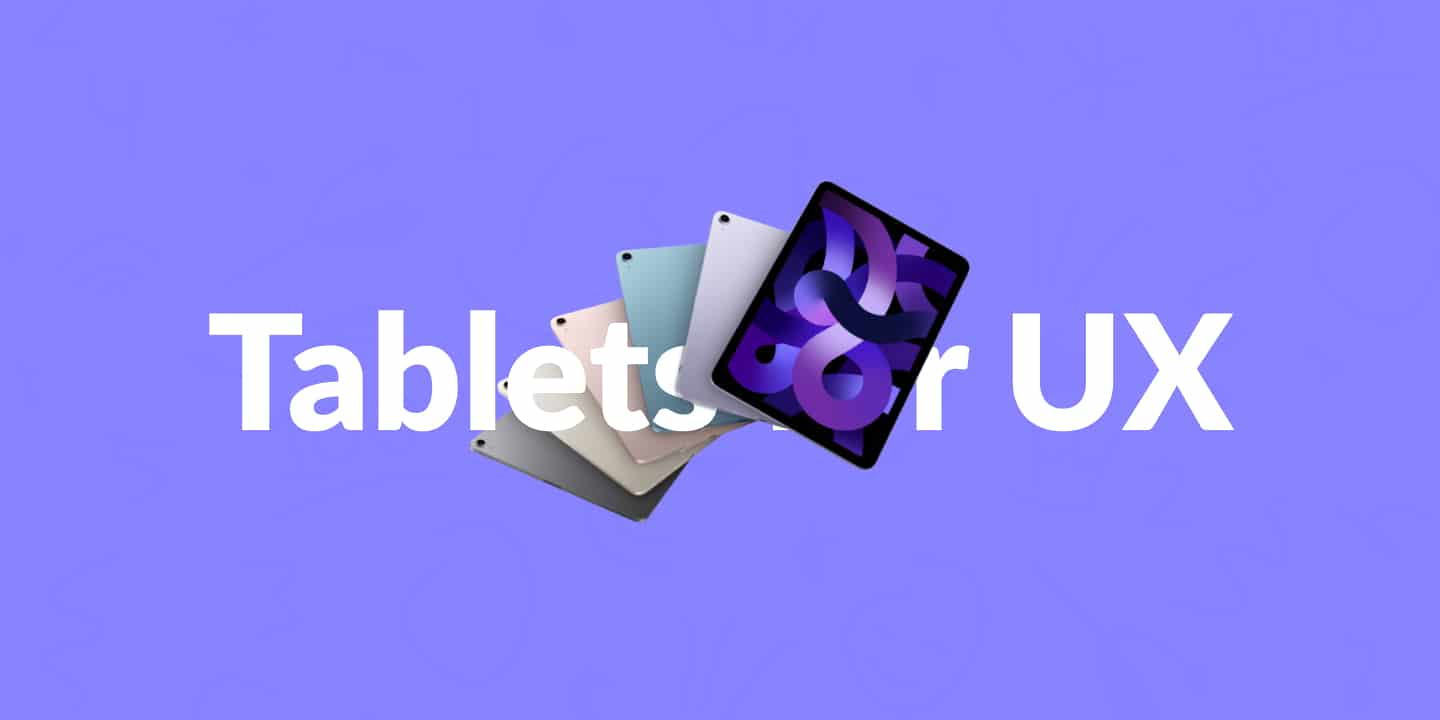 With Apple's introduction of the first iPad well over ten years ago, the development of professional tablets gained a lot of traction. As a result, tech giants like Microsoft, Apple, and Samsung are releasing great tablets every year.
We have Surface tablets, the Galaxy line by Samsung, and Apple releasing new iPads every other year. You might be wondering which one of these great tablets you should buy. Here's what to keep in mind when looking for the best tablet for UX design work as a part of your UX equipment.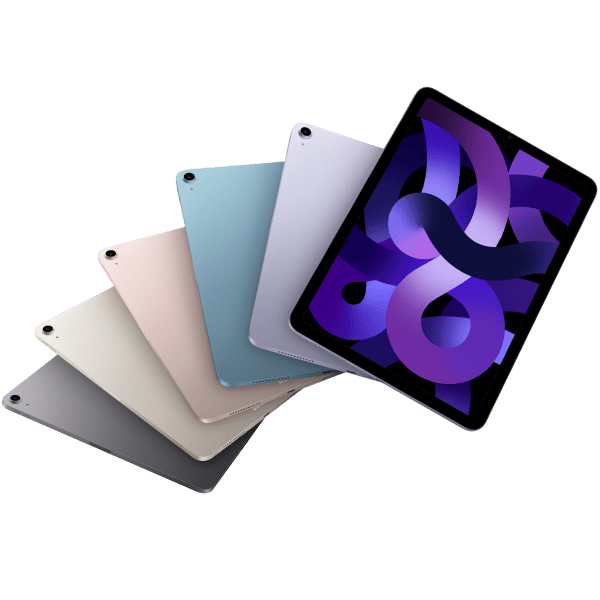 In a rush? Here's the best tablet for UX design 👇
The new iPad Air is a fantastic tablet. Equipped with the M1 chip, it has all the power you need. With Figma finally available on iPad, you're good to go.
Tablet specs for UX design
As with our guide on laptops for UX design, I will also create a checklist for tablet specs. By doing so, you can make an honest comparison between tablets for UX design without letting company bias be of any influence.
One thing to keep in mind with tablets is that, in addition to specs, certain features can also play a part in deciding on buying a tablet. These include features like pencil support, the operating system, and how the tablet fits into the entire ecosystem of its manufacturer.
For tablets, the screen size is a two-way street. On the one hand, a bigger screen enables you to be more productive. You have a lot of room to zoom in on your work. It is crucial to consider since UI and UX designers need a lot of space for their tools.
On the other hand, a bigger screen goes against a tablet's advantage. Tablets with a bigger screen size are heavier and more expensive. It makes a tablet harder to travel with and less accessible for a UX designer with a smaller budget.
After using tablets between 11 and 13 inches, I suggest a tablet with a screen size of around 11 inches. That size is balanced enough to give you the space to do your work without losing the portability of a lightweight tablet.
The storage of your tablet is ever so important. Cameras get better all the time, resulting in bigger photos requiring more disk space.
The same goes for the tools you use as a UX designer. Your file sizes increase over time as well. Just think of that one design project you've worked on recently. How many gigabytes of storage did it take?
In most cases, tablet prices include just the basic storage option. However, when going for extra storage, the cost of your tablet can increase by hundreds of dollars.
As an alternative, you could go for cloud storage. Apple has iCloud storage, for example. In that case, you pay a monthly fee for online storage.
Don't spend too much on storage. Instead, opt for a cloud storage option. The low monthly fee is cheaper than the expensive storage upgrade.
After years of paying the monthly payment, the extra storage will become a more affordable option. However, in most cases, you will have replaced the tablet before this moment occurs.
Features other than hardware specifications are essential when selecting the best tablet for UX design. One of these features is the operating system.
The operating system significantly affects how your tablet connects to your workflow. For example, Apple uses Handoff and AirDrop to enable you to continue your tablet UX design work on another device. The catch is, however, that these features only work within the same ecosystem of devices.
You have to ensure that the tablet you select fits in with your other devices. For example, do you already work on Windows? Chances are you'll be happiest with a tablet that also runs Windows. The same goes for Apple, Samsung, and other mainstream manufacturers.
There are a lot of accessories available for tablets. Especially for UI and UX designers, these can be of great importance to your productivity.
For example, if you want to draw or sketch, you will need a pencil, like the Apple Pencil or Surface Pencil. They are of great value to any UX designer out there.
In addition, you can also choose to purchase an additional Bluetooth keyboard if you know you have to write a lot for work. A keyboard will significantly enhance productivity for any designer.
The best tablet for UX design
Alright! If you put it all together, your best UX design tablet will consist of the following specifications. All that's left to do is connect them to a tablet or two for you to take a look at.
Screen size of around 11 inches.

Average storage with a supplemental cloud storage plan.

Pencil for sketching and drawing.

An operating system that fits your other devices.
If you put those together, I suggest getting either the new iPad Air or a Surface Pro. Take a look at both UX design tablets below.
iPad Air (5th generation)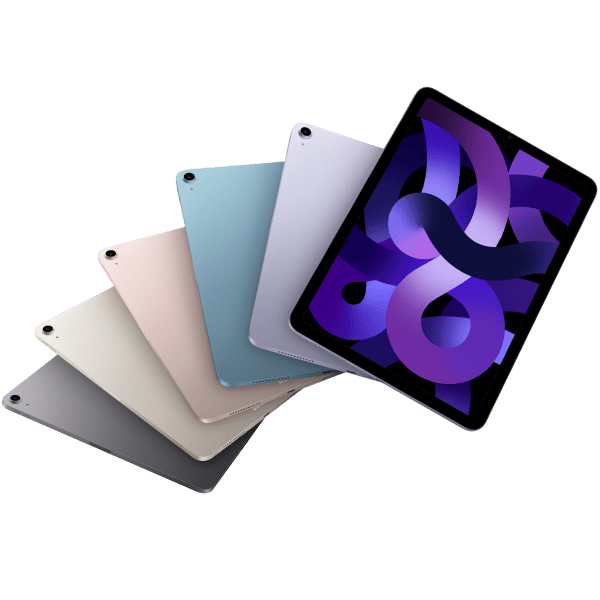 The iPad Air is easily the best tablet you can get as a UX designer. With its M1 chip, you get laptop-level performance in a tablet. In addition, due to its size and weight, you can bring the iPad Air with you wherever you go.
And with Figma now available on iPad, you can do your work as a UX designer without issues. The iPad Air is a must-have for UX designers in 2023.
If you want to work on Windows, the Surface Pro 8 could be your tablet of choice. Compared to the iPad Air, it has a bigger screen, and you can see that in its price. It is more expensive than the iPad.
The Surface Pro has a 3:2 screen ratio, comes with Windows 11, and has excellent battery life. However, if you want to do high-performance visual work, like video editing, you will need the more expensive Surface Pro.
When you pick the more expensive one, you can call the Surface Pro a laptop and tablet in one. So if that's what you need, this tablet is perfect!
The deciding factor between the two is your OS preference. For example, if you already own an iPhone or Mac, it is better to get an iPad Air. It'll fit right in with your other UX equipment. The same goes for any Microsoft Windows product, obviously.
The great thing about these two tablets is that they both have pencil support. You can get the Apple Pencil for the iPad and the Surface Pen for the Surface Pro tablet. They also support external Bluetooth keyboards if you require one.
Frequently asked questions
Finally, let's go through some frequently asked questions on UX design tablets. Take a look at the FAQ below.
What is the best iPad for UI and UX design?
The best iPad for UI and UX design is the iPad Air. If you compare the two, you'll see that both iPads have the same screen size. Both tablets also feature the same M1 chip.
As a result, you get the same performance on the same screen size. Yet, the iPad Air is a lot cheaper than the iPad Pro. Sure, you'll only have a single camera and no ProMotion display, but you don't need those features to do UX design work.
Tablets are great. They get better by the day and are capable replacements for laptops. Even UI and UX designers can now use tablets for design work.
As a part of your UX equipment, I recommend getting the iPad Air if you already have other Apple products and the Surface Pro if you are a Windows user.
But what else do you need as a UX designer? Start with our guide on which laptop is best for UX design.
Some of the links of this page are affiliate links. I might earn a commission if you order through these links. This doesn't cost you anything, but it helps me run this website.
Do you have feedback on this article? Missing something? Or just a question? Reach out to me and I'll get back to you!