3 Tips to help you get started as a freelance UX designer
Are you looking to get started as a freelance UX designer? Not sure where to start? That's okay. Here are my tips to make your freelance UX journey a success.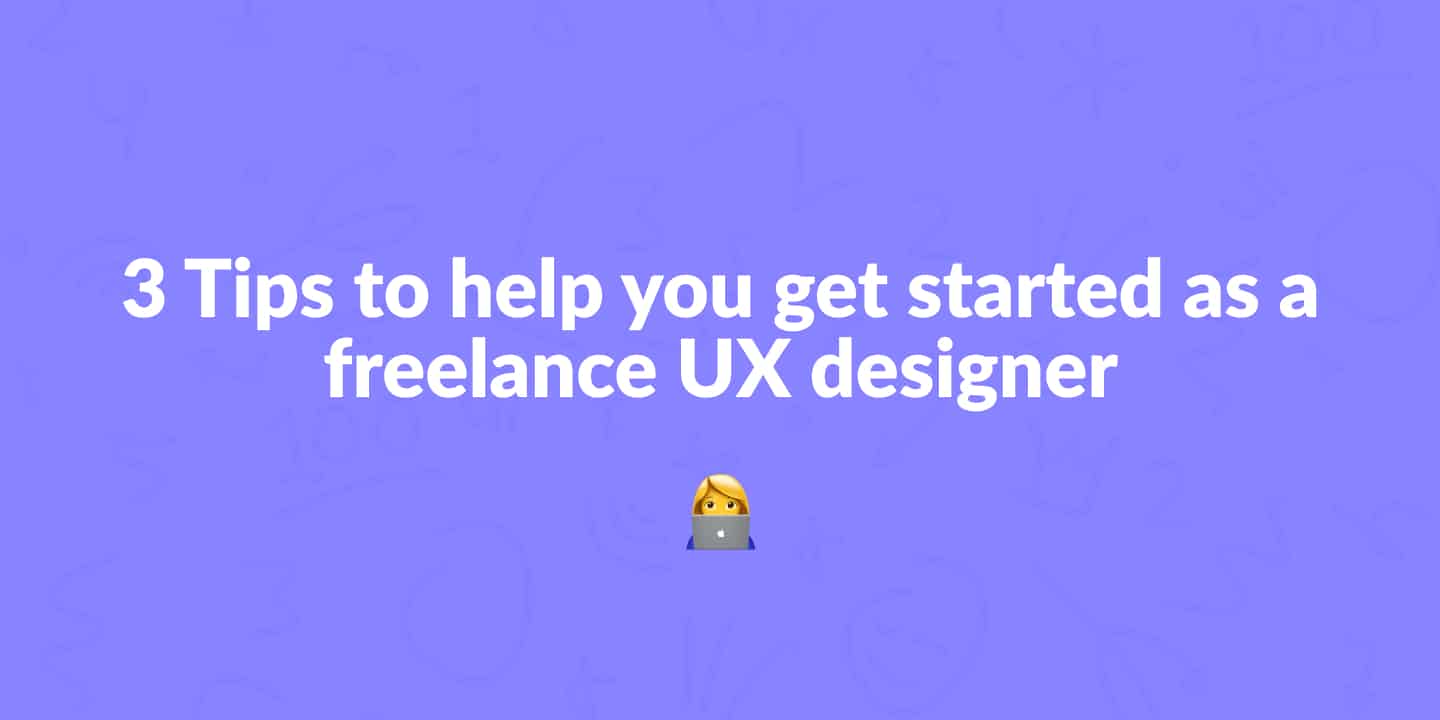 Freelancing as a UX designer is an excellent way for entry-level UX designers to get working experience. That extra experience is super helpful if you want to get hired for a full-time UX role later on.
It's also a great way for UX designers to make more money.
However, getting started as a freelance UX designer works differently than getting hired for a permanent position. It's more of a business transaction. You're a business hired by another business to help them achieve something.
I've been doing both for the past few years and here's a list of tips that have helped me build a successful UX freelancing business in addition to my day job.
Keep it short when applying for freelance UX work
Instead of writing a long cover letter where you talk about who you are and all the things you can do, focus on how you will do an excellent job on the project.
You can include an intro about yourself, of course, but keep it simple.
The freelancing interview isn't as much about company culture as it is with a more traditional job interview. It's about getting a job done. You have to convince your client of that.
Here's an example of a UX freelancing project I was able to work on a while ago. The client was looking for someone to design a landing page for a newsletter. All I sent as a first message was the following.
Hi! I'm Nick, and I saw that you're looking for someone to design your landing page. I've done that before and would be happy to help if you're still looking for someone. Let me know!
The message above got the conversation going and ultimately resulted in me getting the freelance project. It was to the point and friendly.
Include costs and benefits quickly
As UX designers, we're inclined to say "it depends" a lot. Don't do that too much as a freelancer looking for work.
Company owners don't have a lot of time. I've lost many potential freelancing clients by taking too long to get to the point.
Instead, mention what your client can expect as soon as you've got a rough idea of what they're looking for. Here's what to include.
How long you expect to work on the project. Mention a number of hours or days.

What it brings in terms of benefits.

The expected costs for the client. Provide a range that you're comfortable with.
The company owner can then compare costs and benefits to make a decision. If done well, he'll choose to work with you! Remember that you're not going to win every project all the time—experiment with what works best for you.
Stand out by getting the basics right
When a client shares that they're looking for a freelance UX designer, many designers will respond. The client will decline most applicants right away for several reasons.
They've got a generic (or generated) response.

The response has typos.

There's no clear call to action.
Getting the above right will put you in the top 10% of all applicants. Yes, really. And it increases your chances a lot.
For this tip, let's focus on the first and final item on the list. You can use a spell check or writing tool to filter out the typos for the second item on the list.
Try and find a 'hook' to grab attention. You can do this by going the personal route or by providing a suggestion for the project right away. You could, for example, already include a quick sketch of your design solution in the opening email.
Doing so will make you appear much more authentic, increasing your chances of getting hired a lot.
In today's day and age, I see many people complain about getting responses that were obviously AI-generated. This is your chance to stand out by responding with a personal, human-written reply.
These tips focus on getting clients once you've identified a potential client. But what if you've not found one yet?
In that case, you'll need to go to places where you can find potential UX freelancing clients and do some networking. In my experience, the best places to go are Twitter and LinkedIn.
You'll have to share your work and engage with others. That'll attract potential clients. As an experiment, you could keep a log of what you do and turn that into a tweet or two at the end of every workday.
Do you have feedback on this article? Missing something? Or just a question? Reach out to me and I'll get back to you!