Is UX dying? A 2023 perspective
Nobody wants to move into an industry that's about to disappear. But how about UX? Is UX dying? Some designers certainly think so. Let's settle the debate right here and now.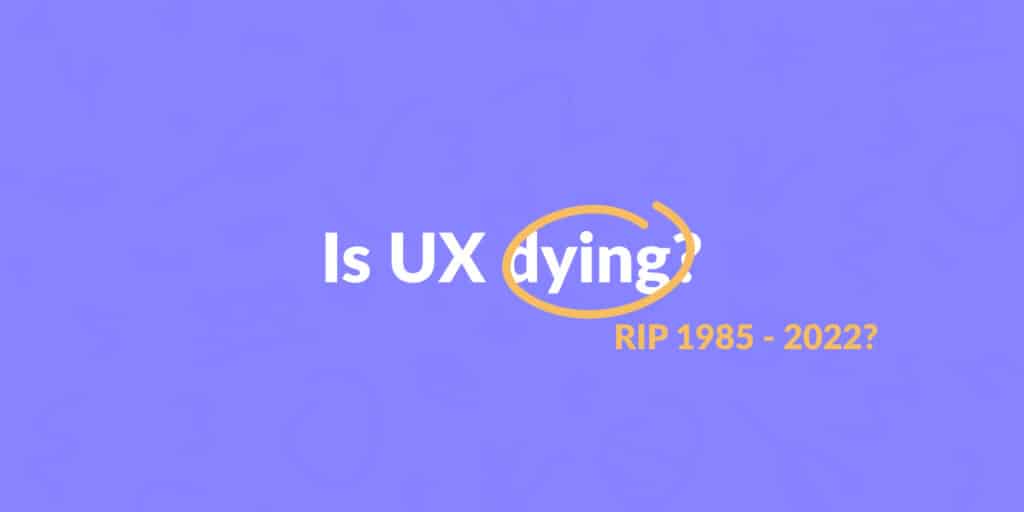 To determine whether or not UX is dying, you have to consider two things. First is the demand. Is the market for your role growing, stable, or declining?
The second factor is the future. Is the career you're considering future-proof or likely to be either outsourced or automated? After considering both, here's the answer to whether or not UX is dying.
No, UX is not dying. User experience as a concept and as a part of our job will stay with us forever. It is an ever-evolving role that might get a different name at some point, just as UX replaced information architecture and other design roles as a job title just over 20 years ago. However, it is never going to disappear.
There are several reasons why UX is not dying. Let's take a look at those reasons now.
Let's take a look at the job market. UX is still growing and more in demand than ever before. I know this because of the growing online community of UX professionals.
In addition, more and more new UX roles emerge. The UX writer is an integral part of today's UX industry. Yet, it wasn't even a thing just a few years ago. It further shows how much UX is in demand.
Finally, looking at my situation, I see UX is in demand because of the number of recruiters reaching out to me. The amount of LinkedIn messages and calls have never been higher!
Yes, UX has a future. That future includes a lot of design thinking, UX research, and workshops. In addition, new UX roles, such as the UX writer we discussed earlier, will help shape a future for UX. 
Yet another reason for this bright future is that UX is unlikely to be automated. With a strong focus on research and the fact that there's no recurring workflow for every project, you will have work to do in the future.
However, the UI design part of UX will have less of a future than UX. You can see the first steps of that already happening with the rise of design systems. And rightly so. There's no need to design the same components over and over again. Instead, create it well once and reap the benefits!
To figure out the state of any industry you want to work in, you must consider the demand and how future-proof the work in that industry is. For UX, it means the following.
The demand for UX is growing.

UX is relatively future-proof, with only the UI design part of UX likely to be automated.
Is UX dying? No, it is not. It is a good career to get started in. Now that we've established that, it is time to take the next step. That step is to get started and land a job in UX. You came to the right place to make that happen.
Do you have feedback on this article? Missing something? Or just a question? Reach out to me and I'll get back to you!