What is the Best Tablet for UX design?
Tablets improve with every new version that gets released. In today's market, tablets can be as powerful as regular laptops. This brings us to the question of whether or not a tablet can replace the laptop you've been using as a UI or UX designer. And if so, which tablet is best to get a UX designer.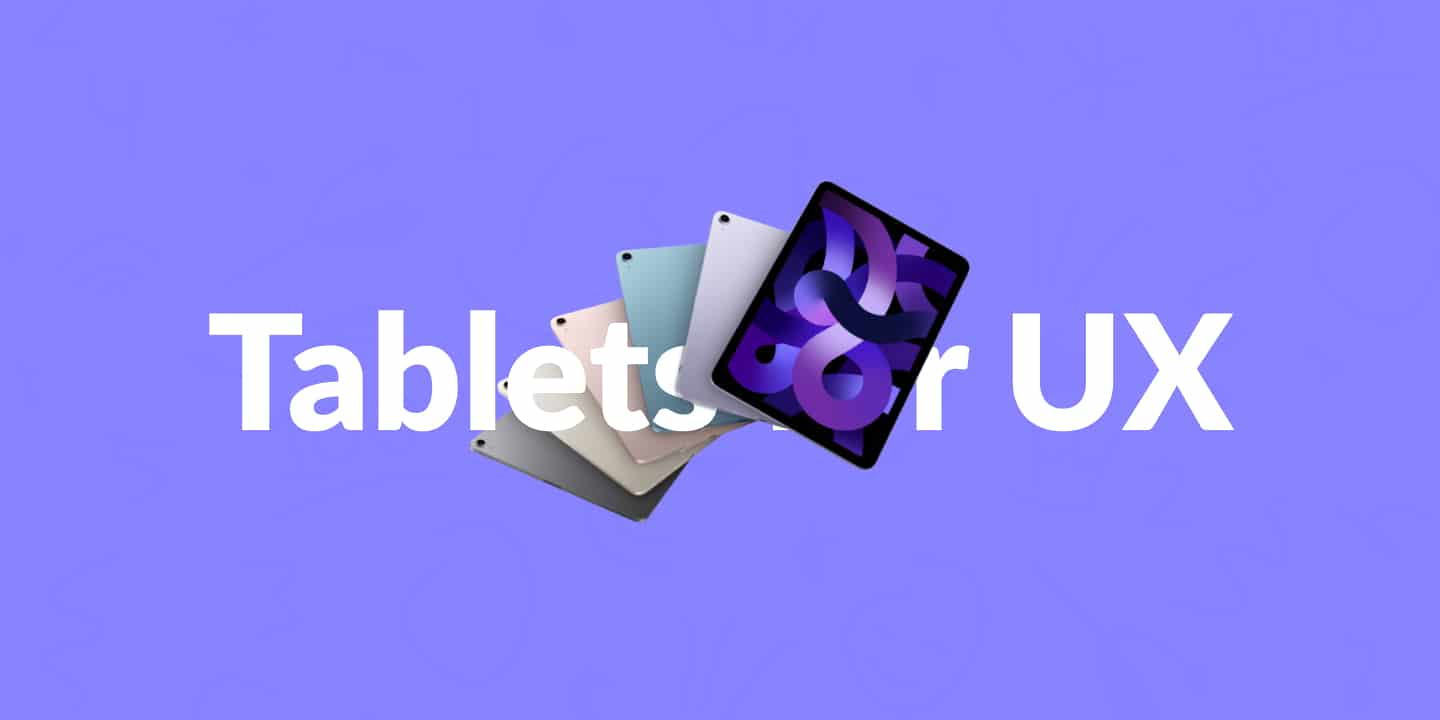 With Apple's introduction of the first iPad well over 10 years ago, the development of professional tablets gained a lot of traction. We now have tech giants like Microsoft and Samsung releasing great tablets every year.
Here's what to keep in mind when looking for a new tablet for UX and UI design work.
UX design checklist for tablets
Just as with our guide on laptops for design, we are going to create a checklist for tablets as well. By doing so, we can create an honest comparison between laptops and tablets for design.
For tablets, the screen size is a two-way street. On the one hand, a bigger screen enables you to be more productive. This is an important aspect to consider since UI and UX designers need a lot of space for their tools.
However, a bigger screen contradicts one of the advantages of a tablet, namely the portability. Tablets with a bigger screen size usually weigh more and are more expensive.
We suggest a tablet with a screen size of around 11 inches. This is balanced enough to give you enough space to do your work without losing the portability of a light-weight tablet.
The storage of your tablet is ever so important. Cameras get better every year, resulting in bigger photos that require more disk space. The same goes for the tools you use as a UI or UX designer. Your file sizes increase over time as well.
Don't get fooled by starting prices. In most cases, these include just the basic storage option. Going for extra storage can increase the price of your tablet by hundreds of dollars.
Keep in mind if you need extra storage. Most big tablet providers also have a cloud solution. Apple has iCloud storage for example. You then pay a monthly fee for a couple of gigabytes of online storage.
Don't spend too much on storage. Instead, opt for a cloud storage option. The low monthly fee is cheaper than the expensive storage upgrade. Only after years of paying the monthly fee, the extra storage will become the better choice.
There are a lot of accessories available for tablets. Especially for UI and UX designers, these can be of great importance to your productivity.
For example, if you want to draw or sketch, you will need a  pencil, like the Apple Pencil or Microsoft Surface Pencil. Pencils you can use with your tablet work just like regular pencils. They are of great value to any type of designer out there.
In addition, you can also choose to purchase an additional bluetooth keyboard if you know you have to write a lot for work. This will greatly enhance productivity for any designer.
We believe that the pencil is an absolute necessity. The keyboard is optional.
The best tablet for everyday UX design work
Alright! If you put it all together, you get a tablet that consists of the following specifications. All that's left to do is connect them to a tablet or two for you to take a look at.
Screen size of around 11 inches.
Average storage with a supplemental cloud storage plan.
Pencil for sketching and drawing.
If you put those together, our suggestion would be to get either an iPad Pro or a Surface Pro. The distinguishing factor between the two is your OS preference. For example, if you already own an iPhone or Mac, it is better to get an iPad Pro. The same goes for any Microsoft Windows product obviously.
The great thing about these two tablets is that they both have pencil support. You can get the Apple Pencil for the iPad and the Surface Pen for the Surface Pro tablet. They also support external bluetooth keyboards if you require one.
In the case of the iPad, we suggest the 2020 iPad Pro 11 inch with 128Gb storage. It fits all of the aforementioned requirements.
If you're looking for a Windows tablet, the Surface Pro is your tablet of choice. It has a screen size of 12 inches and 8Gb of RAM.
Tablets are great. They get better by the day and are capable replacements for laptops. Even UI and UX designers can now use tablets for work. In case you're not sure yet, you can take a look at some of our other guides that answer similar questions.


Was this post helpful to you? Share it with others!