The best laptop for UI, UX, and graphic design in 2021
Whether you're an experienced graphic designer, a visual designer, a UI designer, or just starting as a UX designer, you need to have a laptop to do your work. Having an excellent laptop for design that is powerful, lightweight, and easy to use is a must-have in today's working climate.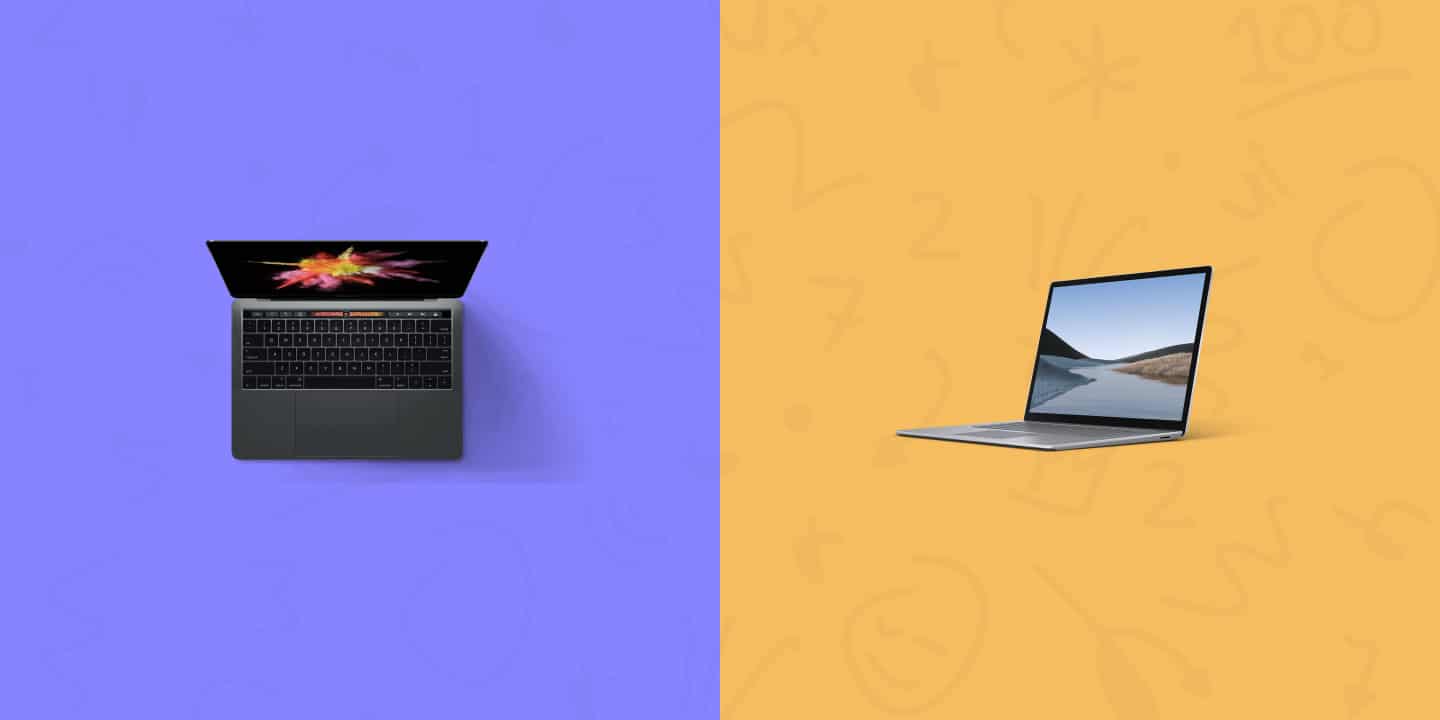 The problem is that there are so many different computers that they can easily get lost in all the brands and options available today. This post will help you with selecting the best possible laptop for your design work. This post will also include budget options for design students and beginners.
We're going to focus on selecting a laptop that's suitable for any kind of designer. The designers we're going to help pick a new laptop include modern designer roles like UI/UX design, visual design, product design, and web or graphic design in general.
We've updated this post with the most recent information to make sure you get a design laptop that is relevant in 2021.
The best laptops for UI, UX, and graphic design
Having a list of recommended specs for a laptop is key. Here's a list of specs that will get you a great laptop you can use for UI and UX, visual, or product design work. Of course, these laptops will work for graphic or web designers as well.
CPU:

 Current generation Intel i5 or better.

GPU:

 A dedicated GPU, like an NVIDIA GeForce model, for example.

RAM:

 At least 8 GB's.

Storage:

 At least 250 GB of SSD storage.

Screen size:

 At least a 13-inch display.
If you put it all together, you will need to have a laptop with the specs mentioned above. You can filter on these specs at most online retailers. For example, if you search on Amazon
, you will find some great laptops. We suggest you'd get either a Microsoft Surface Book 3 or a Macbook Pro. That's hardly a surprise, right?
Having both the hardware and software produced by the same company is a big plus. You'll find that this is the case for both the Mac and the Surface Book. We believe that both are great machines in their own right. They are close in price and performance. You will be set for years with either one of them.
Now, if you want to read more about how we created this list of laptop specs, keep reading below. But first, let's take a look at both laptops and a third budget option below.
2020 Macbook Pro - 13" M1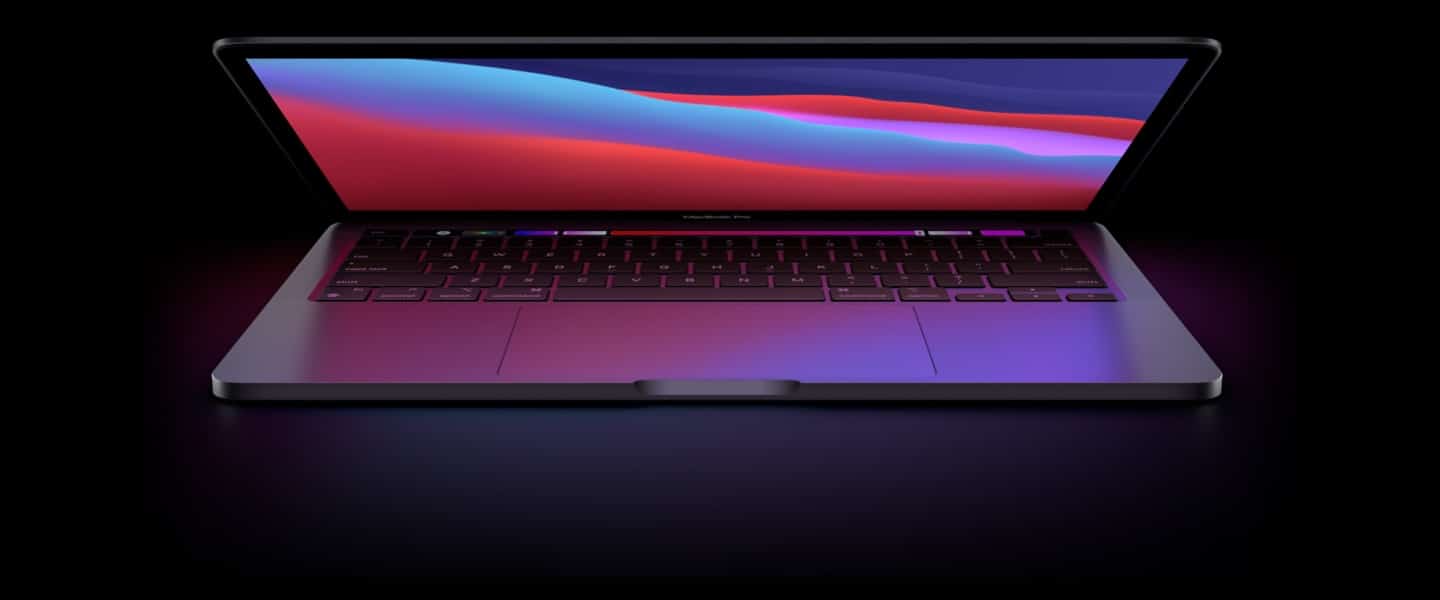 First up is the 13″ 2020 Macbook Pro. We believe this to be the best laptop you can buy in 2021 as a designer.
As we said earlier, having the same hardware and software manufacturer is an important feature. Apple does just that. The hardware is top-notch, and macOS is a high-performing powerhouse. Here's a list of the specs.
CPU and GPU:

 8-Core Apple Silicon M1.

Storage:

 256 GB and 512 GB options.

RAM:

 8 Gb and 16 GB options.

Screen size:

 13″.

Battery life:

 Up to 20 hours
Yes, we're in full support of getting an Apple Silicon Mac. Of course, we're talking about the 13″ version of the Macbook Pro. It now comes with the new M1 chip. We believe this chip to be future-proof. Also, the screen size is more than enough for you to do your design work.
The bigger brother of the Macbook Pro still runs an Intel CPU. However, the Macbook Pro (16″) is expected to be refreshed in the second half of 2021 or the first half of 2022. So keep that in mind when deciding on the screen size for your new design laptop.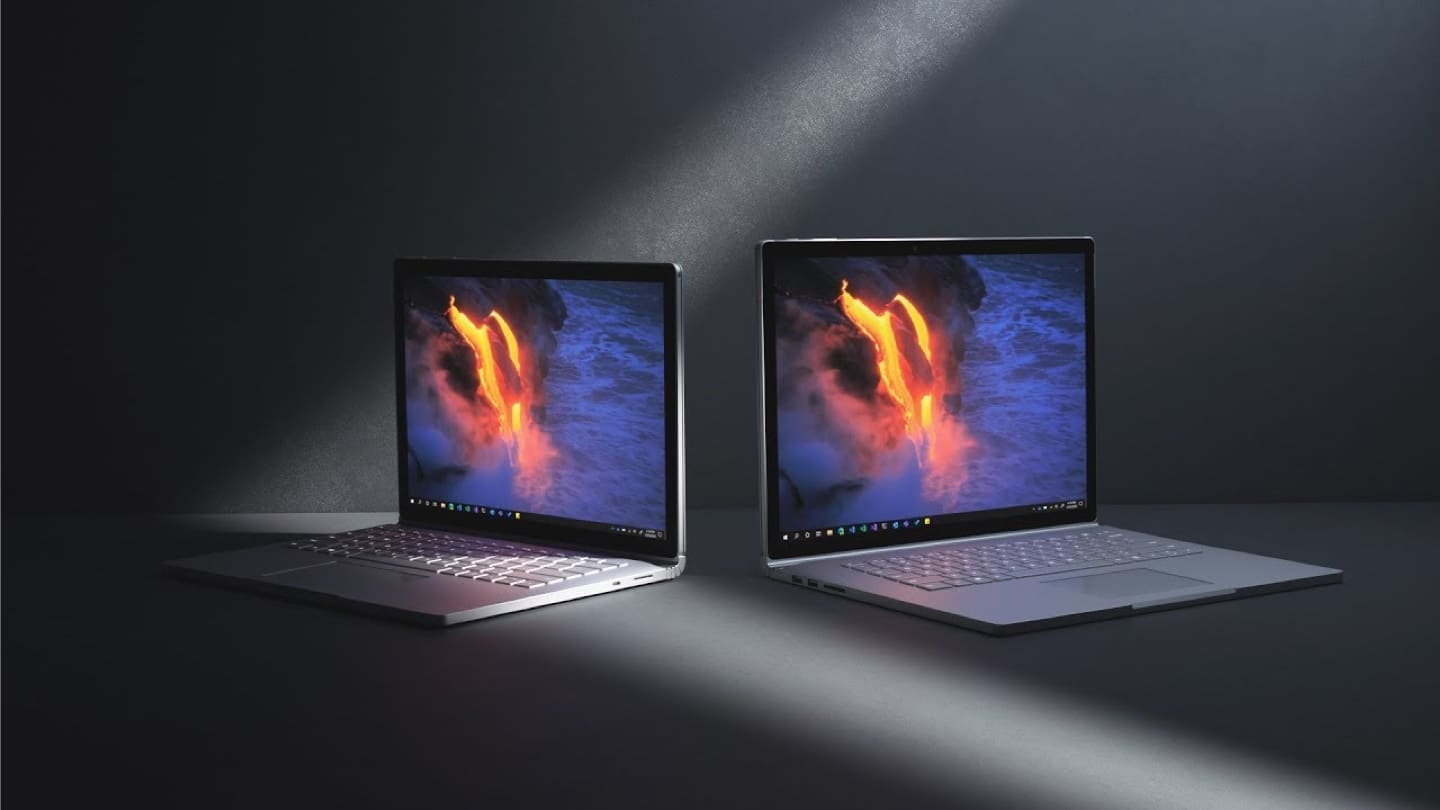 The Surface Book 3 is an excellent laptop for any type of designer. We can be short about that. Microsoft has finally made a Windows-based alternative for the Macbook Pro.
This laptop is a 2-in-1 hybrid laptop that you can use as a tablet as well. In addition, the laptop has Microsoft Surface Pen support for all of your creative needs. Just think of the things you can still do while you're on the go. Take a look at the Surface Book 3's specifications below.
CPU: 

Intel Core i7 with a speed of 1.3 GHz.

GPU:

 Dedicated NVIDIA GeForce graphics.

RAM:

 8 GB and 16 GB options.

Storage:

 256 GB and 512 GB options.

Screen size:

 13″.

Battery life:

 Up to 20 hours
Now, we do not have to explain further what Windows 10 can do for you. Like Figma and the Adobe Creative Suite, all the software you need is available for you to use. In addition, the Microsoft Surface Book 3 has got a hardware refresh recently, so it will still be a great purchase in 2021.
Best design laptop below $1000
Since a new laptop can be costly, we include some budget options as well.
These laptops will be good enough for you to use but can face some issues in the long run. For example, you might have to replace your laptop earlier, which will make your long-term costs bigger than when you would go for one of our suggestions above.
One of the best laptops for under $1000 we found was the HP Pavilion Laptop.
This laptop checks every mark on the spec checklist we discussed earlier. You can't go wrong there. Keep in mind that it will be challenging to find a Macbook for less than $1000 unless you're willing to go for a Macbook Air or a refurbished one. We do not recommend either of those.
The HP laptop we recommend can also be interesting for design students who do not have a big budget for a new laptop.
A checklist of specs for selecting the best design UX and UI design laptop
There's not just one model of computer that's best for UI and UX design. If you're looking for a new computer, we will focus on laptop specs rather than brands. Most brands sell laptops that fit the bill when you look at the specs you need for a good laptop you can use for design work.
There are a few categories of specs you have to keep in mind. These are the CPU, GPU, RAM, storage, and screen size. We're going to recommend you a minimum for all of these categories.
The CPU stands for Central Processing Unit. It is the brain of your computer. If you're a designer, you need a powerful CPU that can handle your daily work. Powerful CPUs have a high speed (GHz) and a high number of cores. Especially if you're a graphic designer, you will need the power of a strong CPU.
When looking at laptops, a lot of them feature Intel CPUs. Intel has i3, i5, and i7 CPUs. When you're going to use your computer for graphic design, you're going to be okay with an i5 CPU. If you want something more, you can get the i7, but it is not necessary.
Keep in mind that every processor is from a particular generation. An older generation i7 can be slower than a newer generation i5, for example. We wrote something on deciding between the i5 or i7 for graphic design to help you out.
The current Intel CPUs are called Comet Lake. It is currently, as of January 2021, the 10th generation of Intel processors. There's also an i9 chip available. You can configure the current high-end Macbook Pro to include an i9 CPU.
You can see an overview of every Intel processor generation on Wikipedia. Check the generation of the CPU you're about to get before you purchase a laptop. Picking the right CPU for your new computer is essential as a newer i5 can be stronger than an older i7, as we just mentioned.
GPU stands for Graphics Processing Unit. Back in the day, the GPU was a part of the CPU. This kind of setup is known as an internal GPU. An internal GPU saves space and energy since they are a part of a component already on the laptop's motherboard.
Cheaper laptops still have internal GPUs like that as they are more affordable, energy-efficient, and smaller. Especially the energy efficiency is a good thing for cheaper laptops as this will be less of a burden for the battery. The battery, in turn, can then also be more affordable.
For most types of design work, you will need to have a laptop with a dedicated GPU. Especially graphic, visual, and web designers will need this type of GPU as their tools put more of a strain on the GPU.
UI and UX designers do not require this kind of power as their tools are most often vector-based. However, we recommend getting a laptop with a dedicated GPU anyway. There are a number of reasons for doing so. You'll have to use multiple tools at once, Sketch files can get larger as well, and you might need to use a different tool at some point that does require a strong GPU.
Keep in mind that a laptop with a dedicated GPU is generally larger, more expensive, and uses more power.
As a video editor, a laptop might not be strong enough altogether. Video editors should consider a desktop computer or external GPU for their design work.
Get a laptop with a dedicated GPU. This is a must have for any laptop that you want to use for UI, UX, or graphic design. Today's design tools are very heavy on the GPU. Even as a UI designer that uses vector based design tools like Figma and Sketch.
Random-access Memory, or RAM, is essentially the short-term memory of your laptop. It is very fast. Much faster than traditional HDDs. RAM remembers everything your application needs to access right away. You notice this when you start an application for the second time. An application will launch significantly quicker the second time.
If you want to run your design applications smoothly, you should go for at least 8 GB of RAM. More RAM is better. Most laptops also have 16 GB of RAM as an option.
There has been a lot of development in regards to RAM. The current standard is something called 'DDR4' RAM. Both the Surface Book 3 and the Macbook Pro have DDR4 memory installed.
You can read more in RAM, acronyms, and RAM history on Guru99's page on RAM.
Since the price of RAM is relatively low, you can get a good amount of RAM for a relatively low price. Therefore, we advise you to go for 16GB of RAM for your new laptop.
Bigger is better. Having more storage means you have more room for your documents, pictures, and movies.
Having a lot of storage is especially important for graphic designers. Sketch or Figma do not have huge files per se, but Photoshop files can take gigabytes of storage space per file once you start working on large designs, like movie posters or billboards.
You can pick a hard disk drive (HDD) or a solid-state drive (SSD) for your laptop. The main difference is speed. A solid-state drive is a lot quicker than an HDD. In addition, it also makes less sound, has fewer moving parts, and is less power-consuming. There is one downside. Larger SSDs are far more expensive than regular HDDs.
SSDs are available in different form factors. The most recent one being PCIe. It is the smallest one in terms of dimensions and also the quickest one. If you compare PCIe to the older SATA standard, you'll see that PCIe can be up to six times faster than SATA SSD's and up to twenty times faster than the traditional HDD.
You can take away some of the load of your storage by using streaming services for media or cloud storage for your documents. That way, you save storage for other files. Examples of these services include Google Drive and Apple iCloud.
As for the storage of your laptop, we recommend not going lower than 250 GB of storage. Go for 500 GB if you can. Keep in mind that solid-state drives (SSDs) are still very expensive, so going for more storage will set you back more.
Instead, you could go for a hybrid solution called an SSHD that combines a small SDD with a large HDD to give you the best of both worlds.
Laptops typically come in two sizes: 13 inches and 15 inches. However, in 2021, Apple is working on 14 and 16-inch design laptops by using a smaller screen edge. This way, they can increase screen size without increasing the overall laptop size and weight.
This brings the common range for laptop screen sizes to anything between 13 inches and 16 inches. Once again, more is better, but more comes at a price. The screen size is probably the most significant factor in how expensive your laptop is going to be.
In some cases, going for a larger screen can double the price of your laptop. This is mainly because of how expensive panels can be, but also because larger laptops have better specs overall.
Another thing to keep in mind is the resolution of your laptop screen. For design work, we recommend at least a Full HD (1920×1080) resolution. Once again, more is better. If you have the budget, go for a 1440p or 4K screen.
If you work on a second monitor at home or the office, you can pick a 13-inch screen size for your laptop to save some money. You can get away with this size screen if you don't mind things getting a bit crowded on screen. However, in most cases, a smaller screen size laptop also has lower other specs.
We suggest going for a 15-inch laptop if you're a UI, UX, or graphic designer. The bigger screen is worth it. In addition, it will significantly increase your productivity.
Frequently asked questions
That's it for the recommended specs for UI, UX, and graphic design laptops. However, before we're going to conclude, we still have a few frequently asked questions unanswered. Please take a look at them below.
How do I choose a laptop for graphic design?
Choosing a laptop for your graphic design work can be daunting at first. There are so many things to consider. You have brands, models, operating systems, and so much more that you have to keep in mind.
However, if you break it down, choosing the best graphic design laptop is as easy as answering a few simple questions. Here's what to do.
What type of designer am I? As we discussed before, the requirements for a computer are different depending on your particular design field. Graphic designers and video editors need more raw GPU power, while UI and UX designers can get away with more of a lightweight laptop.

Do I prefer Mac or PC? Both are viable options. They also both have great laptops available. Contrary to popular belief, the price difference isn't that big either. One thing to keep in mind is your choice of design tools. For example, Sketch is only available on macOS.

What is your budget? Once you know your requirements, it is time to see if they fit your budget. If they do, great! Time to proceed. If they don't, you will have to either adjust your budget or your requirements. We suggest spending just a little bit more (if you can, of course). It will save you money in the long run.
Let's say you were able to answer the questions above. Now it is time to visit an (online) store and browse for your new design laptop. Compare the laptops, take a look at specs and prices, and finally purchase your new computer.
Congratulations! You've just bought a laptop that's best for your type of design work. It is as easy as that!
Should I buy a two-in-one hybrid laptop, like the Microsoft Surface Book, for example?
You can. There are many options nowadays in the tablet-laptop-hybrid department. Just look at all the Microsoft Surface laptops for graphic designers.
One of our favorites is the Microsoft Surface Book 3, which is an excellent Windows PC. We would highly recommend it. It has great power, battery life and checks all the marks I've mentioned above. An added benefit is that it can work as a tablet as well, which is nice if you are on the road a lot and if you like to draw.
Should I buy a Mac or Windows PC for UI and UX design?
In addition to personal preference, picking a PC or a Mac for UI and UX design depends on if you want to use Sketch. Sketch is a graphic vector editing tool that's been developed just for Mac. It is very popular.
There's a lot of debate on whether you should use Sketch or Figma, one of Sketch's competitors. So if you (or the colleagues and clients you have to work with) prefer Sketch, the only thing you can do is get yourself a Mac for your UI/UX design work. Besides that, there is no reason to pick Mac over PC or PC over Mac.
Back in the day, Mac used to be the king of graphic design. Yet, you can perfectly use a Windows PC for graphic design. So, we wrote a post on whether you should use a Mac or PC for graphic design.
If I do want a Mac, should I get a Macbook Air or Pro?
One of the most common questions we see is which Mac is best for UX design. Unfortunately, that's a tricky question since you have to consider many factors.
The Macbook Air is, like the name suggests, more lightweight than the Macbook Pro. Unfortunately, what it gains in being lightweight, it loses in power. If you're on the road a lot, are a web designer, or a front-end developer, a Macbook Air is sufficient.
However, keep in mind that it does not meet all the requirements as stated above. The current Macbook Air lineup features an i3 and an i5 CPU model without a dedicated GPU. The base models have a RAM of 8Gb, which you can upgrade to 16Gb. If you're a power user who does video editing, graphic design, and UI/UX design, the Macbook Pro would be a better option for you.
Now that Apple has announced its plans to start using Apple Silicon, things will be a bit different, though. During the initial release of the M1-equipped Macs, not all applications will support your new Mac. Luckily, the list of supported apps grows by the day.
What laptop accessories do I need?
To create a complete workspace for yourself, you need a few accessories to go with your laptop. The most important one is an excellent ergonomic laptop stand as it will help prevent back and neck issues after long days of working behind a desk.
Other accessories include a mouse, external keyboard, storage, and a mouse pad. We're working on creating a complete list of laptop accessories that we want to share soon.
Can I use a tablet as a UX designer?
To give you the short answer. Yes, you can use a tablet as a UI, UX, or visual designer. Tablets get better every year when companies like Apple and Microsoft release new versions of their tablets.
You only have to keep in mind that you get a tablet with enough power and a big enough screen size. You can use Figma on any tablet. It will work just fine if you can use a Bluetooth keyboard and mouse.
We wrote a post about which is the best tablet for UX designers. Check it out if you want to know more.
Are gaming laptops good for graphic design?
Yes! In most cases, you can use gaming laptops for graphic design. However, the other way around works as well. That is because, in both cases, these laptops would require a powerful dedicated GPU.
If you have a gaming laptop, the chances are that it has a powerful GPU. That's exactly what you need. However, there is more. If you're curious what that is, we recommend you to read our post that takes a closer look at whether or not gaming laptops are good for graphic design.
What size laptop do I need?
Checking the size of your new laptop is an integral part of deciding which computer is suitable for you. Most laptops come in 11, 13, and 15-inch options. However, we believe that a 15-inch laptop is your best bet if you're going for a high-end laptop.
There are exceptions, though. If you have a second monitor, you can go for a smaller laptop, for example. Check out our post on what size laptop you need for a closer look.
Getting yourself a laptop that is great for UI, UX, and graphic design is essential. Especially when you're looking to become a UX designer, it is even more important to get a laptop that is right for you.
Your next laptop, of course, depends on your budget, the tools you want to use, and personal preference. Take your time to make the right choice. Then, check out more of the posts we've mentioned previously.
Was this post helpful to you? Share it with others!