Never Odd or Even's Hands-on Mobile Stand and Mouse Rug Review
No home office desk setup is complete without cool accessories. Of course, you need the desk itself, but you could also add stands, a mouse rug, and a monitor mount. But where do you buy these products? I've had the pleasure of using some of Never Odd or Even's products. Is it going to be the brand you have to get your home office setup from? Let's see! Here's my review.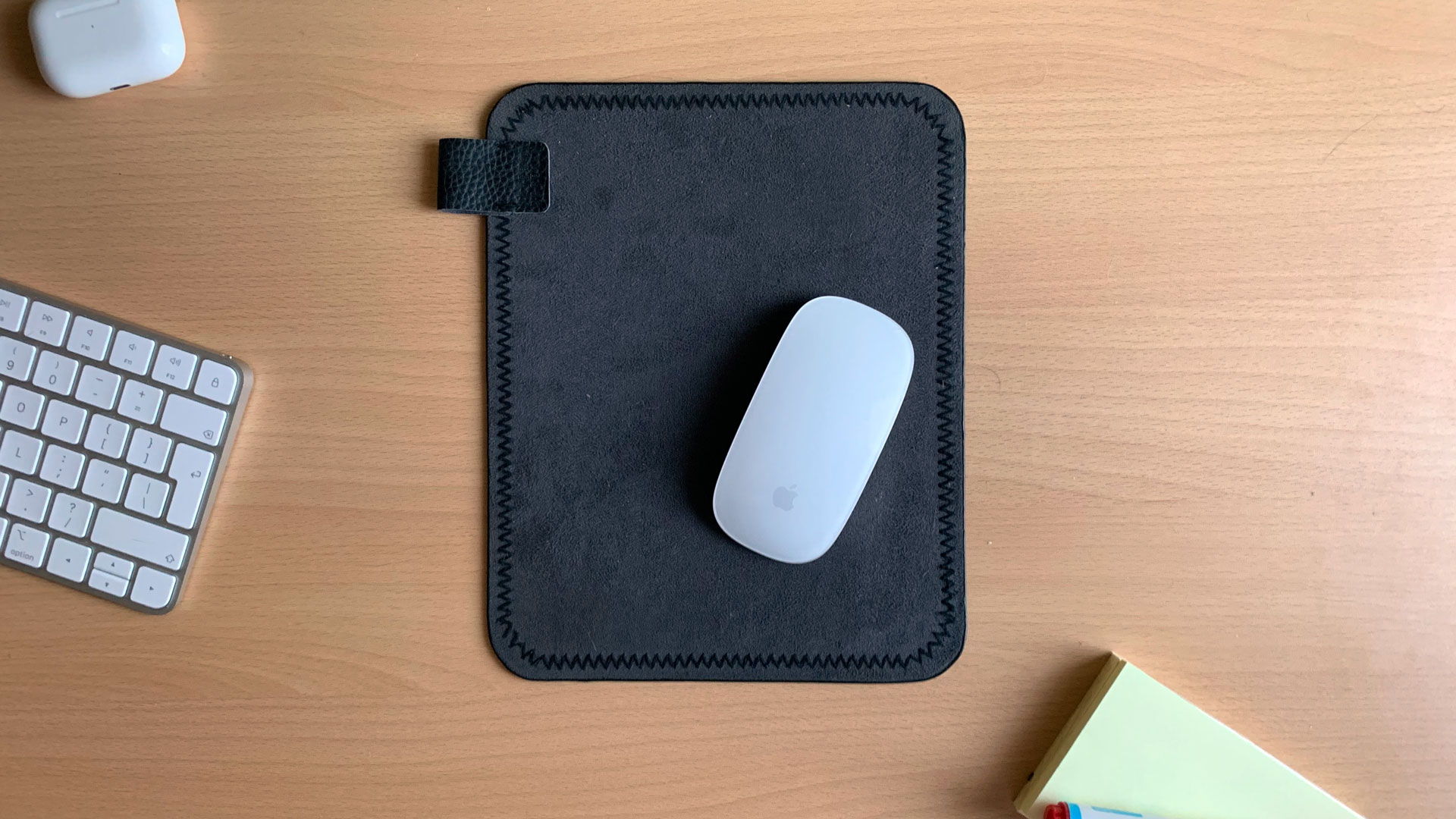 Let's start with something about the company. Never Odd or Even is founded by Neetica Pande and Piyush Suri. They focus on creating high-quality, sustainable products using top-grade materials. Available products include mouse rugs, stands, and more. These products are available in drops, so be quick to get them before they sell out.
For this review, I've used both the Hands-on Mobile Stand and Suede Mouse Rug for some time now. I worked from home as a senior UX designer most of my working week, so I had a lot of time to test these products.
Great product experiences start with how you receive your product. Never Odd or Even's products are off to a great start. Both the stand and rug are in a well-designed box that protects its contents well. Also, the packages were well wrapped and arrived without damage.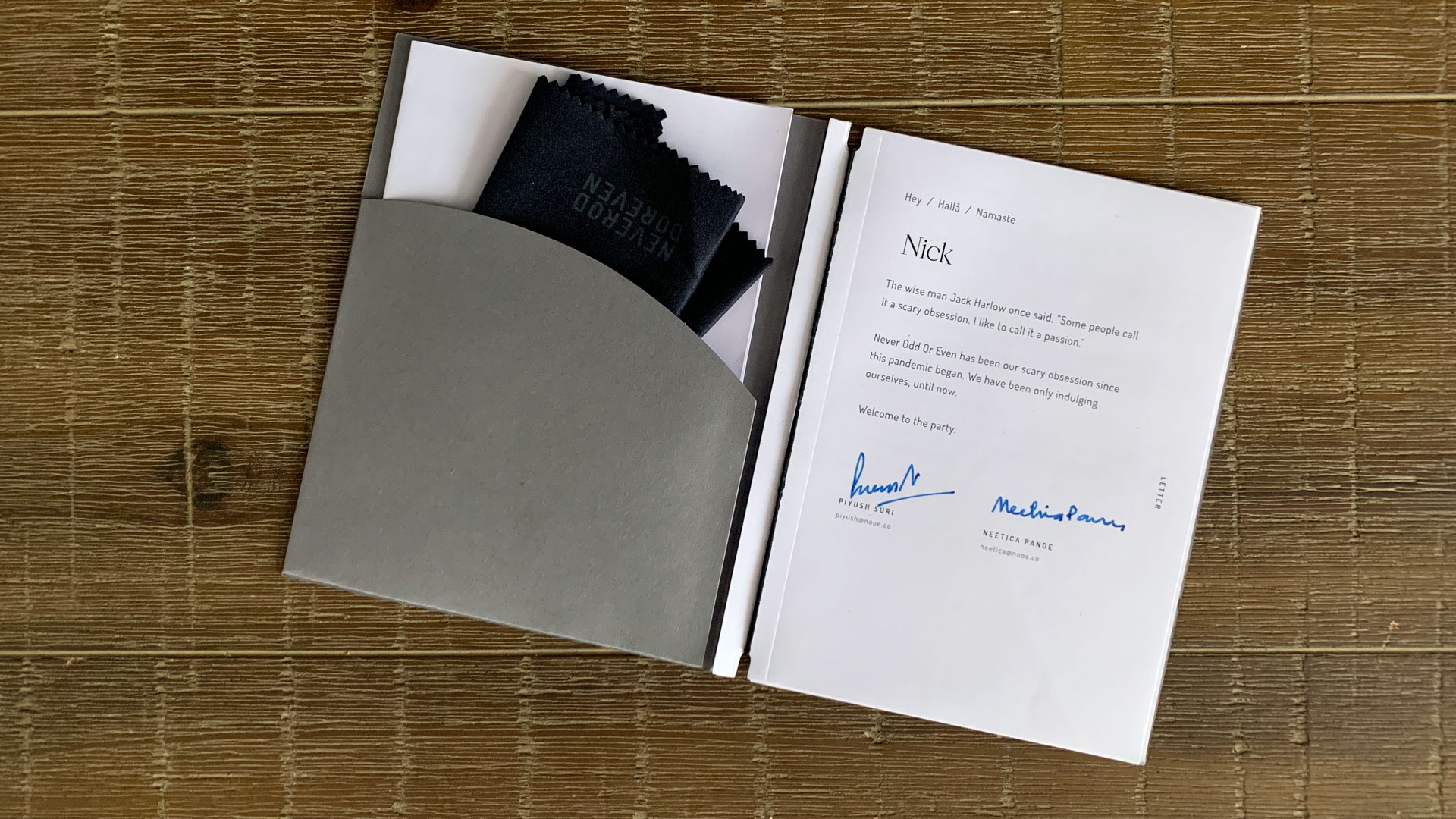 Unpacking your product is as easy as you'd expect it to be—no problems there at all. You're up and running in just a few minutes. Something I appreciate a lot is the personal message that came with the products. It is a nice touch.
The mobile stand looks and feels great. It is made of high-quality wood and metal, which gives it a very premium feel. The simple design is something I appreciate a lot. But there's more. Never Odd or Even has put a lot of thought into the practical use of the mobile stand as well. For example, there's a rubber strip preventing your phone from falling over.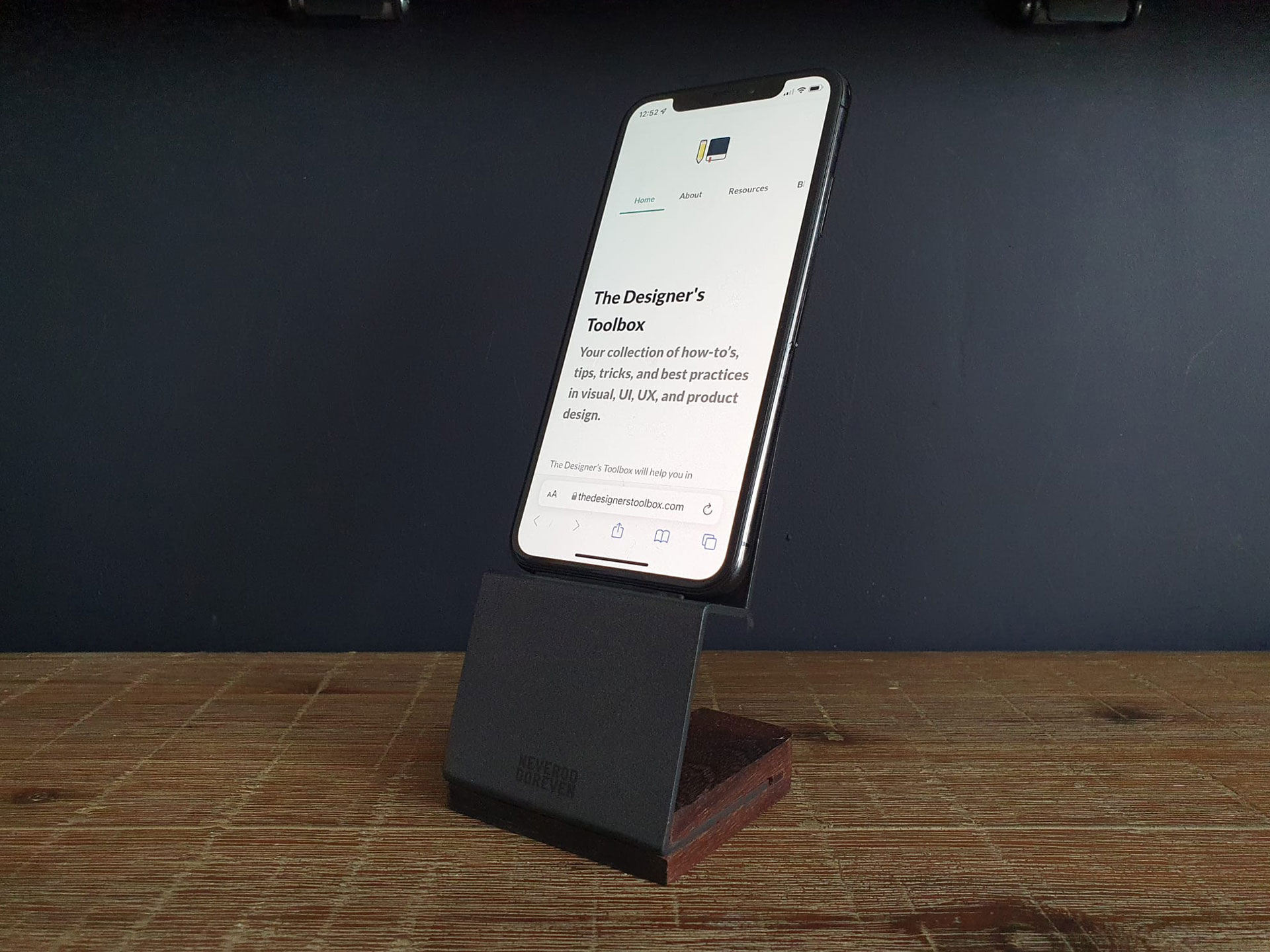 You can charge your phone while it is on the mobile stand. One thing to keep in mind is how you bend your charger cable. I couldn't turn my USB-C cable to fit the stand, and my Lightning cable was barely able to make it around the corner. So you'll have to accept the risk of a broken cable or get a short USB C cable that doesn't need to bend that much.
The most important part, however, is using the mobile stand during an actual workday. And that's what I did. I can be short about this. Never Odd or Even's hands-on mobile stand works great. I've been able to increase my day-to-day productivity enormously.
One of the reasons my productivity went up is the height and angle the stand puts my phone in. The stand puts me in a better frame when I use my phone during a video call, for example. Whenever a call or important message gets in, I can see it right away. There are no more extra actions before I can do something. It's a great example of the many benefits this phone stand can bring to any user.
The most important reason I use a mouse rug is the better feel and sound it provides when working. For example, I have a wooden desk. If I put my Apple Magic Mouse on it, it makes a scratchy sound and feels cold.
Never Odd or Even's Mouse Rug is fantastic. The suede is very soft and warm. It does exactly what I want it to do. There's no scratchy sound anymore, and my wrist rests comfortably on the vegan suede while I work.
One downside is the size of the mouse rug. It is smaller than my old mouse rug, which took some getting used to. However, after some trial and error, I found the portrait orientation to be the best use of this mouse rug.
I'm delighted with both Never Odd or Even's hands-on mobile stand and mouse rug. As mentioned above, the build quality is excellent. It provides fantastic quality-of-life improvements to my working routine and has become an integral part of my UX equipment.
With the stand priced at 45 EUR and the rug at 25 EUR, both are a must-have for any professional user.
The only possible downside is that not every charger cable will fit the stand. However, that hardly ever was a problem while I used the stand. It might also be because of my cables, so I'm not holding it against the mobile stand. I recommend getting this stand for your home office.
Get your hands-on mobile stand and suede mouse rug over on Never Odd or Even's website.
Useful resources to boost your UX career 👇